When we were doing our research on delicious food in Hong Kong, we came across Kau Kee's beef brisket noodles. I can't say I'm a big fan of beef brisket, but the reviews on OpenRice were nuts. Kau Kee is somewhere between 60 to 90 years old, and the current owner Mr Pun Kwok-hing himself isn't certain when they first opened. His father, Mr Pun Sui-yuen, started out selling congee (or rice porridge) along Gage St but switched to beef brisket as there was too much competition in congee. Kau Kee's success can be traced to their invention of their special clear soup for beef brisket noodles, something that was not seen back then.
The scope of Kau Kee's international reach can be seen from their signs. They have their 'minimum charge HK$43 per head' sign printed in four different languages- English, Chinese, Japanese and Korean. From listening to some of the people in the queue, it was clear that most of the patrons were tourists. They are super-famous amongst Hong Kong locals as well, do not be surprised if you see a famous Hong Kong celebrity eating beside you.
They say a picture tells a thousand words. Well, have a look at that queue. It took around 20 minutes to clear, which was a pretty impressive speed. Kau Kee was not a high priority for us to try, and we actually came here right after eating Mak An Kee's wanton noodles, but we're really glad that we did make the trip down. We were hoping to share a bowl of their famous beef brisket noodles as we had already busted our calorie limit for the week, but we were hit with their HK$43 per head minimum charge, so we had no choice but to order the noodles to go instead.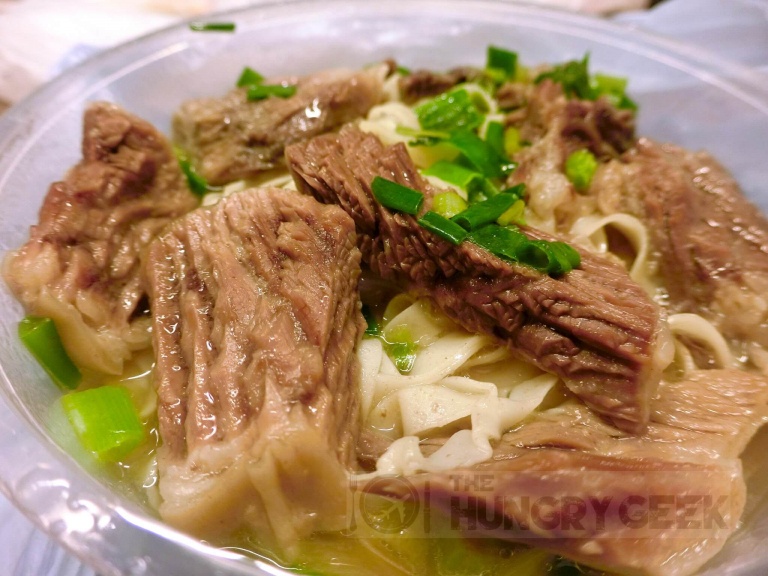 Kau Kee Beef Brisket Noodles
This is it! Kau Kee's signature beef brisket noodles. They are known for their 'e-fu' or 'e-mien' noodles, so make sure you order the correct one. This dish is simply made to perfection. The beef is super tender and really soft. The noodles are prepared to a perfect al-dente or QQ hardness. The soup is amazing as well, it is full of flavour and it perfectly complements the beef and the noodles. The flavour of the dish just explodes into your mouth. I slurped it all up, every drop of the soup. This dish is priced at HK$43 and we give it an amazing 4.5/5.
Do note that the dish is a bit oily or greasy. You could feel the oiliness with the noodles but I believe that the oil is one of key components that makes this dish so irresistible. You would have to request for a less oil if you have something against this, but I do not recommend that at all. As a full disclosure, we could only enjoy this dish a short period later back at our hotel, but it was still piping hot and super delicious. I wonder what rating this dish would have received if we managed to eat it right out of the kitchen.
Final Thoughts
This is definitely in the Hong Kong top 5 list. If you're in Hong Kong for a day or two, this is one of the must-visit food places. For beef brisket noodle fans this is the top place to go to in Hong Kong. A word of warning, while we did not experience it first hand, Kau Kee is also known for their bad service. Just be prepared, and don't let it spoil your day.

  Kau Kee – Beef Brisket Noodles
Address
:
G/F 21 Gough St, Central, Hong Kong
Directions:
MTR to Sheung Wan, take the A2 exit and walk to your left down Hillier St to Jervois St, walk through it to Queen's Road Central, turning left until you spot the secluded On Wo Lane and on to Kau U Fong – Google Maps
Opening Hours:
Daily from 1230-2230hrs, closed on Sunday
Signature items
:
Beef brisket noodles and curry beef noodles
Contact:
+852 2850 5967