[ Update 24th Feb 2016: Nahm Thai Kitchen has been renamed to Nangfa Thai Kitchen as a result of legal threats from the famous Nahm fine-dining restaurants in Bangkok and London. Also, the Nakhon chain of Thai restaurants has reopened Nakhon Bedok just next to Nangfa Thai Kitchen. We have the juicy story of a family feud between the owners of Nangfa Thai Kitchen (the old Nakhon Bedok) and the main Nakhon chain behind the new Nakhon Bedok, see our latest review on Nakhon Bedok! ]
Nangfa Thai Kitchen (formerly Nahm Thai Kitchen) is one of the newest names around in the Singaporean Thai cuisine scene. They are in the same spot as the previously famous Nakhon Kitchen (Bedok branch), with the same boss, the same staff and the same cook. For undisclosed reasons they have split from the Nakhon chain. Will Nangfa Thai Kitchen be able to live up to the success of its predecessor?
Nahm means water in Thai, and Nahm Thai Kitchen is ostensibly named after the Australian David Thompson's famous Nahm fine-dining restaurants in Bangkok and London. Nahm in London was the first Thai restaurant in the world to be awarded a Michelin star. Perhaps the naming goes to show the ambitions of the current owner of Nahm Thai Kitchen.
Their new name Nangfa means angel or fairy in Thai. What's behind this new name? As they say, they aspire to serve angelic food with an angelic service to create a unique Thai experience. Perhaps the name is also inspired by the angelic lady boss that greets you as you queue?
Tips to beat the queue…
This is the queue outside Nangfa Thai Kitchen (formerly Nahm Thai Kitchen) on a Sunday evening. You only get this length of a queue outside food establishments with high standards. In the past, Nangfa Thai's predecessor had even longer queues on weekends and it only 'shortened' to this extent after they raised prices by a small amount.
If you want to dine-in and avoid the queue, the only way is to come a couple of minutes before they open at 5:30pm for dinner. We arrived at around 5:45pm and faced almost a half hour wait for a table. Alternatively, if you live in the east and you are okay with takeaways, you could call them in advance to order at +65 6245 5548 before you come and pickup your food.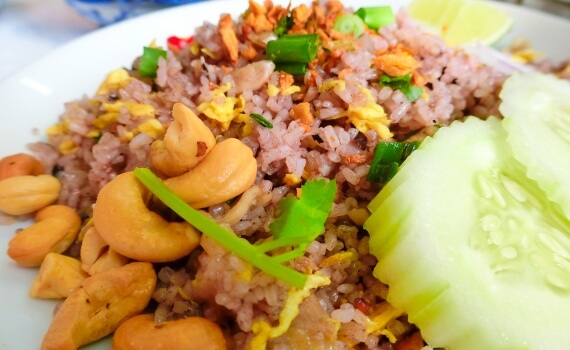 Nangfa Thai Kitchen (formerly Nahm Thai Kitchen) – Olive Fried Rice
This is my personal favourite of the lot. Their Olive Fried Rice! Unlike most other Thai establishments that simply just mix in some olives and give you a meagre amount of ingredients before branding it as 'Thai Olive Fried Rice' with a substantial markup, Nangfa Thai does it differently. They have a super generous serving of ingredients, with plenty of egg and chicken, and they top it off with cashew nuts and lime! The cashew nuts go surprisingly well with the dish.
The refreshing olives and cashew nuts really sets this aside from the norm. Personally I will get this dish takeaway from Nangfa Thai at least a few times a month. We rate it 4.2/5. This goes for S$6 – it is pricey but you get exactly what you pay for.
Pandan Wrapped Chicken
The Thai chicken appetiser is often the highlight of the meal. Some restaurants will have stuffed boneless chicken wings, others will have pandan wrapped chicken. Nangfa Thai Kitchen (formerly Nahm Thai Kitchen) has the pandan wrapped chicken and it meets every expectation. Unlike some places where you will spend a good 5 minutes trying to dislodge the pandan leaves, Nangfa Thai wraps it thoughtfully. You just need to grab one end and lift it up high, then pandan unwraps itself on the plate.
This is a super delicious item, especially when paired with the chilli sauce that comes with it. You don't just get plain chicken here, you get a combination of vegetables and Thai spices that makes it taste out of this world. We rate this 4.2/5. This goes for S$6 for a set of four pieces. It did seem a bit pricey to us at first glance, but with the complex preparation and contents, perhaps it can be justified.
Phad Thai
Their Phad Thai is fantastic and authentic. If you can just imagine the sweet Phad Thai with the crunched peanuts, chilli flakes, bean sprouts, tofu cubes and prawns – it tastes as good as it sounds. We rate this 4.2/5. You can get this for S$5.
Thai Iced Milk Tea
This item was on every table that evening. We had the great taste of the best Hong Kong milk teas fresh in our mind when tasting this, and we were quite surprised at the standard of the Thai milk tea here. As compared to the Hong Kong style milk tea, this has the similar strong tea fragrance, a little less milk and a little more sweetness. We rate this 4.2/5. This will set you back S$3, but if you compare it to the mass market milk tea chains like Gong Cha or KOI Cafe, this is much better.
The Bill
So we ended up paying exactly S$100 for everything that you've seen here. This works out to around S$12.50 per person, and we were completely stuffed. Now an upsized Burger King meal will set you back almost S$9 these days – I hope that helps put everything in perspective.
Final  Thoughts
Great Thai food in the east of Singapore! If you don't mind the queue and you are okay with a slightly premium price over the market, this is a must try. However, if you hate queues or if you are very budget conscious, perhaps it would be better to look elsewhere.
Super delicious Thai food in Singapore is hard to come by. A cursory scan through the most popular Thai restaurants in Singapore on HungryGoWhere show that most have a rating of between 50-60%. That is appalling in comparison to the other cuisines. Is it hard to keep good Thai chefs in Singapore, or are Singaporeans expecting too much taste for too little money when it comes to Thai food?
If you want to see more delicious food reviews like this, please LIKE our Facebook page and FOLLOW our Instagram!

  Nangfa Thai Kitchen (formerly Nahm Thai Kitchen)
Address
:
Blk 136 Bedok North Ave 3 #01-166, Singapore 460136
Directions:
MRT to Bedok and take either 14, 66, 69, 168, 222 or 228 for a single stop and walk across Bedok North Ave 3 – Google Maps
Signature items:
Pandan Wrapped Chicken, pineapple fried rice, green curry
Opening Hours
:
Daily from 1200-1500hrs and 1730-2200hrs
Contact:
+65 6245 5548