Singapore is a culinary paradise. The hallmark of a city with very high gastronomic standards is the presence of multiple French restaurants of very high standards. The Black Sheep Cafe is one of those delicious French restaurants. We visited The Black Sheep Cafe on Christmas Day and we had the opportunity to try their exclusive Christmas menu. As luck would have it, we ended up being the last customers at the restaurant and we were able to have a chat with The Black Sheep Cafe's Chef-Owner Ratha Krishnan!
The Chef
Chef Ratha has a glorious work resume with experience alongside a multitude of Michelin-starred chefs from Raffles Hotel's Grill to the Fig Leaf at Fort Canning Park. In particular, he had the opportunity to work with and later take over from double Michelin-starred Chef Jeremy Hollingsworth. If you add up the Michelin stars of all the chefs that Chef Ratha has worked with, you would get eleven or twelve Michelin stars.
The work experience of The Black Sheep Cafe's Chef-Owner has translated into a multitude of awards and accolades.
The Black Sheep Cafe – Service & Ordering
As with all 'promotional' menus during festive periods, these are usually designed to cope with the increased volume of patrons. The prices are also slightly inflated compared to the regular menu prices, but again these are normal and expected. Unfortunately we were not able to try their signature Kahlua Souffle or their famous pork cheeks as these were not on the menu that night. Everyone in our party ordered the 3 course set which was S$48 nett each.
The one quirk about this restaurant is the wait time. If they are near full house, be prepared to wait for up to an hour for your mains to be served. If you arrive for your meal near the start of their dinner cycle, you would be served pretty fast. But if you arrive like we did, at around 7pm, the wait is pretty long. This abnormal waiting period is a result of Chef Ratha personally preparing all the dishes himself with only a small handful of assistants. As such, you can be assured of the quality and consistency throughout all the dishes, whilst sacrificing a bit of your time.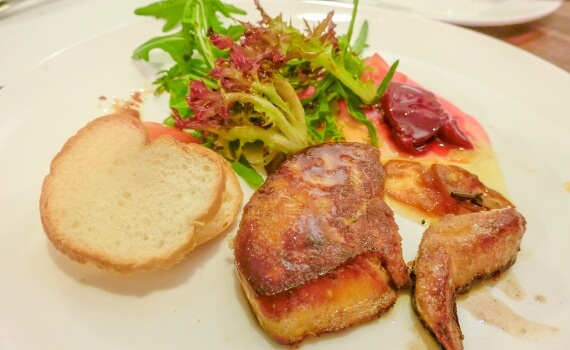 Foie Gras Seared & Served with Mandarin Orange Jelly
This is really super delicious specially fattened fowl liver. For me this was the highlight of the night. The foie gras was served piping hot and it had this unforgettable exquisite and fragrant taste. When you bite into it you will notice its perfect texture and overwhelming succulent juiciness. Now if only the underside was a little less charred. We rate this super delicious foie gras 4.2/5.
The complimentary bread deserves a special mention here. This was the most delicious complimentary bread that I've ever eaten at the start of a meal. The bread was not served warm, it was served piping hot, just fresh from the oven. The bread had the perfect soft texture and crispiness and it went oh-so-well with the butter. Chef Ratha knows that his bread is so good and unfortunately additional bread servings are chargeable. We rate the bread 4.4/5.
Crisp Duck Confit, Potato-Pumpkin Puree, Baby Spinach, Peppercorn Glaze
Chef Ratha's famous duck confit has been rated by the Epicure Food Magazine as one of the best duck confit in Singapore. You can see the thoughtfulness that goes into the preparation of the dish by looking at the complementing items that go with the duck confit. The potato-pumpkin puree is actually pumpkin mashed potatoes and it goes extremely well with the peppercorn glaze.
For us we may have been a bit let down by misfortune as the duck confit tasted a tad less juicy and tender than we would have liked. However, it still went extremely well with the sauce and mash. We rate this duck confit 4/5.
Final Thoughts
All in all barring some minor quirks Chef Ratha gave us a wonderful dinner with solid taste rating all around and a couple of super delicious gems to boot. Chef Ratha taking the time to have a long chat with us on Christmas Day about the food and beverage industry in Singapore was an unforgettable experience.
We will definitely return to The Black Sheep Cafe to try the Cheeky Pork on Sauteed Greens & Pear, Orange Chilli Glaze as well as their signature Kahlua Souffle with Double Chocolate Ice Cream. These items have rave reviews and the latter actually takes a minimum of 25 minutes to prepare.
Chef Ratha has a wonderful cosy French dining establishment going serving top qualify food at reasonable prices. If you come for lunch their 3-course set with an included drink goes for only S$29.50 nett. If Chef is able to solve some of the restaurant quirks such as the waiting time and food consistency issues during high volume periods, The Black Sheep Cafe will definitely be one of the best French dining establishments in Singapore.

  The Black Sheep Cafe
Address
:
#B1-30 Thomson V Two, 11 Sin Ming Road, Singapore 575629
Directions:
Take the MRT to Marymount, hop on bus 410 towards Shunfu Rd and alight at the 2nd stop  – Google Maps
Signature items:
Duck Confit, Pork Cheek and Kahlua Souffle
Opening Hours
:
Tuesday to Thursday 1130-1500hrs and 1800-2300hrs;
Friday to Sunday & PH 1130-2300hrs, closed on Monday unless eve of PH
Contact:
+65 6459 5373 / +65 9272 1842
Website:
http://www.theblacksheepcafe.com