There are two main types of bak kut teh in the region. One is the spicy peppery Teochew bak kut teh found in Singapore, and the other is the herbal bak kut teh more commonly found in Malaysia. There is the super famous bak kut teh in Malaysia's Port Klang with many many bak kut teh stalls vying for supremacy. How does Founder Bak Kut Teh stack up against the competition in the regional food ecosystem?
The fame and popularity of Founder Bak Kut Teh as a Singapore food stall is possibly second to none. They have the most comprehensive photo gallery of international stars and celebrities. Yes, they beat out 328 Katong Laksa's photo gallery. Famous names include the former Prime Minister of Thailand Thaksin Shinawatra, Jay Chou, Chow Yun Fat, a large number of Hong Kong and Taiwan stars and virtually every Singaporean celebrity. Founder Bak Kut Teh has so many big name customers that they famously refused to extend their usual operating hours when Hong Kong Chief Executive Donald Tsang came to visit in 2006.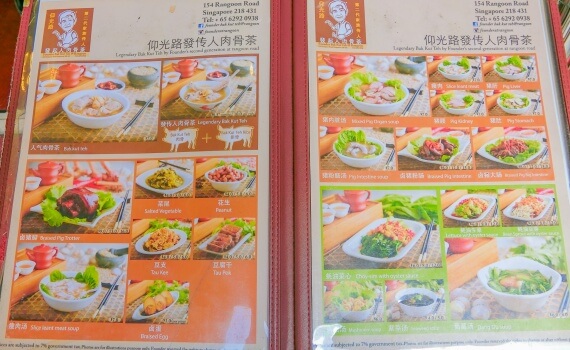 Service and Ordering
Founder Bak Kut Teh is indeed the place for a Chinese-style meat feast. We have included an image of the most important pages of the menu above. You have two options for their famous bak kut teh – one is the regular bak kut teh at S$7, and the other is the 'Legendary Bak Kut Teh' which includes their delicious prime ribs. If you just want the prime ribs the 'Legendary Bak Kut Teh' costs S$10, if you want a mix it will be S$8.50.
They also serve pretty delicious pig trotters and for S$9 you can get a pretty large serving. There was nothing especially good or bad about the service here, but it was very satisfactory.
Founder Bak Kut Teh – Legendary Bak Kut Teh
My favourite part of bak kut teh is really the broth. The best bak kut teh stalls have the most addictive broth. I would pour it into my rice and get the usual complimentary top-up of the broth. When the meal is done I would have usually gone through 3-4 bowls of broth. The broth at Founder Bak Kut Teh is super addictive. The amount of pepper is optimised for maybe half a bowl of consumption – if you drink multiple bowls like me your mouth will be on peppery fire by the second bowl.
The meat here is also what you would expect of a world famous stall. The meat is super soft and tender! If you get the prime ribs, the meat literally falls off the bone. This dish is really a carnivore's paradise. We rate their Legendary Bak Kut Teh 4.3/5.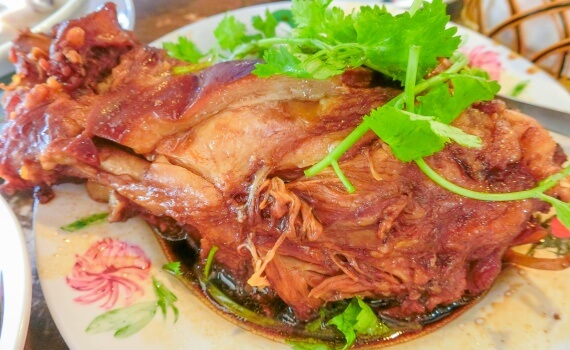 Braised Pig Trotters
Who can resist pig trotters? We really ordered too much food for two people but we couldn't resist the temptation. We never expected their 'smallest' size serving to be so big either! As expected of a top restaurant, their pig trotters are super tender and soft, the meat really falls off very easily. The included gravy is very addictive as well, with a thick and full soy sauce fragrance. Well we would have been happy to come here and just eat their pig trotters. We rate this delicious dish 4.2/5.
Final Thoughts
The bak kut teh dish is confounding on many levels. It is one of the few 'hawker' dishes to break out of the low price bracket. People are willing to pay large amounts of money for delicious bak kut teh, and I would too. The Founder Bak Kut Teh's signature dish is superior to the other peppery-type bak kut teh stalls in Singapore. However, there is a large price premium over the competition and I'm not so sure that the sometimes marginal taste advantage should be commanding a price premium of 30%.
That said, if you regularly buy Starbucks coffee and you don't mind dropping few dollars, Founder Bak Kut Teh is probably the safest and best bet for delicious bak kut teh in Singapore. They do have a branch along Balestier Rd, but we highly recommend that you patronise the main branch at Rangoon Rd.

  Founder Bak Kut Teh @ Rangoon
Address
:
154 Rangoon Rd, Singapore 218431
Directions:
Take the MRT to Farrer Park Station and walk along Rangoon Rd in the direction of Tessensohn Rd and away from Serangoon Rd  – Google Maps
Signature items:
Bak kut teh with prime ribs