Rahmath Cheese Prata is a little prata shop hidden away in the little-known nondescript hawker centre in Toa Payoh. This is a hawker centre where you can find plenty of empty seats on a weekend morning. However, this prata shop's awards are anything but nondescript. They have Makansutra's coveted five-chopsticks 'Divine' award, a couple of newspaper articles and the usual awards given to the delicious food stalls.
This is probably the most valuable 'gem in the rough' that you would find in the foodie circles. I haven't found a food outlet with this high standard of culinary skill and virtually no queue on a weekend morning. It seems to be a problem with the hawker centre and the location, as you don't normally find many empty seats at hawker centres on weekend mornings.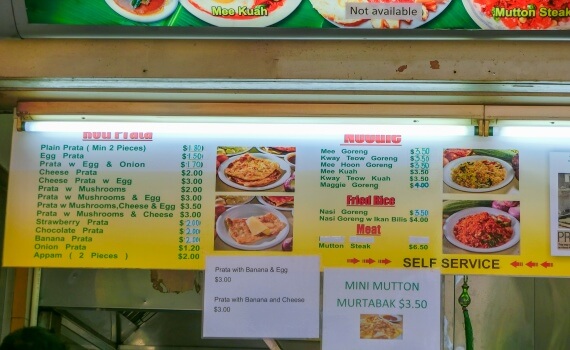 Service and Ordering
Rahmath Cheese Prata runs on the usual self-service system, and with the current availability of empty seats around the stall even during peak hours, this is not really a problem. The prata man does the prata flipping right in front of you, and I must commend the cleanliness of the stall.
The prata here is served on a tray and the curry poured into a small paper bowl. I must say that putting the curry in a bowl with this particular shape is ingenious and I wonder why other prata stalls are not doing it like this. You will be able to dip the prata completely in curry right until the end, when there is barely any curry left. The usual curry receptacles used by other prata stalls are flatter and you can't put nearly as much curry in them.
Also, do remember to keep the curry bowl and your utensils on the tray. If not you can expect the tray backing to fly away.
Rahmath Cheese Prata – Best Egg Prata in Singapore
I have always preferred egg prata over plain prata. This started from the time when I was a small kid and my parents would only feed me egg prata, presumably for the increased nutrients coming from the extra egg. Plain flour dough and curry isn't really what a growing child needs. For me, this has resulted in a preference for egg prata over plain prata. While over the years I have expanded my palate to include popular concoctions like the 'planta prata' – which is basically margarine prata and tastes like plain prata on steroids.
The five elements of a great egg prata – (1) served at the right temperature, (2) just crispy enough, (3) fragrant prata dough, (4) a good spread of the egg within the prata and (5) perfectly matching curry.
The folks at Rahmath Cheese Prata have got elements (1) to (4) down perfectly. They make it fresh so you will always get it nice and hot. The crispiness here is just perfect, and with the fragrant prata aroma, you can understand why Makansutra gave them that 'Divine' rating. Take a bite when its hot after you dip it in the curry and you will get that shiok feeling. We rate this 4.6/5 as it is the best egg prata I have come across after eating egg prata from all over the island. We welcome yet another recipient of our 'The Ultimate Taste' accolade. S$1.50 for one of the best egg pratas that you would ever eat, with ample seating and a short queue – it doesn't really get better than this.
They provide a very thick and flavourful mutton curry that goes very well with the prata. However, I would personally prefer fish curry instead with my prata – but as this is a personal preference I can't really penalise them for it. Also, we have to flag a potential consistency issue with their egg prata here – we swear that it tasted nicer the last time round. Who knows what rating we would have given them for their egg prata if they managed to hit their previous high note?
Prata with Mushrooms, Cheese and Egg
This was the surprise of the day. We were tempted to try it as the most expensive prata on the menu for a whopping S$3.50. And this was Rahmath Cheese Prata after all right? They must have good cheese.
Their prata with mushrooms, cheese and egg was a super delicious revelation! Try it first without the curry, and you get a strangely familiar delicious feeling of Swiss cheese, mushrooms, and… yes, this tastes very similar to Burger King's Mushroom Swiss Burger! Dip it into the curry for an extra kick. If you are a big fan of Burger King's Mushroom Swiss (like I am), you will definitely enjoy this prata. We rate this 4.4/5.
Plain Prata
We have heard great things about their plain prata. Certain commentators have called this one of the best plain prata in Singapore. While I am not as much of a fan of plain prata as I am of egg prata, I must say that I preferred the coin prata at Sin Ming Roti Prata over this. Well, that may not be a very fair comparison as the coin prata's different surface area gives it some unfair advantages. That said, the plain prata here was pretty remarkable as well. It was crispy, fluffy and it went very well with the curry.
One of the must-do tricks that you see these experts do when they handle their plain prata is to smash it around a bit when its done. This immediately improves the fluffiness and the texture of the prata. Interestingly the guy at Rahmath Cheese Prata went one step further and threw the prata into a plastic box after it was done. And it was immediately moved from that plastic box to the tray. I had initially thought that the plastic box was used to keep the pratas warm, but when we were there they made all their pratas on the spot. I wonder if there is something special inside that plastic box 😆
We rate this plain prata 4.2/5 and you can get it at S$1.80 for 2 pieces.
Cheese Prata
Well, they are called Rahmath Cheese Prata but their cheese prata paled in comparison to their other outstanding pratas. Perhaps we waited a bit too long before consumption but we would have preferred the cheese to be a bit more melted. It may be a good idea for them to heat up the cheese first before loading it into the prata for the final frying. That said, it is still pretty solid and we rate it 4/5. You can get one for S$2.
Final Thoughts
They have the best egg prata in Singapore, based on this author's subjective point of view. Their prata with mushrooms, cheese and egg is a must try as well.
It can be sad how success comes so slowly for some. Rahmath Cheese Prata has been serving one of the best pratas for years but they have remained relatively unknown, even with those many awards. Their stall doesn't have the usual snaking lines that patrons would find familiar outside the best stalls on weekends. There are actually many empty seats around. However, we doubt that they will stay unknown for much longer if they can consistently keep up this super high standard of roti prata.
Come here on a weekend, enjoy the short queue and find a seat at your leisure – you won't regret it.
If you want to see more delicious food reviews like this, please LIKE our Facebook page and FOLLOW our Instagram!

  Rahmath Cheese Prata
Address
:
Blk 74 Toa Payoh Lorong 4, #01-08 Toa Payoh Vista Market, Singapore 310074
Directions:
Take the MRT to Toa Payoh station and walk 600m or take bus no. 88 – Google Maps
Signature items:
Roti prata
Opening Hours
:
Daily from 0600-1600hrs, closed on Monday
Contact:
NA