Chef Chan's Restaurant was founded by chef Chan Chen Hei, one of Singapore's top Cantonese chefs famous for dishes such as crispy roast chicken and supreme shark's fin with crab roe. Chef Chan moved from Hong Kong to Singapore when he was 28, and he left Singapore at age 57, back in 2011. Chef Chan embarked on a ambitious multi-year journey to China where he hopes to study Chinese cuisine for a wide-ranging cookbook which covers Chinese recipes, wild game and medicinal cuisine. This trip would take him to 53 Chinese cities all over China.
He left Chef Chan's Restaurant in great hands though, handing it over to his disciple, Chef Wong Hong Loong. Based on our experience the disciple is not too far off from the master, with the disciple serving up a really superb Crispy Roast Chicken.
They are currently located at Aperia Mall, and we were pretty surprised by the state of the place. Quite a few shops were shuttered, but the dining establishments were mostly going strong with a lot of people on a weekend night. Chef Chan's Restaurant has a very luxurious spot at the top retail floor of the mall.
Service and Ordering
We're not too sure what to make of the restaurant's decision to put these two imposing banners at the entrance. On the one hand they are pretty well designed and informative, but on the other hand you rarely see such things at the entrance of a prestigious Chinese restaurant.
That said, we found only excellent service at the restaurant, together with a luxurious interior and opulent furnishings.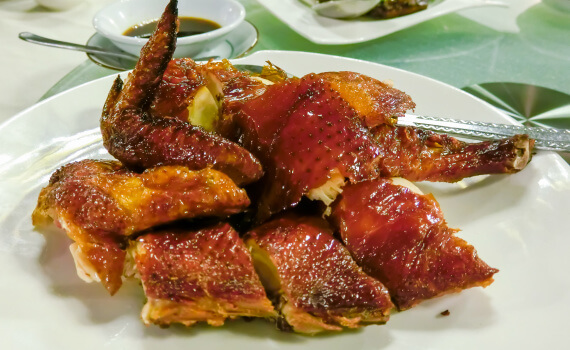 Chef Chan's Restaurant – Crispy Roast Chicken
This is the highlight of the night! We were not expecting much from this dish as most of the roast chicken dishes at Chinese restaurants are usually too dry and devoid of moisture. We were in for a big surprise. This crispy roast chicken was cooked to perfection, with the chef having found a way to lock the moisture into the chicken meat, even the breast meat areas! We found the fragrance from the roast chicken astounding, with the crispiness of the skin making this dish a really super delicious find. We rate this 4.3/5. A whole chicken will set you back S$34.
The Dips for the Crispy Roast Chicken
On the left we have the Lea & Perrins Worcestershire sauce. This is sort of a westernised soy sauce, with a trace of the vinegar taste. On the right we have the usual Chinese-style powdery seasoning that is a mix of salt, pepper and other secret ingredients.
We personally enjoyed the crispy roast chicken perfectly without either dips, but if you would like an additional kick to enhance the taste of the chicken, both are good options. We are partial towards the salt-pepper seasoning.
Sauteed Beef with Celery & Snow Peas in Black Pepper Sauce
We were eagerly awaiting this dish which was billed as one of their 3 signature dishes. After our experience with the beef tenderloin at Wan Hao Chinese Restaurant, we had very high hopes and we were wondering which would be better.
This looked absolutely delicious. The black pepper fragrance was engulfing and it was really satisfying in the mouth. We did find the beef a tad too chewy and we were hoping for a slightly larger portion. We rate this 3.8/5 and it is priced at S$18.
Final Thoughts
Sometimes we wonder why a visit to a Chinese restaurant requires many different dishes for variety. We can eat food dishes like chicken rice and beef hor fun which only has one primary type of meat, but we need multiple courses at a Chinese restaurant.
If you are the type that will be okay coming here to simply order their delicious Crispy Roast Chicken, this is definitely a must try if you are in the area. The whole chicken with rice will easily feed 2-3 people and you will in for a memorable super delicious experience. We will definitely return for their signature dish.

  Chef Chan's Restaurant
Address
:
12 Kallang Ave #03-17 Aperia, Singapore 339511
Directions:
Take the MRT to Lavender station and walk – Google Maps
Signature items:
Crispy Roast Chicken