[ This review has been updated in August 2016 with STREET 50's new weekend buffet! You can skip to the new items ]
STREET 50 Restaurant & Bar is a beautiful restaurant with great food and a fantastic ambience, located within Bay Hotel just across the road from VivoCity. For those people that frequent the VivoCity and Harbourfront area, this place is a must try. We were invited down for a sampling of STREET 50's all-new menu created by Chef Kelvin, a culinary expert who was previously with Sofitel.
STREET 50's new menu has a distinct Asian focus, with a multitude of Singaporean and Malaysian street food dishes on the menu. They do have a couple of Western items on their menu, ostensibly to cater for some of their hotel guests who may not yet have adjusted to the Asian flavours.
The food at STREET 50 really brings incredible value to the table. With that high level of service and ambience, you can get Curry Fish Head for only S$18.90 and ample-sized sharing dishes from between S$7.90 and S$12.90.
And the food is great. They have this incredible Salted Egg Lava Chicken Breast which actually has cheese inside together with the salted egg sauce! Their Assam Fish Head was superb as well, eschewing the typical factory-made assam seasoning for a healthy pure tomato puree mix that is one of a kind and tastes absolutely delicious.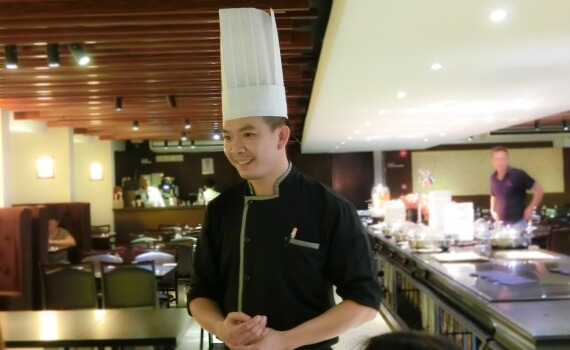 Service and Ordering
Chef Kelvin (pictured above) is actually 37 years old. Yes, apparently if you know how to cook the most delicious food you can remain eternally youthful as well. Jokes aside, the service level at STREET 50 was absolutely astounding, with some of the most qualified wait staff that we have ever seen. The wait staff were knowledgeable and eloquent, giving useful recommendations when asked.
The menu has this Savour & Share section – these items are for sharing, the portion sizing is decent but the pricing hits the value price point of between S$7.90 and S$12.90. The other section that we like is the Main-ificient Classics section which has the super delicious and super value Assam and Curry Fish Heads.
For drinks, their signature beverages will only set you back S$6 each, and these are high quality mocktails that are exploding with flavour.
STREET 50 – Salted Egg Lava Chicken Breast
This is really the highlight of the meal. Minced chicken breast that is perfectly battered to give a superbly crispy skin. The chicken meat was very tender as well, as far as chicken breasts go. The inside had this glorious molten salted egg lava sauce that had the perfect texture. It was nice and thick – and there was melted cheese inside as well! Cordon Bleu with a salted egg twist – marvelous.
The combination of the crispy and tender chicken breast, the warm molten salted egg lava sauce and the cheese was simply heavenly. We wish that the chicken breast could be a tad more moist, but alas that is the limitation of chicken breast meat. Given the preparation style of this dish, the more juicy and moist portions of the chicken can't be used.
We give this superb dish a rating of 4.3/5. You can get it at a value bargain price of S$9.90.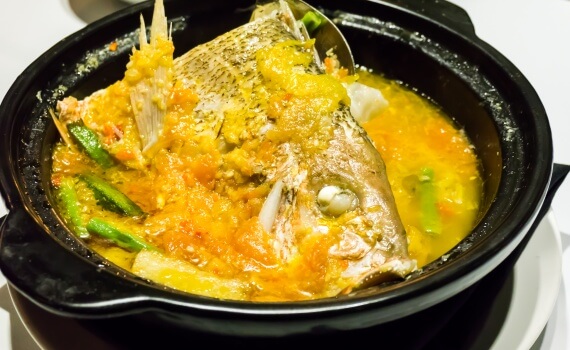 Claypot Assam Fish Head
This is not your typical assam gravy. Chef Kelvin excluded the traditional assam factory-made seasoning and went full-on fresh tomato puree. His creative and brilliant concoction is one-of-a-kind and it tastes simply delicious. The fish is perfectly cooked and the assam gravy is extremely addictive.
We give this super delicious dish a rating of 4.2/5, and you can get it at the bargain basement price of S$18.90. Yes the pricing is not a mistake – even at non-airconditioned zi char stalls elsewhere you will have to pay a minimum of S$20 for something similar.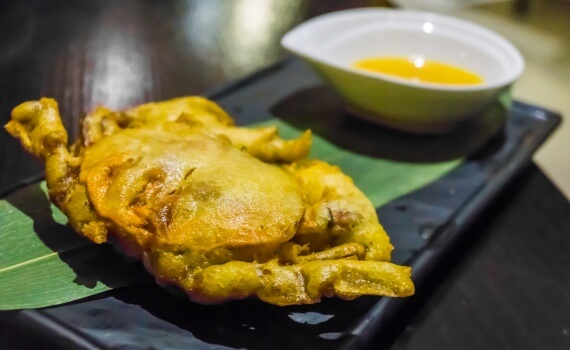 Soft Shell Crab with Salted Egg Dip
This was Sheryn's favourite dish of the night. The skin was super crispy with a very flavourful and delicious crab fragrance. The salted egg dip was a nice touch and it went really well with the soft shell crab. If you are a soft shell crab lover this is a must try. Personally for myself I found the center of the crab a tad soggier than I would have liked. Our subjective opinions clashed over this dish, so we had to average out our ratings here for a solid 4.1/5. You can get this for only S$7.90.
Curry Fish Head
Like the Assam Fish Head, they serve the Curry Fish Head in a claypot with sizzling hot curry. This dish was prepared by Chef Kelvin's colleague, an Indian chef. As such, the curry here is more of an Indian-style curry rather than a Chinese-style curry. The curry taste reminds me of the chicken curry that you get at the roti prata stalls. You won't get the tanginess of Hainanese curry here but more of a pure classical Indian style curry. If you are into Indian curry you could give this a try. We rate this 3.8/5 and you can get it at the same bargain basement price as the Assam Fish head @ S$18.90.
Fresh Coconut Malibu
Chef Kelvin uses a young coconut for this delicious dessert. The coconut flesh easily falls off from the husk and the coconut-flavoured ice cream is deliciously addictive. The ice cream together with the mixed fruits gives a refreshing feeling after a heavy meal. They provide a classy shot of fresh coconut juice – we recommend taking juice before the ice cream as the sweetness of the dessert is pretty overpowering. We rate this 4.3/5 and you can get it at S$8.90.
To round it off there's the Tiramisu 3.8/5 at S$7.90, the X.O. Scallop & Prawns Fried Rice 3.5/5 at S$9.90 and the Oyster Char Kway Teow 3.5/5 at S$12.90.
For the beverages, we tried their Honeyed Pleasure, Iced Lychee Tea, Soda Gembira and Temple Twister – do have a look at the menu thumbnail at the start of this article for the detailed ingredients. We must say that all the drinks here are extremely thick and flavourful – you won't go wrong with any of them.
'SINGAPORE FOOD STORY' Weekend Buffet Lunch
This is a new item added in August 2016
STREET 50 has just launched their brand new 'SINGAPORE FOOD STORY' weekend buffet lunch! STREET 50's new buffet selection intends to showcase the best local favourites with Indian rojak, laksa, beef rendang and fish curry, together with a generous BBQ station where you can get freshly BBQ'ed prawn, squid, beef, chicken and corn on the cob. That's not all! There's too many things to list.
Available from 12pm to 3pm at S$42 for adults and $20 for children. Given the vast array of expensive choices here, this really presents great value. DBS debit and credit cards get 15% discount.
We will introduce some of their buffet highlights in the next few paragraphs.
There's just so much food to eat that they have to locate their BBQ Station and Craving Station at the outdoor dining area! As you can see from the photos, there's humongous prawns that will be barbequed on the spot.
The Craving Station has chicken char siew shawarma, which is basically something like Peking Duck, except that they have replaced the duck with their own rendition of juicy chicken char siew!
We really enjoyed their beef rendang. The sauce was absolutely perfect and the taste was not too overwhelming and just right. The sauce thickness was fantastic as well. We give their rendang 4.3/5.
They have great butter chicken and ayam lemak cili padi as well, and we give those 4/5. You can even find some fish head in their fish curry buffet tray 3.8/5. You can pair these delicious items with either basmati rice, garlic naan or plain naan.
They have this special unique bandung drink. Have a sip of the bandung the instant that you get it from the dispenser, and you will taste a kind of dizziness. Yes, there is a concoction of soda water together with the bandung! This is a kind of sparkling bandung, slightly less milky with the tinge of soda. We really loved  it and we will give it 4.2/5.
The teh tarik was great as well, you can see from the picture above that they really know how to tarik or pull the tea. We will give that 4/5.
They have the usual laksa fare as well, with their cooks preparing it on the spot for you. You can customise the ingredients according to your tastes! It is a buffet after all and the portions are generous. This is one of their signatures but it didn't really have the wow factor like the Katong Laksa stalls. We will give it 3.7/5.
As you can see, there is an incredibly generous spread of deserts! There's also chicken and mutton satay as well as the Chinese assorted platter with smoked duck, spring rolls, jelly fish and baby octopus that you usually only see at Chinese wedding dinners.
Final Thoughts
With their new revamped menu and insane pricing, STREET 50 have really outdone themselves – especially with their Salted Egg Lava Chicken Breast and Assam Fish Head dishes. You can enjoy delicious food in the comfort of top notch air-conditioned service at prices comparable to the neighbourhood zi char prices – especially their fish head dishes. If you frequent the VivoCity and Harbourfront area, STREET 50 is a must try restaurant for any foodie fan.
If you dine at STREET 50 from now till 14 August 2016, they have this Great Singapore Savour promotion where S$50 spend gets you a complimentary Fresh Coconut Malibu and a chance to win dining vouchers and hotel stays at Bay Hotel Singapore, Bay Hotel Ho Chi Minh City – don't miss it!
They have also introduced a great SINGAPORE FOOD STORY weekend buffet lunch with a really generous selection of local delights and expensive seafood. For weekend dinners, they have a Hotpot Feast & Sizzling BBQ weekend buffet dinner, and the name speaks for itself – you get buffet hotpot and BBQ!
If you want to see more delicious food reviews like this, please LIKE our Facebook page and FOLLOW our Instagram!

  STREET 50 Restaurant & Bar
Address
:
50 Telok Blangah Road, Bay Hotel, Singapore 098828
Directions:
Take the MRT to Harbourfront and cross the road – Google Maps
Signature items:
Salted Egg Lava Chicken Breast, Assam Fish Head
Opening Hours
:
Daily from 0600-0300hrs, food menu from 1200-2230hrs
Contact:
+65 6214 8839