The release of the Singapore Michelin Guide 2016 is definitely one of the most anticipated gastronomic food events of 2016. Personally I have been a big fan of the Michelin Guide since I first heard of it many years ago. Let's give the quick low down.
What is the Singapore Michelin Guide?
The Michelin Guide is the world's most prestigious gourmet guide book. It is published annually by the French company Michelin, and they have been doing it since 1900. Yes, this is the Michelin tyre company. Its original motivations were purely business – the guide was meant to encourage people to buy automobiles and for those new owners to drive longer distances to try really delicious food. If people drove long distances, they would need to change tyres more often, thus helping this tyre company.
The original guide was given free and contained useful information for motorists such as maps, instructions for repairing and changing tyres, a list of car mechanics, hotels and petrol stations. Each Michelin Guide was country-centric, there was a different guide for each country. Soon, guides were published for France, Belgium, Italy, Switzerland, Germany and the list goes on.
In 1926, a single Michelin star was awarded to dining establishments of exceptional quality. In 1931, a hierarchy of stars was used, with the best dining establishments being awarded 3-stars. They gave the criteria in 1936:
 A very good restaurant in its category
 Excellent cooking, worth a detour
 Exceptional cuisine, worth a special journey
Why do we care?
The Michelin Guide is an internationally prestigious, unbiased and objective guide. You cannot buy them over, you cannot pay money to get your food outlet featured. The restaurants are evaluated by anonymous Michelin inspectors using the following criteria:
Quality of ingredients
Mastery of cooking techniques
Projection of the chef's personality
Value for money
Consistency
I used to think that Singapore's food was just not as good as the food from other cities in the world, which was why Singapore restaurants never had Michelin stars. But the fact is Singapore restaurants did not receive any Michelin stars only because there was no Singapore Michelin Guide. In 2016, Michelin has just released heir Singapore Michelin Guide 2016 today, 21 July 2016.
1 Michelin Star Restaurants in Singapore
 These restaurants are rated as "a very good restaurant in its category" and ordered alphabetically:
Alma
Beni
Candlenut
Cornerhouse
Crystal Jade Golden Palace
CUT by Wolfgang Puck
Forest
Hill Street Tai Hwa Pork Noodles
Hong Kong Soya Sauce Chicken Rice Noodles
JAAN
Lei Garden
OSIA
Putien (Kitchener Road)
Rhubarb
Shinji by Kanesaka (Raffles Hotel)
Shinji by Kanesaka (St Regis Hotel)
Summer Pavilion
Sushi Ichi
Terra
The Kitchen at Bacchanalia
The Song Of India
Waku Ghin
2 Michelin Star Restaurants in Singapore
 These restaurants are rated as "excellent cooking, worth a detour" and ordered alphabetically:
Andre
Joël Robuchon Atelier
Les Amis
Odette
Shisen Hanten
Shoukouwa
3 Michelin Star Restaurants in Singapore
These restaurants are rated as "exceptional cuisine, worth a special journey":
Joël Robuchon Restaurant
Our take on the Singapore Michelin Star Restaurants
Well, this list is slightly disappointing from my point of view. There are quite a few well-deserved restaurants on this list, but it is vastly missing the local Singapore hawker food. There are only two hawker winners. In contrast, Hong Kong's Michelin Guide has a ton of hawker food. Did the low-cost food in Singapore not satisfy the globe-trotting Michelin inspectors?
Also, we note the absence of some really great food establishments in Singapore, such as Al Forno (East Coast) Italian Restaurant, Macpherson Minced Meat Noodles, Selera Rasa Nasi Lemak and Saveur. All these places should have received at least 1-star. So Macpherson Minced Meat Noodles does not get a star, but the Fishball Story gets the Bib Gourmand award?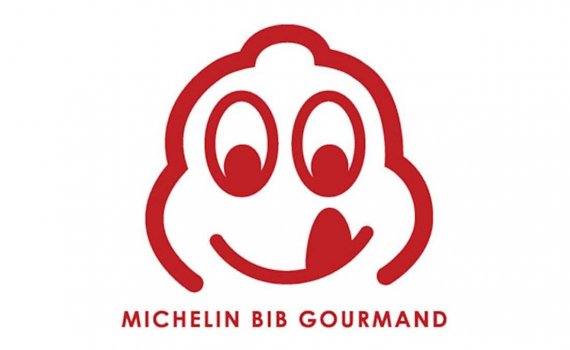 Singapore Michelin Guide 2016's Bib Gourmand Awards
As a teaser, Michelin released their Bib Gourmand list on 14 July 2016, one week before they released their full guides. The "Bib Gourmand" feature in the Michelin Guide was created in 1955 for restaurants offering "exceptional good food at moderate prices". In Singapore, the price limit for this is set at S$45. I'm not too sure why a food item priced at S$44 should be considered 'moderately priced', but oh well.
These are the 'honourable mentions' that do not actually earn Michelin stars, but are good enough to make their way into the Michelin Guide. In Singapore, there are 34 winners in this category:
Our take on the Singapore Bib Gourmand?
Well, all taste is subjective. That said, we do disagree with some selections here. A few food places seem to be included here not for quality or deliciousness of food, but only because they have caused some kind of stir in the local food scene. A couple of others seem to be pretty obscure, and we will definitely look forward to checking them out.
We think that 328 Katong Laksa should have at least got a Michelin star. As for Tian Tian Chicken Rice ending up on the list, we can only say that we have tried all the famous chicken rice stalls in Singapore, and there are only so many chicken rice shops that they can give stars to.  This is a well-deserved place, and maybe they could try harder next year.
A few other deserving familiar names that we recognise are the New Ubin Seafood, a zi char restaurant with their killer US Angus Rib-Eye Steak and companion signature beef fried rice; Song Fa Bak Kut Teh, the pretty well known bak kut teh restaurant; Tiong Bahru Hainanese Boneless Chicken Rice, Sin Huat Eating House, Hong Kee Beef Noodles and Hoo Kee Rice Dumpling.
We are not too sure that Fishball Story deserves a place there right now – while the young owner has a lot of gumption, he is still quite a distance away from a couple of the fishball stalls that were not included on the list. We hope he keeps on improving the taste and doesn't rest on his laurels.
Final Thoughts
Well, the Singapore Michelin Guide has really given a snub to our local hawker food, with just two hawkers getting the 1-star rating. There are at least 10-20 hawkers that should be at least on the Bib Gourmand list, but they have been snubbed. I guess in a sense this is the snobbish imperialists passing judgment on food which they don't really have much appreciation for.
Michelin may wish to consider hiring more Singapore-based food inspectors in the future – perhaps it is really a matter of the local tastes. I do hope that there is some improvement next year.