More detailed Taiwan travel guides are coming up. Like our Facebook page and follow our Instagram to keep yourself updated.
Related: Taiwan Travel Guide: 8D7N Trip Summary, Expenses and Handy Tips
Taiwan Itinerary Day 3
Cingjing Minsu – Julie's Garden
Cingjing Farm – Green Green Grassland
Carton King
Small Swiss Garden
Taichung
Beacon Hotel
Miyahara
Yi Zhong Street
Ah Ming Shi Lao Dian Tai Yang Tang
Chun Shui Tang

<- Taiwan Day 2Taiwan Day 4 ->
Taiwan Itinerary Day 3 – Cingjing Minsu – Julie's Garden
We had a good rest after the long day yesterday. I'm glad that we didn't opt for the early Hehuanshan Sunrise Tour from Cingjing, since we have already witnessed the astounding sunset at Hehuanshan Wuling.
Related: Taiwan Itinerary Day 2 – Taiwan 8D7N | Taroko – Hehuanshan – Cingjing
Our room at Cingjing minsu (homestay) – Julie's Garden has an excellent view for sunrise. The initial plan was to wake up before 6 a.m. to see the sunrise from our room's balcony. But the moment I opened my eyes, it was already too late. The sun shined through the curtains and lit up the whole room. I quickly went out to the balcony with my camera to capture the amazing mountainous scenery.
See that castle-like building in the picture above? That's the Old England Manor, a luxury hotel in Cingjing. Even though it is merely a hotel, due to the unique European styling, it has become one of the attractions in Cingjing. You may want to experience the stay at Old England Manor if you have a loose budget. Initially we wanted to visit the place but we were told by the staff at Julie's Garden that they do not welcome outsiders visiting their place just for photo taking.
If you would like to visit Old England but find it too expensive for a night, you may consider to have a meal or afternoon tea at the hotel. Unfortunately, we didn't get a chance to enjoy afternoon tea at the Old England due to time constraints.
After getting ourselves ready for the day and packing our stuff, we went to the reception for the checkout. Finally I could take a photo of the minsu's exterior.
For the photos of our room at Julie's Garden, see our previous post.
Taiwan Itinerary Day 3 - Cingjing Minsu - Breakfast
After checkout, we headed to the minsu's cafeteria to eat the complimentary breakfast. I must say I was pleasantly surprised by the view from the cafeteria. It seems like when you're in Cingjing, there is beautiful scenery all around you.
There weren't too many choices of food - you get the traditional Taiwanese breakfast that has porridge, eggs, stir fried glass noodles and toasts.
Taiwan Itinerary Day 3 - Cingjing Farm 清境農場
Free shuttle service is provided from the minsu to Green Green Grassland and vice versa, but only certain timings are available.  After the breakfast, we hopped onto the mini van from Julie's Garden to the Cingjing Farm - Green Green Grassland!
In less than 10 minutes, we reached our first destination of the day - Cingjing Farm (清境農場).
The adult ticket price on a weekday is NT$160 each. One thing to take note is, on weekends and holidays, both equestrian/horse show and sheep show are available at certain timings. On weekdays, only the horse show is available.
Sheep shearing show timings: 9.30 a.m & 2.30 p.m (only weekends & every day on summer holidays and new year holidays, except Wednesdays or rainy days)
Equestrian show timings: 10.45 a.m & 3.45 p.m (all days)
We were a little bit disappointed because the sheep show was not available. But on hindsight, if we watched both sheep show and equestrian show, we wouldn't have had the time to take so many beautiful photos. So if you are like us and you prefer to slowly take your time walking around the farm, coming on a weekday is a wise choice. At least you can avoid the weekend crowds. Furthermore, there will be plenty of chances for sheep encounters because you can find sheep all over the place at the Green Green Grassland!
Taiwan Itinerary Day 3 - Cingjing Farm - Green Green Grassland 清境農場青青草原
The Green Green Grassland is huge! Once you enter the farm, you can see the unfenced sheep scattered all over the place! You can get really close with them and snap a lot of selfies. There are vending machines where you can purchase sheep feed to get even closer with them!
Cingjing Farm is tucked away from cities in the mountains at an altitude of 1750 meters. You can enjoy fresh air and greenery in this huge area and you can easily spend a few hours here. This place is highly recommended if you have kids with you. The adults get to enjoy the great scenery while the kids can have a chance to get close to the nature and have fun on the huge grassland.
Upon entering the Green Green Grassland, you can already see the magnificent scenery with mountains in the background.
So many photo opportunities!
There's scenery everywhere you go at the Green Green Grassland!
From the entrance of Green Green Grassland, there's quite a distance to the Guanshan Pastoral Area, where the equestrian show stage is. We were slowly enjoying the scenery and taking some photos along the way while heading to that direction.
Taiwan Itinerary Day 3 - Guanshan Pastoral Area 清境農場觀山牧區
Upon entering the Guanshan Pastoral Area, you will be greeted by rows of food stalls selling various food and drinks. There are also some stalls selling local products like goat milk or milk candies.
If you're not watching the Sheep Show like us, you may take your time in walking and taking photos along the way. Otherwise, you may want to walk at a faster pace to be on time for the Equestrian Show.
On the way to the horse show stage, you can enjoy the scenery where sheep are eating grass along the hill beside a big windmill, backdropped with the layers of mountains and the clear blue sky. Oh just a gentle reminder, while admiring the beauty of nature, beware of the poo poo under your feet!
Taiwan Itinerary Day 3 - Equestrian Show at Guanshan Pastoral Area
Finally, we reached the horse show stage around 10.40 a.m, just right before the show started.
You may want to come here slightly earlier to find a good seat under the shade. Otherwise, you'll end up like us, getting seats at the side that visions were blocked by steels poles.
But nevertheless, we still enjoyed the show very much. We were astounded by how skillful the performers are in equestrian sport.
After the show, you get to take photo with those beautiful horses and the skillful performers.
It was quite amazing that they actually kept all the horses except this little cute pony! The pony gets to move freely on the grass.
We honestly didn't know that we would be enjoying ourselves so much at the farm.
After leaving the horse show stage, we left Guanshan Pastoral Area and we emerged from the farm at the other end of Cingjing, where the Small Swiss Garden and Carton King are located.
Taiwan Itinerary Day 3 - From Green Green Grassland to Carton King & Small Swiss Garden
From the Guanshan Pastoral Area to the Small Swiss Garden, it requires a 30 - 40 minutes walk. Initially I was trying to use GPS on my phone as there was no clear indication of the route to Small Swiss Garden on the Cingjing Farm's map. We saw a lot of people just following the main road which looped back to the Green Green Grassland.
Thankfully, while we were wandering in front of the Great Nature Theater entrance which seemed to be closed and empty, we noticed a couple coming out from inside. When we approached them, they told us that they just came from the Small Swiss Garden!
So if you would like to go to the Small Swiss Garden or Carton King, enter the entrance of The Nature Theater and walk along the path. Upon entering the area, you'll see a quiet stroll path within the forest.
Taiwan Itinerary Day 3 - 487-Step Trail 步步高升步道
After a short walk along the pathway, what greeted us next gave us a big "wow'. Coming out from the forest, there was a super long staircase trail, namely 487-Step Trail (also named as 499-Step Trail). From where you stand, you won't be able to see what's at the bottom of the endless staircases.
Going down the staircases was pretty tiring. But thankfully the walk was accompanied by the beautiful scenery along the way and there were also benches available on the trail. In February, the trail will be filled with plum tree blossoms on the sides! If you're planning to visit Small Swiss Garden before walking up to Green Green Grassland, be prepared to conquer these long, long staircases. If steps are not your thing and you have time to spare, you can take the longer walkway route instead of the steps.
After completing the 800 meters of descending staircases, we've come to the main road. From the junction, there's still a 10 - 15 minutes walking distance to the Small Swiss Garden and Carton King.
Along the way, you can see a lot stalls selling all sorts of local products and fruits.
Taiwan Itinerary Day 3 - Lunch at Carton King 紙箱王
After the long walk, we have finally reached the place that we are going to have lunch at - Carton King (紙箱王). Almost everything in the restaurant is made of cardboard, including furnishings and decorations. We are so impressed by all the creations here!
If you're also planning to visit Small Swiss Garden and Carton King, be sure to visit Carton King first! If you spend more than NT$300, you get a free admission ticket to Small Swiss Garden worth NT$120.
The food at Carton King is really good! We weren't expecting much given what we've read about the place but we were pleasantly surprised.
Taiwan Itinerary Day 3 - Cingjing Small Swiss Garden 清境小瑞士花園
After our lunch at Carton King, we walked to the Small Swiss Garden just right next to Carton King.
As you can tell from the name, the Small Swiss Garden is a beautiful garden with a Northern European atmosphere. The colourful garden is also known as Paradise in the Mist and Taiwan's Little Switzerland.
Before we visited the Small Swiss Garden, we heard from a local driver that this place has nothing special except some artificial flowers and decorations. Hence, our expectations dropped by a little bit after hearing so and we only allocated less than one hour to spend here.
But to our surprise, the Small Swiss Garden is not that small afterall. Besides the artificial flowers, there are a lot of beautiful decorations, real flowers and that plants that add more liveliness to the place.
I won't say Small Swiss Garden is really fantastic but the colourful garden filled with flowers (both real and fake) is still worth a visit if you come to Cingjing. There are a lot of LED artificial flowers that will be lightened up in the night. So if you're staying at the minsu nearby, you may get the stamp before leaving the garden and visit the garden again to experience the different atmosphere at night.
Unfortunately, we received a call from the driver of our carpool service to Taichung (arranged by our minsu, Julie's Garden), saying that we had to depart earlier than the scheduled time. Without having a choice, we had to leave the Small Swiss Garden after a mere 30 minutes. It was such a pity that we didn't get to explore the whole garden.
Taiwan Itinerary Day 3 - From Cingjing to Taichung
We booked the transport from Cingjing Farm to our hotel in TaiChung with the help of our minsu, Julie's Garden. It was a car pooling service and the price differs depending on the destination in Taichung. It costs us NT$500 per pax from Cingjing to Beacon Hotel at Fengjia, Taichung.
The fare was considered expensive as compared to public transports. But it was much more convenient. The driver first picked up our luggage that we entrusted to the staff at Julie's Garden, then pick us up at the 7 eleven near Small Swiss Garden.
Apparently due to the less than expected amount of bookings for both 1.30 p.m and 2.30 p.m rides, they combined the passengers from both timings together. We were a bit upset with the abrupt change but on the brighter side, we were able to reach Taichung earlier than expected. Thankfully, the journey from Cingjing Small Swiss Garden to our hotel, Beacon Hotel at Fengjia only took us 1 hour and 30 minutes.
Taiwan Itinerary Day 3 - Taichung Hotel - Beacon Hotel at Fengjia 碧根行館
I'm sure most people who visit Taichung would be looking for hotel near the Fengjia area for easier access to the famous Fengjia Night Market. But why stay near to the night market when you can actually stay right at the Fengjia Night Market?
Beacon Hotel is smacked right at the heart of the Fengjia Night Market. Imagine the moment you step out from the hotel and find yourself surrounded by numerous stores and food choices. By the day, the street downstairs looks just as normal as any street in Taiwan. By the night, cars are prohibited on the street in front of Beacon Hotel as the place turns into a happening street where all the youngsters gather.
Beacon Hotel is located right next to McDonald's, Watson and the famous Taiwan face mask - My Beauty Diaries store. There are bus stops right in front of Watson and also across the road in front of the Nike Store.
Beacon Hotel has a humble storefront and you might miss the entrance if you don't pay attention. But the exterior look doesn't tell much.
To our surprise, the hotel reception is not located at the first floor, but at the 12th, the highest floor! At first, judging from the hotel exterior I thought the hotel might be just a small establishment. But I was wrong. Upon coming out from the lift, I was shocked by what I see next. The hotel lobby is so huge and grand!
There's a conference room, study room and computer room for the hotel's guests to use.
Just so you know, there's even a gym for those hard cores who need to workout during their stay.
And our room is on the 6th floor!
Taiwan Itinerary Day 3 - Our room at Beacon Hotel
Finally we were going to have a rest at the room that we would be staying for both nights in Taichung. Let's have a room tour!
Our room is extremely spacious, classy and cozy! Beacon Hotel in Taichung is the best hotel that we have stayed throughout the whole Taiwan trip. We got a huge King sized bed and it's super comfortable, perfect for us after a long and tiring day.
There's even cozy sofa in the room for you to rest your tired legs.
I was so in love with our room! If only we could stay for a few more days.
You won't be able to find electric switches in the room because everything is controlled by the telephone! Isn't this way too cool? You can control the air conditioner and all the lights while in the bed by just reaching out to the telephone.
You can find all the useful appliances like a kettle, refrigerator, hair dryer and safety box in the room.
Let's have a look at the bathroom. In a hotel, what matters the most to me is the cleanliness of the bathroom. Thankfully, the bathroom here in our room is very clean and spacious!
There's even a bathtub! I could totally spend more than an hour in the bathroom.
The bright lighting and huge mirror in the bathroom definitely makes a girl's morning make up much easier. Next to the sink, there's another isolated space for showering.
I love how they arranged the essentials in the toilet in such a neat and creative manner.
For more photos of the cafe and buffet spread, see our next post.
Taiwan Itinerary Day 3 - Miyahara 宮原眼科
After a short rest at the hotel, we set off to our next attraction - Miyahara (宮原眼科) by taking Uber. We could have taken direct bus from our hotel but we were too lazy to do that. The beautiful building with high ceilings consists of a full service restaurant, an ice cream parlour and retail shops selling Taiwanese delicacies .This is no doubt a MUST VISIT place in Taichung.

But why the name Miyahara - 宮原眼科 (Gong Yuan Yan Ke)? The building used to be an ophthalmology clinic opened by a guy named Miyahara during the Japanese occupation era.
A special write up for Miyahara will be posted shortly.
Taiwan Itinerary Day 3 - Yi Zhong Street/Yi Zhong Night Market 一中街
After having the "luxurious" ice cream at Miyahara, we took Uber to Yi Zhong Night Market. Unfortunately, at the time of writing, Uber has already been banned in Taiwan. So if you wish to travel from Miyahara to Yi Zhong Night Market, you may choose take taxi or bus. A 10-minute taxi ride will bring you there.
Here at Yi Zhong Night Market, we have finally found our favourite street food in Taiwan! We'll talk about this in a separate post. (Coming soon)

Taiwan Itinerary Day 3 - Ah Ming Shi Lao Dian Tai Yang Tang (阿明師老店太陽堂)
Tai Yang Bing / Sun cake (太陽餅) is the most famous delicacy in Taichung. Ah Ming Shi turns out to be one of the most famous Tai Yang Bing brands here in Taiwan. When you visit this place, you will find a lot of different brands of Tai Yang Bing along Ziyou Road. Ah Ming Shi has several branches across Taichung, you may choose one that's close to you.
Actually, this main store of Ah Ming Shi Lao Dian Tai Yang Bing at Ziyou Road is very near to Miyahara, but we don't want to carry the heavy sun cakes around so we came back to here after visiting Yi Zhong Night Market.
There are two flavours available - the original (malt) and honey milk flavour. Personally we prefer the honey milk flavour which has a strong milky taste and sweeter, but some people prefer the original one instead. The original malt flavour contains pig oil so it may not be suitable for vegetarians.
There are free samples available for tasting before you purchase. Out of greed, we also bought their pineapple tarts! But when we tried out the pineapple tarts together with the other brands that we bought in Taipei, we think that it is still better to get your pineapple tart fix from the shops that are specialized in making pineapple tarts instead.
Both of the Tai Yang Bing and pineapple tarts can last for one month from the date of purchase. But it is recommended to consume them within one week for optimum taste.
Look at the amount of Tai Yang Bing the other customers purchased:
Here are the prices for the items we bought at Ah Ming Shi Lao Dian Tai Yang Tang:
Original malt flavour (10 packs) - NT$200 Honey milk flavour (12 packs) - NT$300 Pineapple tarts (10 packs) - NT$280
If you find it too troublesome to carry the heavy Tai Yang Bing around when you visit the shop at the beginning of your trip, you may opt for their delivery service to have your purchase delivered to your hotel. But I'm not too sure about their delivery areas so do check with them if you wish to do so!
Taiwan Itinerary Day 3 - Walking around Taichung
Our next stop and also the last stop of the day, is the home of the original bubble tea in Taiwan - Chun Shui Tang. Since the original store is located just 10 minutes walk away from Ah Ming Shi Lao Dian Tai Yang Tang, we decided to walk to there.
We almost mistook this as the Chun Shui Tang because we saw the name at the side of their signboard. I guess they are sort of related?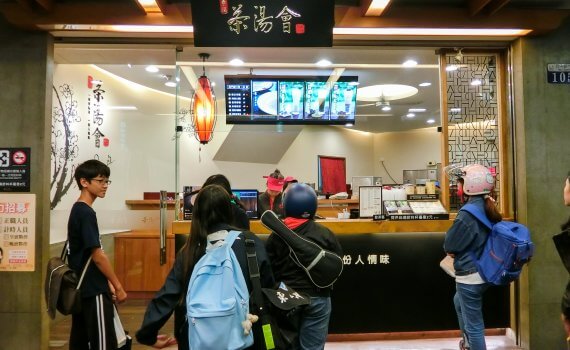 Taiwan Itinerary Day 3 - Chun Shui Tang Cultural Tea House (Original) 春水堂創始店
After 10 minutes, we finally reached Chun Shui Tang Original Store (春水堂創始店) at Siwei Street. Chun Shui Tang in Taichung is the inventor of the worldly famous bubble tea. How can we visit Taichung without trying their signature bubble tea?
Taiwan Itinerary Day 3 - Heading back to Beacon Hotel
We booked an Uber ride to send us back to Beacon Hotel to call it a rest for the day. On our way home, we passed by the following Tai Yang Bing (Sun cake) shop:
It is the "No.23 Tai Yang Bing Shop" which our driver in day 2, Neil recommended. Neil mentioned that this is actually the most popular brand among the Taichung locals instead of the other famous brands.
Initially we were unsure of whether to try Neil's recommendation or stick to the famous brand that we wanted to buy. But since we didn't see the shop while we walked around in Taichung city, we forgot about it until we passed by on our way back to hotel.
A few days later, we met a taxi driver in Taipei who appeared to be Taichung local. He told us that the best Tai Yang Bing in Taichung is not one of the well known brands like Ah Ming Shi, but the No.23! We felt so much regret for not buying from this shop but it was already too late. So guys, if you manage to try out the Tai Yang Bing from No.23 shop, do let us know how if they are really better!
If you would like to see more posts like this, please like our Facebook page and follow our Instagram.
On the next day, we're heading to the Xinshe Sea of Flowers, Xinshe Castle, Xinshe Mushroom Farm, Lavender Cottage, Rainbow Village, Gaomei Wetlands and lastly, Fengjia Night Market.
<- Taiwan Day 2Taiwan Day 4 ->