More detailed Taiwan travel guides are coming up. Like our Facebook page and follow our Instagram to keep yourself updated!
Taiwan Itinerary Day 4
Breakfast at Beacon Hotel
Xinshe Sea of Flowers
Xinshe Castle
Xinshe Mushroom Farm
Lavender Cottage
Rainbow Village
Gaomei Wetlands
Fengjia Night Market

<- Taiwan Day 3Taiwan Day 5 ->
Taiwan Itinerary Day 4
On our day 4 in Taiwan, we explored the Xinshe (Shinshe) area near Taichung city as well as Taichung itself. The attractions in Xinshe are difficult to access by public transport. Hiring a private or taxi driver is highly recommended. You may visit this website for more information about Xinshe (certain information available in Chinese only).
Related: Taiwan Travel Guide: 8D7N Trip Summary, Expenses and Handy Tips
We engaged Mr Li as our driver of the day. The service was decent and the price was relatively cheaper than the other quotations that we received.
Contact: +886979600538 (Mr Li 李大哥)
Cost: NT$3000 + NT$500 for Gaomei Wetlands
Service hour: 10 hours
Language: Chinese
Taiwan Itinerary Day 4 – Breakfast at Beacon Hotel 碧根行馆
Before kicking start our trip to Xinshe, we went to the cafeteria on the 12th floor for our breakfast. The area is huge and they have a wide spread of food with their international buffet breakfast.
See our previous post on Taiwan Day 3 for more photos of Beacon Hotel.
From Chinese food to western food, fruits to desserts, there are plenty of food choices available.
Besides the usual Taiwanese porridge, Beacon Hotel adds more local delights into their breakfast. There were delicious local food like braised minced pork rice, scallion pancakes, meatballs and more.
Various toasts, cakes, sandwiches and buns were among the spread too!
I love how they organized their tableware!
The food was pretty good too!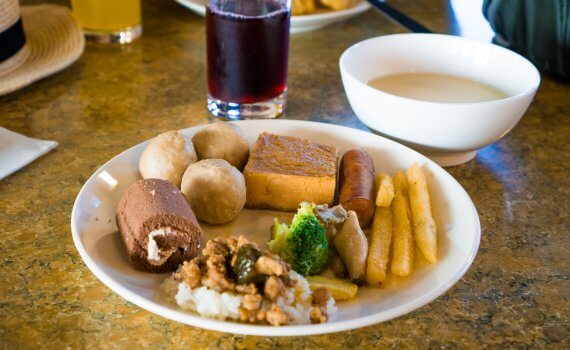 To see more photos of our room at Beacon Hotel, see our previous post.
Taiwan Itinerary Day 4 - Xinshe Sea of Flowers 新社花海
After breakfast, the driver whom we hired for the day fetched us from Beacon Hotel and brought us to our first stop - Xinshe Sea of Flowers (新社花海). There are a few attractions in Taiwan where you can see a beautiful sea of flowers.
The annual flower exhibition at Xinshe is held every November to December, for around 4 weeks. There are both overseas tourists and local domestic Taiwanese tourists that flock to the annual Xinshe Sea of Flowers Festival to catch a glimpse of the beautiful flowers.
If you are not visiting Taiwan during the November-December period and miss the rare opportunity to visit Xinshe Flower Festival, you may opt for the alternative, the Zhong She Flower Market. The Zhong She Flower Market is relatively smaller but it's available all year round.
Heavy traffic is expected at the exhibition especially during the weekends. On our way here, we could see the traffic police along the way directing traffic. This is the reason why we decided to head down early in the morning, to avoid the massive crowd!
Fortunately, there was absolutely no traffic congestion and the area around the Xinshe Sea of Flowers was still pretty quiet. I guess it's always good to be kiasu (afraid to lose) especially when visiting a hot tourist spot on a weekend!
It takes about 40 minutes from Taichung Fengjia area to the Xinshe Sea of Flowers. Including Xinshe Sea of Flowers, there are quite a number of attractions in Xinshe area which you may include in your day trip from Taichung. Unlike most of the attractions in Xinshe, admission to Xinshe Sea of Flowers is free of charge.
The flower exhibition is huge! The whole area takes up to 30 hectares, you can easily spend 2-3 hours here getting lost in the middle of the sea of flowers. Even though the size of the flower exhibition is smaller compared to the previous years, it is still much bigger than any other flower markets/sea of flowers available in Taiwan.
Wide array of colourful flowers can be seen in the flower exhibition.
The spectacular views of the ocean of flowers are so mesmerizing. There are plenty of photo opportunities at different corners of the field.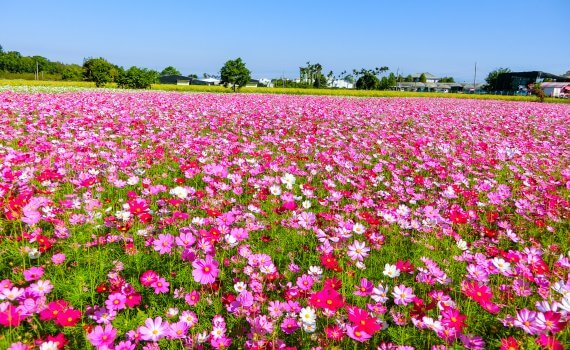 This year, the theme of the flower exhibition is "Peacock". A huge 3D flower display in the shape of peacock could be seen in the main exhibition area.
There are several theme pavilions with interesting and educational information at the flower exhibition - suitable for young kids to learn more about plants and science through fun and interactive ways.
Taiwan Itinerary Day 4 - Xinshe Castle/Summit Resort 新社古堡/新社莊園
After wandering within the sea of flowers for around 2 hours, we moved on to the next attraction in Xinshe -- Xinshe Castle/Summit Resort (新社古堡/新社莊園).
If you enjoy taking photos, this insta-worthy resort is definitely worth a visit. Xinshe Castle (also known as Summit Resort) consists of a European style castle that is surrounded by a beautiful garden and a pond. Being a popular spot for pre-wedding photo shoots, every corner of Xinshe Castle is just so beautiful.
The map of Xinshe Castle and the entrance tickets:
The admission fee for each adult is priced at NT$250. This includes a NT$100 F&B voucher. You may use the voucher to offset the purchase of food and beverage or souvenirs.
The structures and buildings in Xinshe Castle are made of red bricks. With the lake and mountains and the beautiful garden as the backdrop, you'll feel as if you're walking into a fairy tale. This is really a perfect spot for you to take a relaxing stroll and take pictures to your heart's content. If you're visiting the resort during spring, the place looks even better with all the blooming flowers!
Upon reaching the resort, we decided to use our discount vouchers on beverages at the restaurant.
The restaurant is designed in a beautiful hexagonal shape and it is also made of the same red bricks as the other structures at the Summit Resort. The operation hours of the restaurant are from 11 a.m to 5.30 p.m daily.
I guess we were pretty early that day so the Xinshe Castle was not too crowded yet. We ordered our drinks and took a seat at the outdoor seating area on the second floor, overlooking the fantastic scenery around the lake.
Sipping our drinks while enjoying the beautiful scenery was super relaxing and enjoyable. I'm glad that we chose to visit Xinshe Castle during autumn so the weather was just nice!
After a short rest at the restaurant, we continued our exploration of the resort while taking more pictures.
This place was just so beautiful and I couldn't resist taking more photos. This is one of David's favourite stops today because we could explore at a slow pace and relax, taking a stroll around the garden.
Taiwan Itinerary Day 4 - Xinshe Mushroom Farm 百菇莊
Next, we moved on to the Xinshe Mushroom Farm for lunch. Our driver actually recommended their braised minced pork rice (what!?) at the mushroom farm. At first I thought this was probably another tourist trap in that area, but the food turned out to be pretty good! We ended up bagging a few bottles of their chili sauce (with mushroom inside!) back home.
Taiwan Itinerary Day 4 - Lavender Cottage 薰衣草森林
When you search for attractions in Xinshe, I'm sure you'll come across to Lavender Cottage (薰衣草森林). Lavender Cottage is a beautiful and relaxing garden, around a 1-hour drive away from the busy Taichung City. It is a perfect getaway on a weekend for the people from the city to rest and unwind after a work week.
A gentle reminder for those who get car sick easily, remember to eat motion sickness pills before coming. The road to and from Lavender Cottage is pretty winding and curvy. You really don't want to spoil the mood by getting giddy and stopping by the roadside to puke (like how I did).
The entrance fee is NT$100 per pax, and it comes with two NT$50 vouchers for you to offset the F&B or souvenirs purchases. So it's actually as good as free entry! If you're visiting Lavender Cottage on a summer day, it is advisable to bring along insect repellent.
Lavender Cottage is owned by two ladies who love coffee, music, travelling, and drawing. They dreamed about having their own lavender farm for a simple, peaceful life, far away from the cities. After years of hard work, the ladies finally had their dreams come true when they established the Lavender Cottage.
I won't say that the Lavender Cottage is super astounding or beautiful, but we felt really relaxed and comfortable while wandering around the place. Every single corner of the Lavender Cottage seems to have a story to tell.
There are a lot of products made from lavender or other flowers on sale in the Lavender Store.
You can find various clean and care products with lavender extracts like soaps, body lotions, essential oils and even tea leaves.
You can even custom make your own fragrance sachets, choosing from a wide range of flower aromas!
There are two cafes within the Lavender Cottage. If you're not buying any souvenirs, dropping by one of the cafes is also a great choice for utilizing the vouchers.
We went to the cafe near the Lavender Store to have a drink before exploring deeper into the Lavender Cottage.
I can't recall how long we spent sitting at the cafe doing nothing but sipping our drinks and relaxing. However, I can still remember that it was really quiet and relaxing. The drinks were pretty good too.
Walking further up into the Lavender Cottage, we could see some other stalls and stores, selling some small gifts, postcards and products made of lavender and other flowers.
It's really hard to resist buying some of these beautiful items back home!
You'll see a lot of cute displays along the road, the young kids will definitely love these.
Colourful signage can be seen at the Lavender Cottage, pointing in various directions for visitors' easy navigation.
You'll be surrounded by the green and purple decorations in Lavender Cottage. The healing atmosphere will make you slow your pace and enjoy the scenery around you. The cute and dreamy decorations in every corner can really bring back a lot of childhood memories when things were so simple. Oh and there's even a carousel here!
You may purchase some postcards and post them to your friends and family from Lavender Cottage. There's a small wooden post office near the lavender farm.
Write down what you want to say on the postcards and put them into the colourful mailboxes. Then the staffs from Lavender Cottage will get your messages delivered!
Walking further upwards, there's a big lavender farm on the hill. The lavender farm is one of the main highlights at Lavender Cottage. However, I guess we might be too early for the flowers during early November. There weren't many lavenders blossom during our visit.
The lavender blooms from November to May each year. During summer, you'll see Salvia Farinacea here at Lavender Cottage in place of lavender.
At the top of the hill full of lavenders, there's a huge wish tree where you can make your wishes.
Visitors write their wishes on pieces of leaf-shaped papers and tie them at the stand near the tree. Would the wishes be granted?
After visiting the wish tree at the top of the hill, we walked all the way back down to the entrance of Lavender Cottage. We bid goodbye to the beautiful lavender dream in purple and moved on to our next destination.
If you really enjoy the relaxing atmosphere and love being surrounded by the lavender aroma, there's lodging available in Lavender Cottage as well!
Taiwan Itinerary Day 4 - Rainbow Village 彩虹眷村
Rainbow Village (彩虹眷村) is situated around 20 minutes from Taichung city center. No entrance fee is required. Rainbow Village 彩虹眷村 is one of the military veterans' villages in Taiwan, which served the purpose of settling the soldiers that retreated from the Chinese Civil War. Mr Huang (a.k.a Uncle Rainbow) was one of the anti-Communist soldiers who fought in the war. After the retreat, he settled down in the village and came up with the idea of painting the walls in the village with his creative imaginations.
The old military dependents' village has since been renowned for the colourful paintings by Mr Huang. He has painted the walls in the village with vibrant colours and various of objects like people, animals, and auspicious wordings.
The Taiwan government has been trying to demolish this old village but thanks to the artworks, this village has since been preserved and it is now one of the most popular attractions in Taichung.
There are still villagers residing in Rainbow Village. So please remember to keep your voice down when you're paying a visit.
The artworks in the village are infused with Chinese culture. The walls and grounds are all covered by the beautiful creations of Uncle Rainbow, who is now more than 90 years old.
If you visit Rainbow Village during the opening hours, you might get to meet Mr.Huang and snap a picture with him! There used to be a guy dressing in Iron Man's attire at Rainbow Village, playing guitar and taking photos with tourists. But we heard from our driver that due to the local hooligans around the area, he has recently moved to the Gaomei Wetlands (and we did see him there!).
Rainbow village only occupies a small plot of land in the area. We visited the place on a Saturday afternoon and the village was packed with people. If you have some time to spare, I would recommend Rainbow Village as a brief stop for some photo opportunities. But if you're pressed for time, you might want to skip this stop.
Taiwan Itinerary Day 4 - Gaomei Wetlands 高美湿地
After we left Rainbow village, we went straight to Gaomei Wetlands (高美湿地) - possibly the best place to see sunset in Taichung. It takes around 45 minutes drive from Taichung city to Gaomei Wetlands. We reached there around 4.30 p.m and it was already SUPER CROWDED. We knew that Gaomei Wetlands is famous for the sunset scenery but we really didn't expect that it would be so crowded during the late afternoon.
See the boardwalk packed with people? If you would like walk into the water (don't worry it's shallow during low tide), you need to walk for 15 - 20 minutes from the car park to the sea via the 800 meters long boardwalk.
Unlike the sandy beaches, Gaomei Wetlands appears to be the natural habitat of various species. The soil is covered by the sedge grass and you can see a lot of small crabs, mud-skippers and birds on the wetlands. Visitors are only allowed to walk from the boardwalk to the sea in order to protect the preservation area. Please check the sunset timing before you come as the sunset timings vary throughout year.
Here are some of the photos that we took at Gaomei Wetlands:
The sun setting behind the row of standing windmills is absolutely stunning.
Due to the overwhelming crowd at the wetlands, we had to walk really far to take some photos without anyone else inside our shots.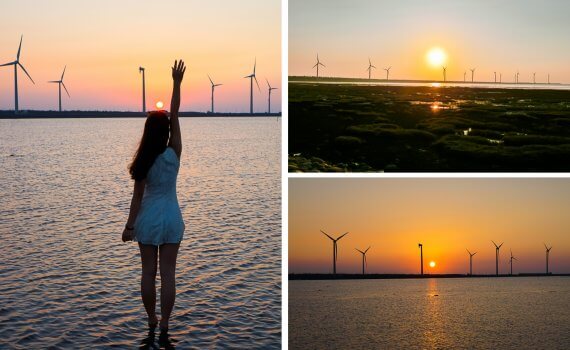 Even after the sun went down below the horizon, the skyline was still insanely beautiful.
The blue hour after the sun has dipped is the golden time to photograph the beautiful skyline. The sky was dyed into layers of colours and it was just so difficult for us to resist staying longer to enjoy the scenery.
Taiwan Itinerary Day 4 - Fengjia Night Market 逢甲夜市
At night, we decided to go to the famous Fengjia Night Market to fill our empty stomachs! Being the biggest night market in Taiwan, Fengjia Night Market has just so much to offer. We'll have another dedicated post for Fengjia Night Market coming up, stay tuned!
If you would like to see more posts like this, please like our Facebook page and follow our Instagram.
The next day, we head to Tainan - the oldest city in Taiwan to experience the traditional culture and of course, go on an eating spree looking for all the famous food there.
<- Taiwan Day 3Taiwan Day 5 ->