More detailed Taiwan travel guides are coming up. Like our Facebook page and follow our Instagram to keep yourself updated.
Taiwan Itinerary Day 7
Yong He Soy Milk King
Yangmingshan
Yangmingshan Beef Noodle
Beitou Market
Ai Zai Cai Braised Pork Rice
Beitou Thermal Valley
Beitou Hot Spring
Beitou Public Library
Tamsui Old Street
Yuan Wei Braised Meat Rice
Shilin Night Market
Taiwan Itinerary Day 7 – Yong He Soy Milk King 永和豆浆
On our second last day in Taiwan, we initially wanted to try the famous Fu Hang Soy Milk in Taipei. We got our driver of the day, Mr Shi, to send us there but ended up waving the white flag due to the insane queue. As a result, Mr.Shi brought us to a nearby Yong He Soy Milk King branch to buy our breakfast on the go.
Similar to our breakfast on the previous day, we bought original Scallion Egg Pancake, Scallion Egg Pancake with pork floss, warm soy milk (sweet). Even though we knew that we probably won't like the salty soy milk, we decided to give it a try this time.
After grabbing everything, we realised that we weren't given any spoon but only a straw for the salty soy milk. The salty soy milk is thicker compare to the usual sweet soy milk and there were you tiao (fried dough stick) added. I took a sip and all I could taste was vinegar. It was probably due to the drinks wasn't stirred properly but I gave up trying.
As with most things where there isn't a long queue, we found the food at this branch pretty mediocre. We definitely preferred the food and drinks at Fu Hang Soy Milk – we made it a point to get up early to try it the following day, and it was well worth it.
Taiwan Itinerary Day 7 – Driver of the Day
On our day 6 in Taiwan, we covered Yangmingshan, Beitou area, Tamsui area and Shilin Night Market. Initially, we were planning to visit these places by bus and train. But taking public transport is going to take up a lot of time and it's impossible to visit these places in a day. If we were to take bus to visit Yangmingshan, we would have to spend at least 5 to 6 hours to cover the stops that we planned to visit. In addition, visiting Yangmingshan by bus requires A LOT of walking.
Related: Taiwan Travel Guide: 8D7N Trip Summary, Expenses and Handy Tips
Other than the attractions that we planned to visit, we have also included several hidden local food places that are difficult to access by public transport. I'm so glad that we made the decision to travel around with a driver as we explored so many nice places in a day and had the really, really good food that are unknown to most tourists.
We engaged Mr Shi (施先生) from XiaoYu Travel Company as our driver of the day. Like I said in the previous post, hiring a private or taxi driver is highly recommended as it would really help you to save a lot of time and troubles.
Contact: XiaoYu Facebook Page; [email protected]; +886965076912 (Whatsapp/Line)
Cost: Price ranging from NT$3000 – NT$3500 depending on the destinations.
Service hour: 8 hours
Language: Chinese (English speaking driver available upon request)
Website: XiaoYu Facebook Page
The driver service we engaged includes the following places:
Pick up from Taipei hotel
Yangmingshan – Xiaoyoukeng
Yangmingshan – Lengshuikeng
Yangmingshan – Menghuan Pond
Yangmingshan – Qingtiangang
Yangmingshan Beef Noodles
Beitou Ai Zai Cai Braised Meat Rice
Beitou Thermal Valley (Hell Valley)
Beitou Garden Spa (Millennium Hot Spring)
Beitou Library
Yuan Wei Braised Meat Rice
Tamsui Old Street
Taiwan Itinerary Day 7 – Yangmingshan (阳明山)
Yangmingshan National Park covers 11,000 hectares of mountainous area in Taipei City and New Taipei City districts. Yangmingshan is about 1120 meters above sea level and mostly covered by grass slopes.
There are quite a number of attractions at Yangmingshan National Park and usually people may spend a whole day here alone especially if they opt for public transport option. If you have time to spare, you may visit Yangmingshan by taking their shuttle bus. You may check out the bus information and the map of Yangmingshan HERE.
From Yangmingshan station, you may take shuttle bus no.108 to travel to various stops within Yangmingshan National Park. But do take note that the intervals of bus #108 can be as long as 40 minutes. Some attractions require quite a bit of walking from the bus stops, so please be reminded that you might need to allocate more time to travel from one stop to another. If you don't have one whole day to visit just Yangmingshan alone, hiring a driver to drive you around is highly recommended.
Some popular scenic spots including Xiaoyoukeng, Lengshuikeng, Qingtiangang, Zhuzihu, Yangming Park Flower Clock and Erziping. Among which, Flower Clock and Zhuzihu are particularly popular during spring and the annual Yangmingshan Flower Festival. Knowing that we won't be able to see much flowers in November, we decided to skip these stops this time.
Here's a map that covers most of the popular scenic spots at Mt. Qixing Main Peak.
Taiwan Itinerary Day 7 – Yangmingshan (阳明山) – Xiaoyoukeng (小油坑)
Our first stop of the day was a place called Xiaoyoukeng (小油坑) at Yangmingshan (阳明山). Among all of the attractions at Yangmingshan, Xiaoyoukeng is one of the most popular stops. There are some fumaroles at Xiaoyoukeng that give an interesting post-volcanic geological landscape at Yangmingshan.
Xiaoyoukeng is one of the few places in Yangmingshan to observe post-volcanic activities. You can see and hear the hot steam coming out from the holes on the ground.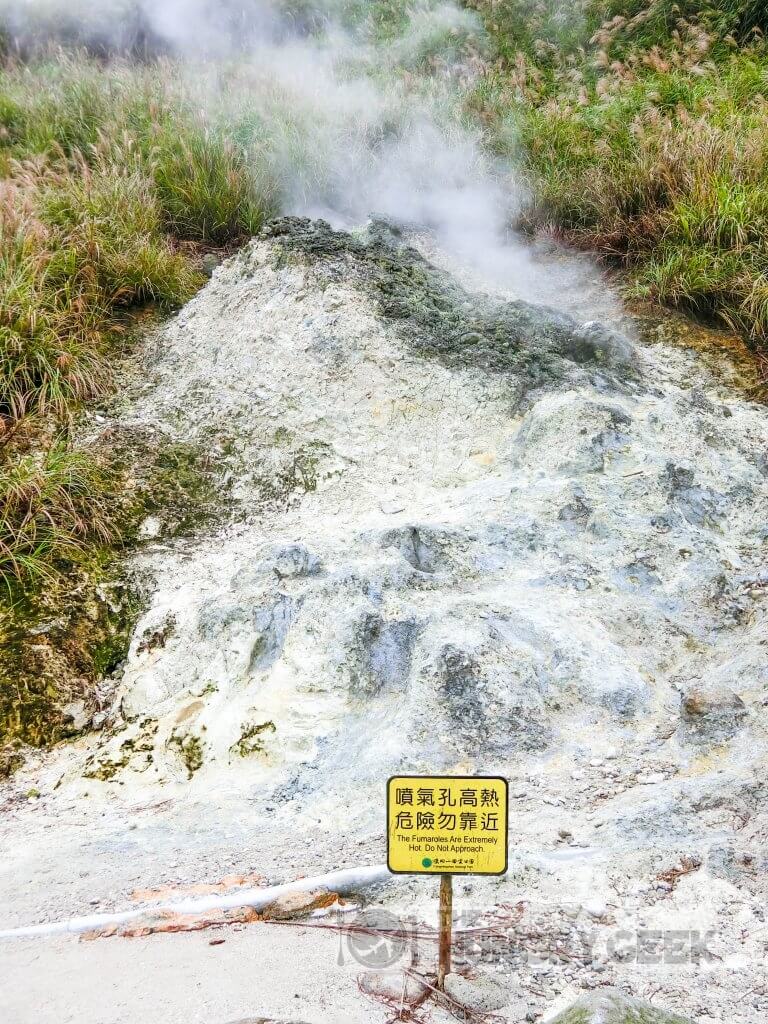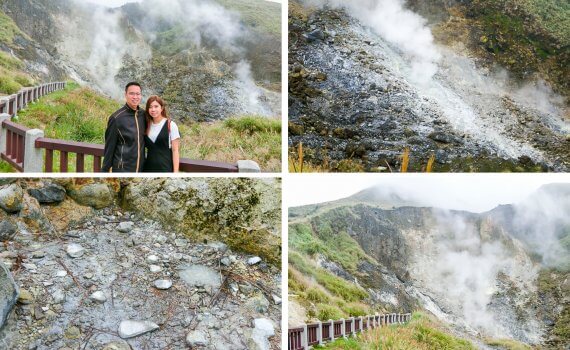 The fumes contain mostly the sulfur gas released from the geothermal hot spring water from underground. You will smell the strong sulfur odour from the air exhausted from the ground. The fumes are strongly acidic and may be harmful to smell for long period of time.
Here's the real-time weather information at Xiaoyoukeng during early November.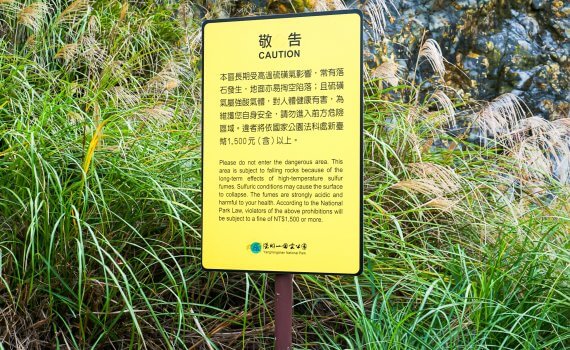 Taiwan Itinerary Day 7 – Yangmingshan (阳明山) – Lengshuikeng (冷水坑)
Next up, we moved from Xiaoyoukeng to a popular rest stop at Yangmingshan – Lengshuikeng (冷水坑). Visitors get to soak in the hot spring bath here. The name of Lengshuikeng carries the meaning of "cold water pit". The water temperature of the hot spring here only reaches 40°C (104°F), which is relatively low and hence the name "Lengshuikeng".
Visitors may enjoy the public hot spring bath here for free but do remember to adhere to the dress code here – no clothing allowed. Yes, visitors are only allowed to enter the hot spring nude but don't worry, the bathes are separated by genders.
If you're too shy to enter the public hot spring bath, you may try out the foot-soaking pool right outside of the bath. When you're visiting Yangmingshan and feeling tired of walking, try dipping your tired legs in the warm hot spring pool and have a good rest before moving on to the next stop!
Here's the timetable of the open sessions of the public hot spring bath at Lengshuikeng:
Taiwan Itinerary Day 7 – Yang Ming Shan (阳明山) – Menghuan Pond (梦幻湖)
While visiting Lengshuikeng, we noticed Menghuan Pond (梦幻湖) is just distance away. Even though this wasn't in our list initially, but we decided to check it out the pond because of the "dreamy" name of the pond.
We requested our driver, Mr Shi to drive us to the Menghuan Pond. Upon arriving at the car park, Mr Shi told us that we would need to follow the hiking trail from the car park to reach Menghuan Pond. Due to the impromptu decision, we had to go for the hike which was unanticipated.
The Menghuan Pond trail took us about 20 minutes. It was a steep uphill climb and there isn't any barrier along the trail. The road and trail may be wet when raining so please equip yourself with anti-slip shoes for the hike. The weather has been rainy that day we visited Yangmingshan. I slipped once while descending and it was actually quite terrifying as I might fall off from the trail without any barriers.
Thankfully the view during the hike was pretty nice and we stopped to snap some photos despite the drizzle. Visitors can enjoy a scenic view overlooking the green mountainous areas of Taipei City, including Mt. Qixing, Mt. Shamao or the Syue mountain range.
However, we were a bit disappointed by the Menghuan Pond as it isn't as "dreamy" as we expected. We'd recommend skipping this spot if you are pressed for time. Mr Shi later told us that the Menghuan Pond is particularly stunning during winter as the pond being surrounded by fog and mist, making the lake dreamy and mysterious.
Here's a panorama view while descending from Menghuan Pond. If only the weather was better, the view would be really good.
Taiwan Itinerary Day 7 – Yang Ming Shan (阳明山) – Qingtiangang (擎天岗)
Qingtiangang (擎天岗) is one of the most scenic location in Yangmingshan National Park. Visitors can enjoy an expansion view of the huge grassland in Yangmingshan due to the slight elevation of the land. If you're fan of hiking, you may go for the Lengshuikeng – Qingtiangang trail followed by the 2.4km long Qingtiangang Circular Trail around the scenic grassland. You may have a chance to see the Taiwan Water Buffalo or wild cattles around here!
If you prefer not to stress too much on your foot, it's better to engage a driver when you visit Qingtiangang. Mr Shi dropped us right at the entrance of Qingtiangang trail.
Despite the rain, the vast grassland at Qingtiangang still looks absolutely beautiful. We even spotted a couple shooting their pre-wedding album here!
As the rain was getting heavier, we didn't manage to complete the circular trail at Qingtiangang and we didn't see any cattles around. But we were still pretty satisfied with the spectacular view that Qingtiangang has to offer. No regrets!
Taiwan Itinerary Day 7 – Yang Ming Shan Dry Beef Noodle (牛肉拌面)
After spending hours exploring Yangmingshan, we went for lunch at a popular beef noodle store among the locals. This humble store is very popular among the locals but not well known by many tourists. I was really lucky to learn about this from a local Taiwanese variety show.
This name of this store is just "牛肉拌面" (Dry Beef Noodle) and you wont be able to find any English information about this store online easily. The beef noodle store is hidden at an alley near Chinese Culture University's campus.
This dry beef noodle stall at Yangmingshan is known to have long queue during lunch hour. People are willing to stand under the hot sun and queue for a seat in the tiny store. I don't know whether we were considered lucky, it was raining heavily when we arrived during noon so there was absolutely no queue outside. However, the store was almost full with the students from the campus nearby swarming here to have dry beef noodle for lunch.
There are only two types of noodles being sold here, Dry Beef Noodle and Dry Sliced Pork Noodle. A big serving of the Dry Beef Noodle costs NT$80 and the small one costs NT$75. As for the Dry Sliced Pork Noodle, the big and small servings cost NT$75 and NT$70 respectively. The servings are pretty generous and value for money. I guess this is one of the advantages of hunting food near schools or campuses, you won't be stunned by any cut throat prices!
David and I ordered a big serving of Dry Beef Noodle to share among us. We wanted to leave some space in our stomach for the part 2 of our lunch. At the first glance, we thought the beef slices look very dry and so as the noodle. But little did we know, the delicious sauce was hidden under the whole load of noodles.

You have to mix the noodles thoroughly before eating to ensure the noodles and the beef slices are evenly coated with the sauce. The oh-so-good sauce is so fragrant and a generous amount of minced garlic were added into it. If you can't stand the smell of garlic, you may tell them so during ordering.
David isn't a big fan for garlic, in fact, he always tried to avoid eating food with strong garlicky taste. But this time, both of us immediately fell in love with this big bowl of beef noodles at the first bite!
Given the well balanced amount of sauce, the noodles were not dry at all. I won't say the beef slices are soft and tender but they were definitely not as tough as they look. Dear beef noodles lovers, this is a MUST EAT food when you visit Yangmingshan.
For those who can't take beef, fret not. You may try out the Dry Sliced Pork Noodles instead. In fact, we noticed that almost half of the patrons chose this over Dry Beef Noodle. Given the standard of the Dry Beef Noodle that they served, I believe the Dry Sliced Pork Noodle won't be bad as well.
Not only do the noodles are nice, the hot soup here is fragrant and flavourful as well. Patrons are welcomed to help themselves with unlimited supply of the soup made from beef bones. Beef bones could be seen in the soup but in order the preserve the taste of the soup, patrons are only allowed to eat the bones after 4 p.m daily.
You may order some side dishes like tofu to go with the noodles.
Unlimited supply of preserved vegetables to go with the beef noodles, anyone?
Taiwan Itinerary Day 7 – Beitou Market (北投市场)
After we had a satisfying meal at the dry noodle stall at Yangmingshan, the rain has become small. Mr Shi sent us to Beitou Market. Beitou market is actually a local wet market where the locals visit to buy fresh food and goods. You can barely see any tourists here.
The reason why we visited Beitou Market, was of course to find another hidden gem located right within the market. This is another food stall that is popular among the locals but not known to most tourists.
Taiwan Itinerary Day 7 – Ai Zai Cai Braised Pork Rice (矮仔财卤肉饭)
Braised Pork Rice is one of the must eat in Taiwan. Ai Zai Cai Braised Pork Rice (矮仔财卤肉饭) is definitely one of the most popular ones among the locals. We were stunned by the long queues formed at the stall all the way from second floor to first floor in the Beitou Market building.
As this was our second meal in the afternoon, David and I once again ordered just a bowl of the signature Braised Pork Rice and a Braised Pork Knuckle to go with the rice. The prices at the store were so cheap. A big bowl of Braised Pork Rice costs NT$35 while a small bowl only costs NT$25. The additional serving of Braised Pork Knuckle only costs NT$40.
The braised pork meat was on the fatter side, just like most of the famous braised pork rice in Taipei. But the braised sauce here at Ai Zai Cai Braised Pork Rice was so addictive that we finished the whole bowl of rice in a blink of an eye. The Braised Pork Knuckle side dish that we ordered was pretty good as well. This hidden gem in Beitou is definitely worth a visit when you travel to Beitou.
Taiwan Itinerary Day 7 – Beitou Thermal Valley (北投地热谷)
After we were finally done with our lunch (both part 1 & 2), Mr.Shi sent us to the next attraction in Beitou – Beitou Thermal Valley (北投地热谷). Beitou Thermal Valley is also widely known as Hell Valley (地狱谷). This is a must visit when visitors come to Beitou.
Beitou is one of the most popular hot spring sites in Taipei that attract both locals and visitors to visit for a relaxing retreat with the natural hot spring here.
The green sulfur spring water in Beitou Thermal originates within the volcano and it is extremely acidic . The spring water here contains a lot of sulfate minerals and it is corrosive.
The water has a beautiful light green colour and has the highest temperature among the hot springs in Datun Volcano Group. The hot spring here can hit over 90 degrees and you can see the beautiful steam constantly rising from the surface of the spring.
Despite the inviting appearance, the high temperatures and acidic, radioactive nature of the spring water is not suitable for human contact.
Taiwan Itinerary Day 7 – Beitou Garden Spa/Millennium Hot Spring (北投親水公園露天溫泉/北投千禧汤温泉)
Beitou is famous for their hot spring and it appears to be the nearest place for the people in Taipei to go for a soak. How can we leave Beitou without trying out the famous hot soak?
There are quite a number of choices for a hot spring retreat. We have chosen the cheapest option – Millennium Hot Spring (北投千禧汤温泉). It is also known as Beitou Garden Spa (北投親水公園露天溫泉). Only swim wear is allowed so please remember to bring yours before visiting. Otherwise, there are swimsuits for sale here as well.
The entrance fee for each adult is priced at only NT$40. This is likely the cheapest you could ask for in this area. Some places only allow visitors to enter the hot spring nude but we were too shy to put those places under consideration.
Due to the extremely cheap entrance fees, you can see many elderly enjoying themselves at Beitou Garden Spa even on a weekday.
Despite the fact that the hot spring is mainly occupied by the elderly, we still enjoyed ourselves soaking in the hot spring. There are a few pools with different temperatures and you are supposed to move from the lower temperature ones and slowly adjust yourself to the hotter pools.
The water at the pool with highest temperature was barely tolerable to us. I really admire the tolerance levels of the other people who managed to soak themselves in that pool for so long.
Just a gentle reminder, remember to bring your own swimsuits, towel and toiletries when you visit.
Taiwan Itinerary Day 7 – Beitou Branch of Taipei Public Library (北投图书馆)
When you're visiting Beitou, you may drop by the well known the Taipei Public Library (Beitou Branch). The library is located within Beitou park at the Beitou hot spring area. The eco-friendly building is the first in Taiwan to achieve diamond level under the EEWH certification system.
The Taipei Public Library branch in Beitou is the first ever "green" library in Taiwan. The entire building is made of wood and environmental friendly materials. The well designed architecture is also quite a sight to see.
Taiwan Itinerary Day 7 – Yuan Wei Braised Pork Rice (源味卤肉饭)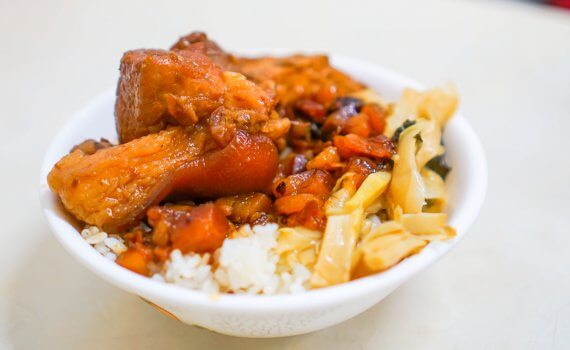 Before we move to our next stop, Tamsui Old Street, we requested Mr Shi to drop us at a braised pork rice store (again). We happened to see the food recommendation at this store from a Taiwanese variety show.
Similar to the Ai Zai Cai Braised Pork Rice, the meat here is also pretty fat but there are slightly more ingredients other than the meat. But unlike Ai Zai Cai, we don't see many patrons here at Yuan Wei Braised Pork Rice Store, probably because of the odd timing and bad weather.
Our driver, Mr Shi told us that in fact in Taipei, most of the famous Braised Pork Rice use mainly fat meat for this dish, including the famous Jin Feng Braised Pork Rice (金峰卤肉饭). If fat meat is too greasy for you, Mr.Shi recommended a popular store in Taipei, called San Yuan Hao Braised Pork Rice (三元号卤肉饭).
Taiwan Itinerary Day 7 – Starbucks at Tamsui Station
While we were eating at Yuan Wei Braised Pork Rice, the rain has once again become heavier. After Mr.Shi dropped us off at Tamsui Old Street, we decided to get shelter at the Starbucks, hoping that the rain will stop soon.
Snapped a picture of the Starbucks mugs, tumbler and coffee beans while waiting for my order.
Taiwan Itinerary Day 7 – Tamsui Old Street (淡水老街)
Despite of our wait inside Starbucks cafe, the rain only became lighter but didn't stop. We had to go down to Tamsui Street with an umbrella in our hand since it was getting dark. Due to the rain and the delay, we had to give up visiting Tamsui Fisherman's Wharf (淡水渔人码头). Tamsui Fisherman's Wharf is a perfect place for sunset viewing and you can take subway to Tamsui Station, then change to take bus Red 26, 836, or 857 to get there.
On a bright side, Tamsui Old Street was at least not as crowded and we got to buy food without having to queue.
There were a lot of food stalls along the street, but due to the rain, the street felt a little bit empty and not as attractive.
We'll be dedicating a separate post to talk about the food to eat at Tamsui Street. Please wait patiently! 🙂
Taiwan Itinerary Day 7 – Metro from Tamsui to Shilin Night Market
After spending six days in Taiwan, we have finally gotten a chance to try out the metro/subway in Taipei. Since we didn't need to use metro often, we only purchased the one-time-use single journey tickets from Tamsui station to Jiantan station.
Taking metro in Taiwan is pretty easy and convenient, not too different from the MRT from Singapore.
Taiwan Itinerary Day 7 – Shilin Night Market (士林夜市)
We all know that Taiwan is well-known for their night markets with tons of good food and games. Shilin Night Market is the most famous night market among all of them. How can you visit Taiwan without visiting Shilin Night Market?
Shilin Night Market is HUGE. There are countless of food stalls stretch out from the starting point at Jiantan station. The variety of food at Shilin Night Market is no joke, prepare your stomach for a big feast of street food before visiting!
Other than food, you can see a lot of games stalls lying around as well. You get to play a lot of traditional games and the games that we only get to see at funfair. If you're lucky, you might win some of the prizes home!
There's a Cihcheng Temple located at Shilin Night Market, right beside of a popular sausage stall with long queue.
There is even more food hiding in the food hall of Shilin Indoor Market.
Prawn fishing anyone?
There are too many food stalls at Shilin Night Market to be listed in this post. Please look forward to our special write up for the delicious food that you must not miss at Shilin Night Market.
That's all for our 7th day in Taiwan! On the next day, we will be heading to one of the most popular breakfast places in Taipei – Fuhang Soy Milk. After that, we'll be hiking Elephant Mountain to view the beautiful skyline of Taipei and have our lunch at the famous Yongkang Beef Noodle before flying back to Singapore.
If you would like to see more posts like this, please like our Facebook page and follow our Instagram to keep yourself updated!