More detailed Taiwan travel guides are coming up. Like our Facebook page and follow our Instagram to keep yourself updated.
Taiwan Itinerary Day 8
Fuhang Soy Milk
Elephant Mountain
Zhongzheng Memorial Hall
Sweet & Spice
Sunny Hills
Yongkang Beef Noodle
Taoyuan International Airport
Singapore
Taiwan Itinerary Day 8 – Fuhang Soy Milk (阜杭豆漿)
Fuhang Soy Milk / Fuhang Dou Jiang (阜杭豆漿) is arguably the best place for traditional breakfast in Taipei. This place is well known for its insane queue from the second floor all the way down to the street. We had to come early at 6:30 a.m to avoid the long queue to savour the famous Shao Bing with You Tiao (烧饼夹油条), Soy Milk (both sweet and salty) and Scallion Egg Pancake (葱花蛋饼). Fuhang Soy Milk has the most delicious traditional breakfast we had over the past few days in Taipei. You have to visit this place at least once when you visit Taipei!
Taiwan Itinerary Day 8 – Elephant Mountain / Xiangshan (象山)
Elephant Mountain / Xiangshan (象山) is one of the Four Beasts Mountains (四獸山) in Taipei. The hiking trail at Elephant Mountain is also widely known as Nangang District Hiking Trail. If you want to enjoy the best view of Taipei for free, I would recommend the Elephant Mountain.
Related: Taiwan Travel Guide: 8D7N Trip Summary, Expenses and Handy Tips
This place is easily accessible by public transport and the hike from the bottom to the first viewpoint takes about 15 minutes. The beautiful skyline of Taipei including the iconic Taipei 101 building can be seen from here.
The entrance of the Elephant Mountain trail is pretty obvious with the signage of elephants and Taipei 101 building. I have included the directions in the information box below.
From the entrance, you can see the seemingly endless rows of staircases going up to the Elephant Mountain.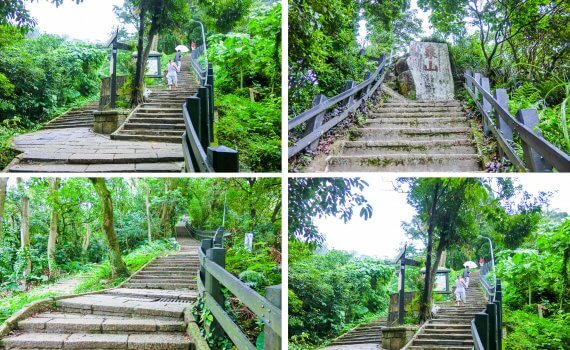 There are a lot of stairs involved so be sure to wear comfortably when you visit Elephant Mountain. In fact, Elephant Mountain has the best view of Taipei city's skyline during sunset. But that also means this place will be the most crowded during late afternoon.
Initially we wanted to hike the trail for the sunset view but we couldn't slot it into our packed itinerary. We chose to visit Elephant Mountain early in the morning on a weekday and there was absolutely no crowd at all.
There are several tiles on the path craved with the names of the trails. Near to the first viewpoint on the trail, we saw the following circular tiles that indicate the directions and distances to the destinations. There are also signs along the way showing directions to the Six Giant Rocks and the Peak of Elephant Mountain.
Here's some of the photos we have taken at the first viewpoint before reaching the Six Giant Rocks.
The view was good but it was such a pity that the weather was cloudy and misty in the morning.
Taiwan Itinerary Day 8 – Six Giant Rocks / Liu Ju Shi (六巨石)
You have to at least visit the Six Giant Rocks when you visit the Elephant Mountain, if not the peak. Since we did not have too much time to spare, we only planned to hike to the Six Giant Rocks / Liu Ju Shi (六巨石). If you're fit enough, you can reach the Six Giant Rocks viewpoint in 15 minutes.
This is a popular spot at Elephant Mountain to have a bird's-eye view of the Xinyi district. You can climb up to the giant rocks and sit while enjoying the panorama view of the beautiful city.
If you plan to visit this place for the sunset, it's better to come early to secure a good spot. Coming here in the dusk enable you to see both day and night view of the city. The city skyline is particularly stunning at night with all the city lights on.
If you want to snap a perfect photo over the city, climb all the way up to the peak for the best view without any obstacles in the shot. If not for the time constraints that we faced, we would have definitely hiked all the way up to the peak in the evening for the perfect pictures that we saw online.
Taiwan Itinerary Day 8 –  Chiang Kai-Shek Memorial Hall (中正紀念堂)
Chiang Kai-Shek Memorial Hall is one of the most famous attractions in Taipei. The whole area of the prominent historical landmark in Taiwan spans about 25 hectares. The memorial hall was built to commemorate the famous historical leader – Chiang Kai-Shek and it is now the most visited attraction in Taiwan.
On the day of our visit, we were unlucky to find that Chiang Kai-Shek Memorial Hall was closed for maintenance. As a result, we didn't get to enter the memorial hall to catch a glimpse of Chiang Kai-Shek's statue and the historical exhibition. There was no changing of the honour guard performance at the square as well.
So we decided to walk around the memorial park surrounding the main hall.
One of the significant sights at Chiang Kai-Shek Memorial Park is the changing of the honored guards. The show takes place every hour from 9 a.m to 5 p.m daily.
The exterior of the memorial hall is absolutely spectacular. If you visit here in a good weather, the view would be even better with the blue sky in the background.
The area surrounding the main hall was renamed to "Liberty Square".
While there wasn't many people here in the morning, it was really a nice place to take a stroll with all the beautiful flowers in the memorial park.
Besides the main Chiang Kai-shek Memorial Hall, you can also see National Concert Hall and National Theater with exquisite Chinese architectural design.
The iconic front gate has the "Liberty Square" characters (自由廣场) on it, portraying the democratic spirit of the nation.
Taiwan Itinerary Day 8 –  Sweet & Spice (糖村)
When it comes to buying souvenirs, Sweet & Spice (糖村) has to be one of the most famous in Taiwan. There are many branches scattered around Taipei and Taichung. We decided to go down to the nearer one on our last day to buy some souvenirs.
Surprisingly, my favourite Taiwan snack of all time is not the popular pineapple cake or sun cake, but the nougats from Sweet & Spice! There's a wide range of snacks available at Sweet & Spice, such as nougats, pineapple cakes, sun cakes, cakes, cookies, chocolates and more.
I tried their French Nougat before and I totally fell in love with it! Unlike the normal nougats, nougats from Sweet & Spice has a rich milky flavour with soft chewy texture. If you have a sweet tooth like me, you should definitely try them out. I have tried both the original and toffee flavours and I was really having a hard time trying to figure out which is nicer.
The snacks at Sweet & Spice are available in beautiful presentable packages, making them great choices to give out as gifts. A bag of 500g French Nougat costs NT$350 and a bag of 500g Toffee Nougat costs NT$420.
Taiwan Itinerary Day 8 –  Sunny Hills (微熱山丘)
Speaking of the souvenirs, one can never miss the famous pineapple cake  in Taiwan. Since this is our last day in Taiwan, we made sure we don't miss out anything that we wanted to bring back.
Out of many pineapple tart stores in Taiwan, Sunny Hills has got to be one of the better ones. During this Taiwan trip, we bought the pineapple tarts from Ah Ming Shi Lao Dian Tai Yang Bing in Taichung, Sunny Hills and Chia Te in Taipei. Among these three, we find that the pineapple tarts from Sunny Hills have the richest pineapple flavour, and they seem to taste "purer", less artificial than the other brands. If you can only choose one to buy, I would definitely recommend the pineapple tarts at Sunny Hills.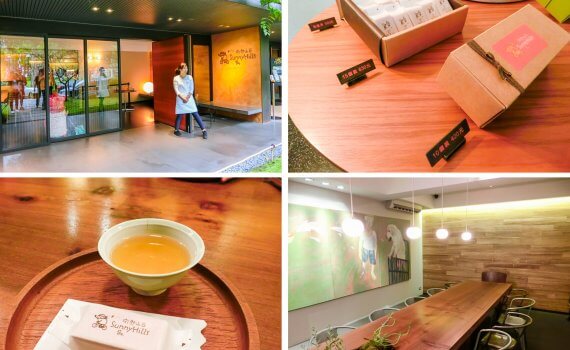 Upon our visit, we were immediately served tea and a sample of their signature pineapple cake!
A box of 10 is priced at NT$420 and a box of 15 costs NT$630. It's best to consume the pineapple cakes within 25 days of the baked date for optimum taste and freshness.
If you're are short on time to make a detour to the main store at Minsheng E. Rd, you may visit the branch at Taoyuan International Airport (Terminal 2) before you catch a flight home. There's actually an outlet in Singapore as well!
Taiwan Itinerary Day 8 – Yong Kang Beef Noodles (永康牛肉面馆)
Beef noodles is known to be one of the most famous local delights in Taiwan. Yong Kang Beef Noodles (永康牛肉面馆) has to be the king of authentic beef noodles in Taiwan. The highly rated beef noodles restaurant is by far the most famous store among the locals and tourists.
As beef noodles lovers, how could we miss this place before leaving Taiwan? We made a trip down to Yong Kang Street, where Yong Kang Beef Noodles is located. Yong Kang Street is a haven for foodies. Other than Yong Kang Beef Noodles, you can find other food like the famous Mango Shaved Ice at Smoothie House and rows of trendy cafes along the street.
Due to time constraints, we could only have a quick lunch at Yong Kang Beef Noodles before rushing to the airport. It was such a pity that we didn't get to eat the famous Jin Feng Braised Pork Rice and the Mango Shaved Ice from Smoothie House. Thankfully, there wasn't any queue when we reached but the restaurant was filled with tourists.
We ordered the signature Red Spicy Braised Beef Noodle Soup (红烧牛肉面) with Soy Bean Sauce and Clear Stewed Beef Noodle Soup (清炖牛肉面). I have to say that the braised beef was so tender that I think people without teeth would be able to chew them up effortlessly. This is no doubt the most tender braised beef that I have ever tried for all braised beef noodle soups.
However, we were pretty disappointed by the noodle soup as we were expecting a super thick and beefy broth. I guess this may be due to the Lin Dong Fang Beef Noodles we had on our day 6 in Taiwan. The broth of the Lin Dong Fang beef noodles is really top notch.
We find that the Clear Stewed Beef Noodle at Yong Kang Beef Noodles tastes way too "healthy". So go for the Red Spicy Braised Beef Noodle Soup if you can only choose one. You may order half tendon and half beef noodles if cattle tendon is your kind of thing.
Taiwan Itinerary Day 8 – Taipei to Taoyuan International Airport
There are several ways to go Taoyuan International Airport, which includes taking MRT, bus or taxi. The MRT ride takes the shortest time of them all. During our visit, the MRT service was not available yet so we were only left with the bus and taxi options. Since we were running late, we gave up taking bus (takes 1 hour to reach airport) but chose to use Uber instead.
Since the lauching of Taoyuan International Airport Access MRT System in March 2017, you may now take the MRT from the airport straight to Taipei Main Station! It only takes less than 40 minutes from Taipei Main Station to Taoyuan International Airrport. See here for more information on the MRT service from Taipei to Taoyuan International Airport.
*At the time of writing, the Uber service has undergone some changes in Taiwan so do a comparison of the fares with TaxiGo before booking.
Taiwan Itinerary Day 8 – Taoyuan International Airport
It's always good to reach airport early as you never know how long the check-in queue would be. The Jetstar counters were so long and we had to queue for about half an hour to drop our luggage.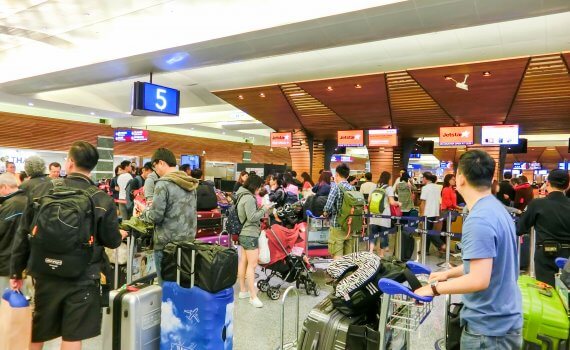 After we dropped we luggage, we saw a Hanlin Tea Room branch in the airport!
I really love their bubble tea so much so without much hesitation we bought ourselves their signature Panda Milk Tea before flying off.
Taiwan Itinerary Day 8 – Taipei to Singapore
Finally our Taiwan trip has come to an end. I was so reluctant to board the plane because there is still so much good food that I didn't get to try during this trip. Taiwan has so much to give but we just can't possibly try out everything in a single trip.
Even though this is my second visit to Taiwan, everything is still so interesting to me. I can understand why so many of my friends love to visit Taiwan again and again. Think of tons of affordable good food, beautiful scenery and above all, the friendly Taiwanese people. It was such a heart-warming experience where you can easily strike conversations with the locals and you can feel that they are genuinely kind! We'll definitely be back soon to explore different parts of Taiwan, probably during spring next time. 🙂
If you would like to see more posts like this, please like our Facebook page and follow our Instagram to keep yourself updated. We will be sharing more travel guides and good food for recommendations!