Taiwan Travel Guide – Summary
We have finally finished writing the detailed itineraries of our Taiwan trip in the last autumn. Here's a post to sum up our trip and give you an ultimate Taiwan travel guide for your upcoming Taiwan trip!
In this post, we'll talk about:
Summary of our Taiwan itinerary
When to visit Taiwan
Travel expenses breakdown
Transportation
Accommodation
Handy tips when you visit Taiwan
Taiwan Travel Guide – Day 1 Itinerary
Day 1: Singapore -> Taipei -> Ximending -> Original Din Tai Fung -> Hualien
On our first day in Taiwan, we reached Taoyuan International Airport around noon where we bought a sim card and changed some Taiwan Dollars. We then took the Kuo-kuang bus from the airport to Taipei Main Station. After leaving our luggage at the hotel, we headed off for window shopping and food hunting at Ximending.
For dinner, we went down to the one and only original Din Tai Fung at Xinyi Road. After dinner, we collected our luggage and walked to Taipei Railway Station and took train to Hualien.
Stay: Hualien Bayview Hotel
See more: Taiwan Itinerary Day 1 – Taiwan 8D7N | Taipei – Ximending – Hualien
Taiwan Travel Guide – Day 2 Itinerary
Day 2: Hualien -> Chishingtan -> Taroko Gorge -> Hehuanshan -> Cingjing
The next day, we woke up early for a stroll at the beautiful Chishingtan beach. The beach is known to be a great location to catch the sunrise. After we checked out and had our breakfast at the hotel, our driver for the day brought us to buy some fresh handmade muah chee (mochi) from the famous Zeng Ji Muah Chee in Hualien. Then, we went on a road trip from Hualien to Taroko Gorge, visiting famous stops such as Cingshui Cliff, Shakadang Trail, Changchun Shrine, Swallow Grotto Trail and Cimu Bridge in Taroko National Park.
We then moved on to Hehuanshan, home to some of most stunning views that we've seen in our Taiwan trip. We hiked the Shihmen Mountain Trail which has a peak of more than 3000 meters above sea level. In the late afternoon, we traveled to the highest point in Hehuanshan that can be reached by car – Wuling. The sunset view at Wuling platform is absolutely breath-taking and we took tons of photos here. At the end of the day, our driver dropped us off at the homestay in Cingjing.
Stay: Julie's Garden/Fon Chin Homestay
See more: Taiwan Itinerary Day 2 – Taiwan 8D7N | Taroko – Hehuanshan – Cingjing
Taiwan Travel Guide – Day 3 Itinerary
Day 3: Cingjing Farm -> Carton King -> Taichung -> Miyahara -> Yizhong Street -> Chun Shui Tang
After we had our breakfast at the homestay, we hopped on the shuttle bus from the homestay to Cingjing Farm – Green Green Grassland. This huge grassland has free roaming sheep scattered throughout the whole farm, forming a beautiful landscape with layers of mountains as the backdrop. There are also Sheep Shows and Equestrian Shows available at certain timings.
After watching the show and having our fill of fun with the sheep and ponies at the grassland, we walked from the Green Green Grassland to Carton King for lunch. Carton King (紙箱王) is an interesting restaurant where almost everything is made of cardboard, including the furnishings and decorations. We then visited the Small Swiss Garden right next to Carton King.
Later in the day, our homestay arranged transportation for us to travel from Cingjing to our hotel in Taichung. After we checked in to the Beacon Hotel at Taichung's famous Fengjia area, we went down to Miyahara to have a taste of their famous insta-worthy ice cream. For dinner, we headed to the famous Yi Zhong Street for the delicious street food there. Then, we took a taxi to Ah Ming Shi Lao Dian Tai Yang Tang for their famous local snack – Sun Cake (Tai Yang Bing). Before we ended our day, we visited the original Chun Shui Tang Cultural Tea House – the inventors of the world famous bubble tea.
Stay: Beacon Hotel
See more: Taiwan Itinerary Day 3 – Taiwan 8D7N | Cingjing – Taichung – Miyahara – Yizhong Street
Taiwan Travel Guide – Day 4 Itinerary
Day 4: Taichung -> Xinshe Sea of Flowers -> Xinshe Castle -> Xinshe Mushroom Farm -> Lavender Cottage -> Rainbow Village -> Gaomei Wetlands -> Fengjia Night Market
On our second day in Taichung, we explored the Xinshe (Shinshe) area near Taichung city as well as Taichung itself. As some of attractions in Xinshe are difficult to access by public transport, we engaged a driver to drive us around. After having a sumptuous breakfast at Beacon Hotel, we set off for the famous Xinshe Sea of Flowers – an annual flower exhibition at Xinshe that is held every November to December. A wide array of colourful flowers can be seen at the flower exhibition and the view of the ocean of flowers is definitely spectacular.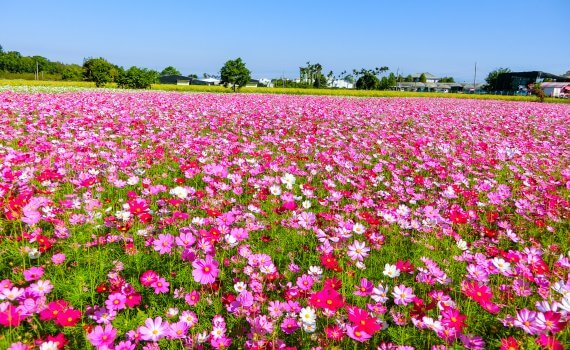 After we filled up our memory cards with plenty of flower photos, we moved on to the next attraction at Xinshe – the Xinshe Castle/Summit Resort. The beautiful resort is a hot spot for wedding photo shoots, you can take a relaxing stroll along the lake surrounded by beautiful Victorian-era buildings.
Later, we dropped by the Mushroom Farm to have a quick lunch and continued our exploration with a trip to the romantic Lavender Cottage. We spent the afternoon indulging in relaxing music with the accompanying pleasant flower scents. Next, we returned to Taichung to visit another famous attraction – the Rainbow Village. The small village is painted with vibrant colours and artworks infused with Chinese culture.
In the late afternoon, we watched one of the most beautiful sunsets in Taichung at the Gaomei Wetlands. The sun setting behind the row of standing windmills is absolutely stunning. At night, we decided to go to the famous Fengjia Night Market to fill our empty stomachs! Our hotel is smack right within the night market and we were able to eat all the delicious street food right at our door step.
Stay: Beacon Hotel
See more: Taiwan Itinerary Day 4 – Taiwan 8D7N | Taichung – Xinshe – Lavender Cottage – Gaomei Wetlands – Fengjia Night Market
Taiwan Travel Guide – Day 5 Itinerary
Day 5: Ah Tang Salty Porridge -> Chihkan Tower -> Confucious Temple -> Hanlin Tea Room -> Tainan Immigration Office -> Yeh's Calamari Noodle Soup -> Yongle Market -> Yongle BBQ Rice -> Shennong Old Street -> Du Xiao Yue -> Anping Old Street -> Tongji Anping Bean Jelly -> Anping Old Fort -> Anping Tree House -> Beimen Visitor Center ->  Beimen Crystal Church -> Jingzaijiao Tile-paved Salt Fields -> Chihkan Coffin Toast -> Tainan Flower Night Market -> HSR to Taipei
I still can't believe that we were able to visit so many places in our day 5! There are a lot of delicious food in Taiwan that actually comes from Tainan. We really did not want to miss out on any one of them. We spread our breakfast into two meals, at both Ah Tang Salty Porridge and Bao Cheng Mutton Soup. After that, we moved on to the first attraction of the day, one of the landmarks of Tainan – Chihkan Tower, followed by Taiwan's oldest Confucius temple – Tainan Confucius Temple. We made sure to stop by the Hanlin Tea Room to grab a cup of their signature Panda Bubble Milk Tea as well.
After that, our driver of the day sent us to the most beautiful government building in Tainan, the National Immigration Office. This Barouque-style building is super insta-worthy so be sure to pay a visit when you come to Tainan. Our driver also brought us to try out delicious local delights like Yeh's Calamari Rice Noodle Soup. We continued on our food hunting at a popular lunch place – Yongle BBQ Rice at Yongle Market. Plenty of Tainan's specialties can also be found at Yongle Market.
The Shennong Old Street is also a must visit place in Tainan. It's one of the best preserved old street in Taiwan. We spent some time at Shennong Old Street before moving to the famous Du Xiao Yue where we had our lunch (yes, we ate again!). This is where you eat the authentic Dan Zai Noodle at their original store. After we filled up our stomachs, we visited some popular attractions such as Anping Old Street, Anping Tree House and Anping Old Fort. We have also tried the famous dessert at Tongji Anping Bean Jelly. There are just so many famous foods available in Tainan.
In the late afternoon, we visited Beimen Visitor Center and the beautiful Beimen Crystal Church. This area in Beimen district was designed as a beautiful landscape for pre-wedding photo shoots. Before the sun went down, we made it to the nearby Jingzaijiao Tile-paved Salt Fields for the beautiful sunset.
Before we ended our day, we had a light dinner at a famous local restaurant for another of Tainan's specialties – Coffin Bread! Chihkan Coffin Bread serves one of the best coffin bread here in Tainan. Then, we found ourselves lost in the sea of food at the largest night market in the south of Taiwan – Flower Night Market. We bought a lot of food and gobbled them up in the HSR on our way back to Taipei.
Stay: Morwing Hotel (Taipei Main Station)
See more: Taiwan Itinerary Day 5 – Taiwan 8D7N | Tainan – Beimen Crystal Church – Flower Night Market
Taiwan Travel Guide – Day 6 Itinerary
Day 6: Yehliu Geopark -> Shifen Waterfall -> Jingtong Station -> Shifen Old Street -> Nanya Rocks -> Yin Yang Sea -> Remains of the Thirteen Levels  -> Jiufen -> Raohe Night Market -> ChiaTe Pineapple Tarts
We kick started our day 6 in Taipei by visiting the popular site – Yehliu Geopark in New Taipei City. On our way there, we bought breakfast from the famous Yong He Dou Jiang on the go. After being awed by the rare geological landscape at Yehliu Geopark, we proceeded to visit the 20-meter high Shifen waterfall in Pingxi district. Pingxi District is also famous for their beautiful scenery along the Pingxi Railway track. Our driver of the day then drove us to Jingtong Old Street, which is located next to one of the oldest train stations in Taiwan, Jingtong Station.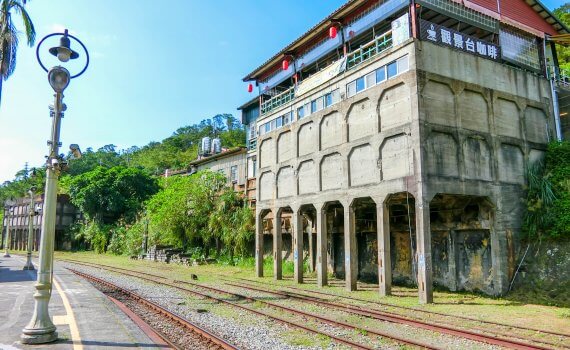 We also visited the famous Shifen Old Street and watched people making wishes by releasing sky lanterns along the railway tracks. After we had our lunch, we departed from Shifen to the Shuijinjiu area. While on our way to Jiufen Old Street, we stopped by multiple stops such as the Nanya Rock Formation, Yin Yang Sea, Remains of the Thirteen Levels and the Golden Waterfall.
One of the highlights of our day 6 is Jiufen Old Street. Jiufen Old Street is an attraction famous for its local delights as well as the scenery. The old town is filled with a vintage atmosphere and there are food and souvenir shops all over the place. Make sure you insert this place in your next Taiwan trip! After we enjoyed the night view from Jiufen Old Street, we went back to Taipei City and visited one of the most popular night markets in Taiwan – Raohe Night Market. We had some of the nicest street food at the night market and continued our food journey at Lindongfang Beef Noodle Stall. This place has one of the thickest beef soup stocks that we have tasted in Taiwan! After that, we visited Chia Te Bakery to purchase their award winning pineapple tarts before we ended our day.
Stay: Morwing Hotel (Taipei Main Station)
See more: Taiwan Itinerary Day 6 – Taiwan 8D7N | Yehliu – Shifen – Jiufen – Raohe Night Market
Taiwan Travel Guide – Day 7 Itinerary
Day 7: Yong He Soy Milk King -> Yangmingshan -> Yangmingshan Beef Noodle -> Ai Zai Cai Braised Pork Rice -> Beitou Thermal Valley -> Beitou Hot Spring -> Tamsui Old Street -> Yuan Wei Braised Meat Rice -> Shilin Night Market
We started our day 7 early since we had a lot of places to visit. As with day 6, we had the delicious Taiwanese traditional breakfast on the go from Yong He Soy Milk King. We first visited the scenic Yangmingshan National Park. There are many attractions within the national park and we have visited some of the more popular ones such as Xiaoyoukeng, Lengshuikeng, Menghuanhu and Qingtiangang. After a few hours of sightseeing and mild trekking at Yangmingshan, we went to a locally popular beef noodle stall for lunch. Out of greed, we spread our lunch into two meals and had our second meal at Ai Zai Cai Braised Pork Rice in Beitou. Both of the food stalls are very famous among the locals and always have long queues during lunch time.
After we had our lunch, we visited the Beitou Thermal Valley, which is also known as Hell Valley. This is one of the must visit attractions in Beitou. Beitou is famous for the natural hot spring. So we made sure to take a dip at Beitou Garden Spa. After we bathed at the popular hot spring spot, we moved on to another popular tourist attraction – Tamsui. We found our way to a delicious braised pork rice stall in Tamsui that we have seen on local TV show. Then, we went down to Tamsui Old Street and tried out some of the must eat food there.
From Tamsui, we took MRT back to Taipei. We settled our last dinner in Taipei at the most famous night market – Shilin Night Market. There are tons of delicious food and games available at the huge night market!
Stay: Morwing Hotel
See more: Taiwan Itinerary Day 7 – Taiwan 8D7N | Yang Ming Shan – Beitou – Tamsui – Shilin Night Market
Taiwan Travel Guide – Day 8 Itinerary
Day 8: Fuhang Soy Milk -> Elephant Mountain -> Zhongzheng Memorial Hall -> Sweet & Spice -> Sunny Hills -> Yongkang Beef Noodle -> Singapore
On day 8, we'd be catching the flight home in the afternoon. Thus, we only had half a day for some sight seeing and do some final shopping for souvenirs before we leave Taiwan. In order to avoid the crazy queue at Fuhang Soy Milk, we woke up really early just to have a taste of the famous traditional breakfast in Taiwan. Fuhang definitely lived up to their name as we really enjoyed the food there!
After the breakfast, we set off to Elephant mountain for a hike. Since we didn't have too much time to explore Taipei City, we decided to have a good bird's-eye view of the city from high up. We then moved on to the Chiang Kai-Shek Memorial Hall after the morning hike.
We did some last minute shopping for souvenirs at Sweet & Spice as well as Sunny Hills for their famous nougats and pineapple cakes respectively. For our last lunch in Taiwan, we paid a visit to the Yong Kang Beef Noodles for a taste of their extremely famous beef noodles before setting off to the airport.
See more: Taiwan Itinerary Day 8 – Taiwan 8D7N | Elephant Mt – Zhongzheng Hall – Yongkang Beef Noodle
Taiwan Travel Guide – When to go Taiwan?
We visited Taiwan in November. In fact, the best time to visit Taiwan is during March/April (Spring) or November (Autumn). The weather during spring is warm and comfortable and the whole country is decorated with flower blossoms. While typhoons and thunderstorms frequent Taiwan between June and October, your travel plan might be affected during that period of time.
The weather in November is stable and cooling. You can comfortably travel around without getting hot and sticky. Out of our eight days in Taiwan, we only experienced one rainy day throughout the trip.
Check out the summary of each season in Taiwan:
Spring (March – May): Spring is one of the best times to visit Taiwan with the flowers blossom everywhere. The weather is generally warm and humid. Rainfall is slightly higher than late autumn and winter, and can be unpredictable.
Highlights: Cherry blossoms at attractions such as Yangmingshan and Alishan.
Summer (June – August): Summer in Taiwan is hot and humid. The average rainfall is relatively higher than the other times of the year and be reminded that June to October is also the typhoon season in Taiwan. But good news for the budget travelers, you may be able to book accommodation at a cheaper rates.
Highlights: Beaches are particularly popular during summer so get your swimsuits ready for places with white sandy beaches like Kenting when the weather is good.
Autumn (September – November): The weather is cool and comforting and the average rainfall starts decreasing from fall to winter. Visiting Taiwan from the end of October is recommended as the typhoon season is over and the weather turns better.
Highlights: Maple leaves available at certain mountainous areas such as Alishan, Aowanta and Shimen Reservoir. The annual flower exhibition – Xinshe Sea of Flowers is being held from every November to December.
Winter (December – February): Winter in Taiwan is cooling and dry. Certain places may turn foggy during this season. Generally, there's no snow at most places in Taiwan. Rainfall hits the lowest point during this time of the year.
Highlights: Best time to visit Lavender Cottage to see lavenders in full bloom. You may expect beautiful street decorations during Chinese New Year period (January to February).
Expenses Breakdown
Here's the breakdown of our travel expenses for two pax:
Expenses
Costs
Remarks
Air tickets

$436.36

Jetstar 1-for-1 Promo Fares (all inclusive)
Accomodation

$700

Hotels (6 nights) + Homestay (1 night)
*Use Shopback to get cashback on hotel bookings
HSR

$160

Taichung to Tainan + Tainan to Taipei
*Book earlier for Early Bird Discount
Train from Taipei to Hualien

$40

One way train tickets
Chartered Service

$832

Private chartered service (5 days)
Transport from Cingjing to Taichung

$45

Car pool service arranged by homestay
Taxi/Uber

$130

*Uber service has ceased during the time of writing
Food

$365

*Rough estimation
Souvenirs

$188

E.g: Sun cakes, pineapple cakes, nougats & etc.
Misc

 $65

Attractions entrances tickets and misc. expenses
Total

$2961.36
A few things to take note:
1) You may notice that we spent the most on transportation (chartered service). The choice of transportation modes is a matter of preferences. If you read our posts in Taiwan, you will be amazed by the number of attractions/food places we managed to go in each day. If you are more to a budget traveler and have a loose schedule, you may choose to travel around using public transport like bus and MRT. In that way, you may save the money but you would need to sacrifice your time and walk a lot more. For us, our priority is to save our time and visit more places comfortably without any hassle.
2) For a group of 2-4, private chartered services generally cost about NT$3000 to NT$4500 for a 10-hour service and we find it pretty worth it. See more details in the "Transportation" section below.
3) The food in Taiwan is generally cheap. Do take note that our budget for food is also on the higher side. David and I are huge fans of Taiwan food so we did spend a bit more than average and ate multiple meals in a day.
4) As mentioned above, we decided to save time on travelling from one place to another. We barely took MRT or bus in Taiwan and mostly traveled around with taxi/Uber during the times that we didn't engage chartered services.
*Uber in Taiwan has been subjected to certain restrictions since our visit and the service is no longer as good or cheap
Taiwan Travel Guide – Mode of Transportation
HSR – New high speed service that connects the major cities on the west coast of Taiwan. The tickets are generally more expensive than the TRA trains but its much faster and there are early bird discounts available when you book the tickets early.
TRA train – Conventional service that connects most cities in Taiwan forming a loop around the island.
Mass Rapid Train (MRT) – Short distance commutes inside the bigger cities like Taipei and Kaohsiung. Passengers may use the Easy Card as a mode of payment.
Bus – The public bus system in Taiwan is well developed. You may search for Taipei city's bus information HERE and Taichung city's bus information HERE. Easy Card can be used here as well.
Taxi – The rate of taxi fare in Taiwan is a bit pricey but this is the most convenient way if you're running out of time. Do take note that most of the taxi drivers in Taiwan do not speak English. See more HERE.
Chartered Service – Chartered Service is pretty popular in Taiwan and it can really save you a lot of time and effort. It is advisable to engage chartered service when you have two and above in your group, especially when you're traveling with elderly and young kids.
Here's a list of chartered services that we engaged and recommend:
Yago And Chin (Tainan)
TaiwanEzgo
XiaoYu Travel Company
Neil Zeng – +886963369086 (Whatsapp)
Taiwan Travel Guide – Accommodation
Here's a list of the hotels and homestay we stayed during our Taiwan trip:
Taipei: Morwing Hotel (Taipei Main Station)
Review: Day 6
Taichung: Beacon Hotel / Beacon Travel Lodge
Review: Day 3
Cingjing: Julie's Garden
Review: Day 2
Hualien: Hotel Bayview
Handy Tips For Taiwan Trip
1) Book your air tickets or accommodation using Shopback to save money.
You may earn cashback* by purchasing air tickets, hotels and some other goods through Shopback. Some popular travel services include Agoda, Booking.com, Airasia, Hotels.com and more. You may earn bonus by referring your friends as well. You may sign up and get $5* by signing up HERE.
* Apps & stores availability varies in different countries. Shopback is currently available in Malaysia, Indonesia, Philippines, Taiwan, Thailand and Singapore.
Related: How to earn cashback using Shopback
2) Download useful apps before heading to Taiwan.
T-Express – A handy app to purchase HSR tickets and use the bar code obtained to take HSR. No printing required
Google Maps – I think this app doesn't require much explanation. It works perfectly fine in Taiwan. You may plan your routes and bookmark them in Google Map and navigate to your destination.
BusTracker Taiwan – A bus tracker app that has bus information and a journey planner.
Go! Taipei Metro – Taipei Metro route map, station information, transfer information and a journey planner.
3) Change Taiwan currencies at Taoyuan Airport
As I explained in day 1, you may use the recommended app (in Chinese) to check the real time currency rates in Taiwan before deciding where to change money. Based on our experience, the exchange rates in Taiwan airport are slightly better than what we can get in Singapore. The currency exchange counters are opened 24 hours and they are pretty easy to locate at the arrival hall of Taoyuan International Airport. You may want to change some Taiwan dollars there.
4) Get freebies before traveling to Taiwan
For those who reside in Singapore, you can get some freebies from the Taiwan Visitors Association at Chevron House before you travel to Taiwan. They are giving out different freebies from time to time. The freebies include theme parks discount vouchers, attractions entry tickets and airport transfers.
5) Interact with the locals
Last but not least, do not be shy and interact with the locals. Nothing beats experiencing the Taiwanese culture and people first hand. Taiwanese are typically friendly and welcoming. We really loved chatting with random strangers and the taxi drivers in Taiwan. If you can speak Chinese, all the more you should try to strike a conversation with the locals and you might be getting some surprisingly good recommendations or advice that you can't find online!