Pan Pacific Orchard, Singapore is a very luxurious hotel situated at the heart of Orchard Road, just behind Orchard Towers and Palais Renaissance. We fell in love with the fantastic interior! If you are looking for a delicious lunch buffet place at Orchard Road on a weekday afternoon, we introduce the weekday lunch buffet (12-2:30pm) from Pan Pacific Orchard, Singapore's 10 at Claymore! We will give you the highlights – the weekday lunch buffet is priced at S$42++, while the weekend lunch buffet is priced at S$48++.
This lunch buffet has insanely expensive items such as Japanese sashimi, black vinegar pork trotters, roasted pork belly, beef tenderloin, Norwegian salmon, sweet crêpes… okay the list is getting a bit ridiculous lol! The lunch F&B scene in town is incredibly competitive and 10 at Claymore has stepped up their game with this incredible buffet spread as an incredibly great value. They invited us to their buffet on a Wednesday afternoon with guns blazing.
Service and Ordering
As you can expect from a prestigious hotel, the service is fantastic. The staff are knowledgeable and polite, and you will see many of their chefs at the hot food stations. In the picture above, you can see the laksa station.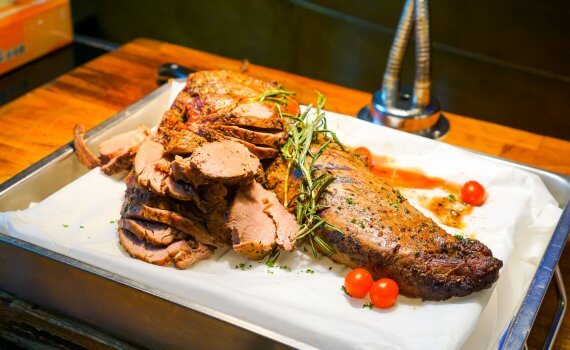 10 at Claymore – Roasted Grass Fed Beef Tenderloin
Yes, this is free flow. We don't know how they can make money from buffets, but they do. Scoop a couple of kilos of these to get your monies worth! The beef tenderloin is on Mondays, Wednesdays and Fridays, while on Tuesdays and Thursdays, you get Chinese Roasted Pork Belly and Barbecue Char Siew instead.
10 at Claymore – Japanese Sashimi
Again, we really don't know how they do it, but here's their free-flow Japanese sashimi, with your choice of tuna or salmon. The chef will slice the sashimi on the spot for you to devour, and if you are a sashimi fan, prepare to go to heaven for a bit.
Chef's Signature Black Vinegar Pork Trotters
You don't see these too often at buffet lines! Authentic and delicious pork trotters. You can slowly pick and choose the pieces that you want, choose a piece with lean meat, or get the fully loaded fatty parts. Yummy and delicious!
Norwegian Salmon En Papillote
My goodness… there's a humongous piece of salmon in the buffet line! Take a huge chunk and warf it down – you won't regret it! We found their salmon pretty good.
Final Thoughts
There is a segment of foodies that go for the ultimate value. This entails the most amazing buffet spread at the lowest price possible. We think Pan Pacific Orchard, Singapore's 10 at Claymore has presented a very competitive deal with their S$42++ lunch buffet. We were bowled over by their expensive and expansive selection of dishes. Try their lunch buffet on an empty stomach and we're pretty sure that you will be able to get your money's worth. If you are working in the Orchard area or if you are a tourist on a weekday afternoon, this is a really good place to fill your stomach up!
If you want to see more delicious food reviews like this, please LIKE our Facebook page and FOLLOW our Instagram!

  Pan Pacific Orchard, Singapore's Weekday Lunch Buffet @ 10 at Claymore
Address
:
10 Claymore Road, Singapore 229540
Directions:
Take the MRT to Orchard station and walk – Google Maps
Signature items:
Full Lunch Buffet Spread
Lunch Hours
:
Daily from 1200-1430hrs
Contact:
+65 6831 6686