More detailed New Zealand travel guides are coming up. Like our Facebook page and follow our Instagram to keep yourself updated.
New Zealand Itinerary Day 1
Singapore
Auckland International Airport
Auckland Airbnb
Auckland Viaduct Harbour
Cyril Bassett VC Lookout

New Zealand Itinerary Day 2
Federal Delicatessen
The Shire's Rest
Hobbiton Movie Set
Auckland International Airport
Christchurch International Airport
PAK'nSAVE
Christchurch Airbnb
New Zealand Itinerary Day 3
Hello Sunday
Arthur's Pass
Franz Josef Montrose
New Zealand Itinerary – Part 1
I have finally been able to find some time to start writing our 12-day trip to New Zealand after finishing the long posts of our Taiwan travel guide. This is the first post of our New Zealand itinerary and there will be more coming up! New Zealand is by far the most beautiful country I have ever visited in my life. It has always been my dream to go on a road trip in New Zealand.
Think of the close encounters with countless sheep and cows, the snow-capped mountains, turquoise lakes and exciting activities in this beautiful country. Nothing beats the travel experience in New Zealand and I strongly recommend that you pay this beautiful country a visit if you haven't done so.
We're so proud to be able to collaborate with the New Zealand Tourism Board in coming up with this travel guide to New Zealand. We'll be sharing all the fun and we will teach you how to travel in this beautiful country like a pro!
We'll be publishing on our Facebook page and Instagram whenever we have a new post, do follow us and be the first one to know!
We'll be featuring a 12-day New Zealand Itinerary that includes both North and South Island. First, check out a clip that covers our New Zealand Day 1 – 3:
New Zealand Itinerary Day 1 – Flight To Auckland
We booked our flight from Singapore to Auckland by Airasia 10 months in advance during one of their typical promotions. The all-in fare for the two of us cost us a total of SGD$1182. Yes, you saw it right. That's the price for 2 pax including baggage and 2 x in-flight meals both ways. The price is considered very cheap as compared to the typical full service airlines but we took about 18 hours each way including two short transits at KL and the Gold Coast.
New Zealand Itinerary Day 1 – Auckland International Airport
We landed in Auckland International Airport at around 5 p.m – 6 p.m. Clearing the immigration at the airport took us almost an hour due to the crowd and we were so "lucky" to get randomly picked for a 100% check at the customs. We were asked to open up our luggage and the customs officers were literally checking all of our belongings one by one.
A gentle reminder to all, the biosecurity procedures at New Zealand are really, really strict. Please do not bring any food (especially fruits and dairy products) or other prohibited items into the country. Remember to declare all risk goods you have when you fill up the passenger arrival card.
Roadtrip!
After we were finally done with the immigration clearance, we contacted the car rental company at the Visitor Information Center. Throughout our road trip in New Zealand (both North Island and South Island), we rent our car from GoRentals – a big and reputable car rental company in New Zealand.
Yes, unlike your typical travel trip, the recommended method of getting around in New Zealand is via a rental car ala roadtrip style! There are a few reasons for this:
The most amazing and beautiful scenery in the whole world can be found driving along the South Island of New Zealand. Rather than specific places with good views, you will find yourself blown away as you drive along the exceptionally well-maintained New Zealand roads. Driving into Wanaka and further on to Milford Sound is just simply amazing.
Yes, the roads in New Zealand are incredibly friendly to tourist drivers.
When you have your own rental car, you can choose to stop whenever you want and wherever you want to take in the spectacular sights.
You have the flexibility to design and customise your own travel itinerary and you can go anywhere in New Zealand without being hampered by the limited public transport services. Also, having your own vehicle will allow you to see more sights in the same amount of time.
The average daily car rental rate in New Zealand is extremely cheap from about

NZ$30

 per day depending on the season, type of car and car rental company. It is actually cheaper to rent a car and stay at a budget hotel than to rent a caravan.
Some tips for driving in New Zealand:
Don't drive when you're tired or fatigued. You should take breaks every 2 hours and never try to drive more than 4 hours per driver per day. The moment you feel sleepy behind the wheel, you must pull over for a rest or switch drivers. Driving while fatigued will cause serious traffic accidents. Make sure that you have plenty of sleep before a long drive.
Do not drive at night when you are not in a city. There are no lights so it is dark and dangerous. Do plan accordingly as depending on the season, the sun can set before 4pm.
Keep left unless overtaking. If you are driving on a single carriageway and you see a faster vehicle approaching – if it is safe to do so – slow down to let them overtake you, or move to the side of the road.
Allocate more time for your driving routes! A lot more time. You will definitely want to make a couple of stops along the way when you see something spectacular.
In some cities like Auckland, there are special transit lanes where you must have at least 2 or 3 people (the signs will say T2 or T3 respectively) in the car before you are allowed to use those lanes. We were unaware of this and we were caught by a huge enforcement camera.
Use a GPS app to get around. We recommend Google Maps. Also, make sure that you have a smartphone dock for your vehicle for the GPS. Make sure that you keep track of the mobile data use from your GPS app. If you use an offline GPS app like Sygic, you would not need to worry about that. However, nothing beats live traffic updates and the fastest route recommendations from an online GPS app like Google Maps.
There are certain roads without 4G or 3G network access. You should make sure that you have saved offline maps in your GPS app.
The cheapest petrol stops are at McKeown's CardFuel. These are self-service petrol stations with no attendants and you have to pay using your credit card. Plan your trips accordingly to save money! Sometimes a short detour will save you quite a lot of money. Unlike most countries, the price of petrol in New Zealand varies quite significantly depending on the brand and location of the petrol station. Try to avoid filling up at rural towns. The price difference can be

NZ$2.50

per litre at one of the branded stops, while it can be

NZ$1.50

per litre at CardFuel just 30 minutes away.
Do not pay extra to the car rental company for a no-excess insurance package. A no-excess rate can increase the daily rental rate by 30%. Instead, take the cheapest basic car insurance plan with a high excess and buy a travel insurance plan that covers the entire car rental accident excess. You will save a lot of money. The difficulty here is finding a travel insurance plan that covers the full excess. For our Singapore readers, the NTUC Income Preferred Plan covers up to

SGD$2,500

in rental vehicle excess and it is the highest excess cover that we found amongst all the plans from all the insurers. Do the maths and figure it out 🙂
We also strongly recommend that you have a look at the online videos from the New Zealand Automobile Association here.
Which SIM card?
While waiting for our car rental company to pick us up, we purchased a sim card at the Auckland International Airport. The sim cards in New Zealand can be bought at the convenience stores. We had got ourselves the Skinny Tourist Sim Pack 2 which offers 3GB of data at the price of NZ$46.
Basically the two largest providers in New Zealand are Vodafone and Spark. Skinny is a division of Spark. We managed to compare the network coverage of Vodafone and Spark as one of our phones was roaming to Vodafone while the other was connected to Spark via the Skinny sim. They weren't too different at all, and they are priced nearly identically – Skinny is the cheapest of them by NZ$3.
New Zealand Itinerary Day 1 – Car Collection at GoRentals
After a short 5 minutes ride, we arrived at the GoRentals office near the Auckland International Airport. Since we have already made our booking online previously, all that we had to do was to show them our passports, driving licenses and booking documents when we collected the car. The whole process was easy and hassle-free.
If your driver's licence is not in English, you will be required to obtain an official English translation. As an alternative, we recommend that you get an International Driving Permit instead. You can find more details here and we recommend that you check with the car rental company on the requirements.
We rented a medium sized Toyota Corolla Hatchback in both Auckland and South Island. Soon after we collected our car, we went straight to the airbnb that we booked at Auckland downtown.
New Zealand Itinerary Day 1 – Airbnb in Auckland
The location of the apartment was perfect (Liverpool Street), the room was clean and the host was very friendly. The only flaw was that we had to carry our luggage all the way up to the apartment using staircases! Luckily, our Airbnb host helped with moving our luggage to his apartment.
After a short rest at the Airbnb, we headed to the most happening place in Auckland – the Viaduct Harbour for our dinner. From our apartment, we only took less than 10 minutes to reach Viaduct Harbour.
New Zealand Itinerary Day 1 – Dinner in Auckland City
Unfortunately, we didn't take too many photos of Viaduct Harbour on that day. We were just too tired! There are a lot of restaurants within the area for you to choose from.
Because we were exhausted and hungry, we had a quick dinner at Burger Boy. It was simple and delicious!
New Zealand Itinerary Day 1 – Auckland Skyline
To catch a glimpse of the beautiful skyline in Auckland City, you can choose to go up to the Auckland Tower or go somewhere further for a beautiful night view with the Auckland Tower included. I will always choose the latter since I want to include the iconic Auckland Tower in our photos and above all, its free!
Here's a perfect spot to see one of the best views of Auckland City's skyline. It takes around a 25 – 30 minutes drive from the Auckland downtown to reach the Cyril Bassett VC lookout. There's absolutely no obstacles and it was surprisingly quiet and secluded there.
The lookout point is located within a residential area, be mindful that you should always keep your voice down when you visit.
New Zealand Itinerary Day 2
On our second day in Auckland, we visit the famous movie set – Hobbiton at Matamata. Before we set off to the Hobbiton Movie Set, we dropped by a popular eatery in Auckland City for breakfast.
Parking in Auckland can get pretty expensive especially in the downtown area. We parked our car along the roadside near to the breakfast place and paid the fees using the parking meter nearby. Both cards and cash are accepted.
We had our breakfast at Federal Delicatessen (The Fed), which is located near to the icon of Auckland, the Auckland Sky Tower.
New Zealand Itinerary Day 2 – Breakfast at Federal Delicatessen
This popular eatery along Federal Street at the heart of Auckland downtown is usually very crowded. We were lucky to visit the place early on a weekend morning and the place was still pretty quiet.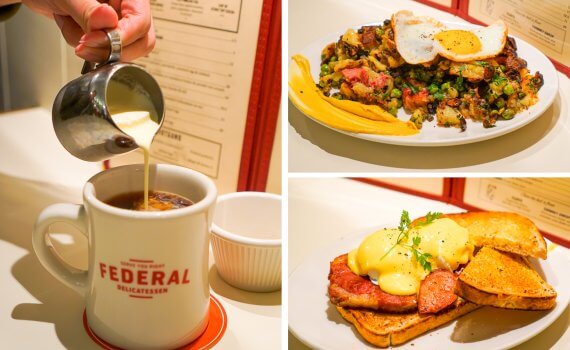 Here's what we ordered:
Mish-Mash NZD$20 – Pastrami hash with potato, peas and fried egg
Treyf NZD$19.50 – Pickled pork, poached eggs & horseradish hollandaise on rye
Cup of Joe NZD$4 – Filter Coffee
Federal Delicatessen opens early and closes late. The food at Federal Delicatessen tastes really good. Their service was excellent and we really had a good meal at The Fed. Do drop by for a decent brunch/lunch when you visit Auckland!
New Zealand Itinerary Day 2 – Scenic drive to Hobbiton Movie Set
From Auckland City to the Hobbiton Movie Set, it requires a 2 hours drive to the south. We set off from Auckland City at around 8 a.m+ for the guided tour that we booked at 11 a.m. The road trip from Auckland to Matamata is not boring at all. The breathtaking scenery along the road kept us so busy with our cameras.
The farming and agriculture industry is known to be the largest one in New Zealand. Doing a road trip in New Zealand is never lonely. You'll be accompanied by patches of green lands and hills dotted with cows, sheeps, deers and even alpacas.
Initially, we were astounded by the beautiful scenery in front of us and we couldn't stop taking videos and photos with our cameras. However, this type of scenery is actually very common when you go on a road trip in other parts of New Zealand, especially in the South Island.
New Zealand Itinerary Day 2 – The Shire's Rest
After 2 hours of driving, we arrived at The Shire's Rest. There's a huge car park provided for the visitors of the Hobbiton Movie Set.
For the uninitiated, the only way to visit the Hobbiton Movie Set is to book a guided tour. Visitors are not allowed to enter the site on their own. A return tour departing from The Shire's Rest takes about 2 hours.
We collected our tickets and maps from the ticket counters and waited for the bus outside of The Shire's Rest. Refreshments are available at The Shire's Rest Cafe. You can have a sip before or after the tour.
From where we stood, we could see the lush green pastures dotted with white, fluffy sheep and Angus beef cattle.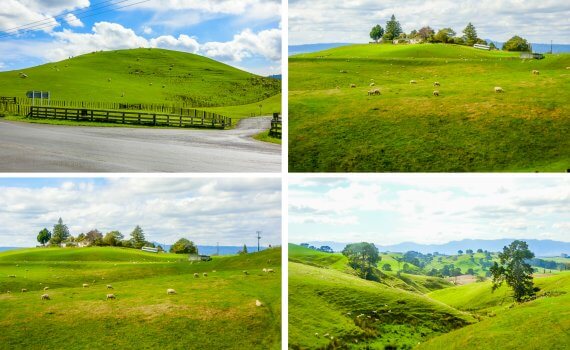 There were about 20 of us grouped together in the same tour. We were guided by an English speaking tour guide and the bus ride from The Shire's Rest to the movie set only took 5 minutes.
New Zealand Itinerary Day 2 – Hobbiton Movie Set
I believe the famous Hobbiton Movie Set doesn't require much explanation. This beautiful filming location was featured in The Lord of the Rings and The Hobbit film series.
This is a must-visit attraction for the movie fans. The fairy tale-like movie set offers a perfect opportunity of your very own Middle-earth adventures.
You can see a lot of tiny furniture, tools, clothes, plants and decorations alongside the hobbit holes, as if there were people living in the holes. All the fine details were well taken care of.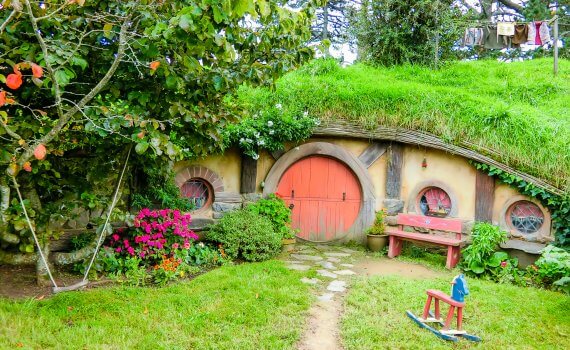 Our tour guide explained the history and story behind the movie set while guiding us around the whole place. There are a total of 44 hobbit holes of different sizes here at the set. Visitors used to be able to enter a couple of hobbit holes of human size.
However, during the time of our visit, we were only allowed to take photos at the door.
There's a lake in the middle of the "village" that gives a beautiful reflection of the surroundings.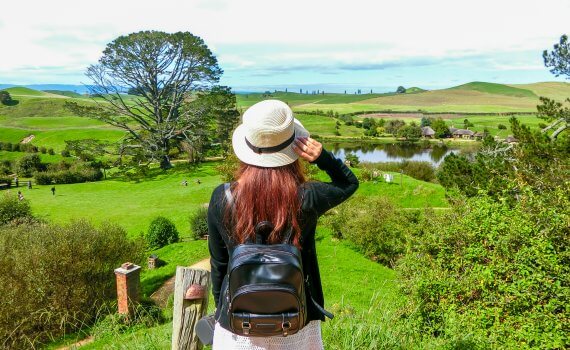 At the end of the tour, we reached the Green Dragon Inn and had a nice cold drink before taking the coach back to The Shire's Rest.
Tours are available daily from the Shire's Rest Cafe, Matamata and Rotorua i-SITEs. You may visit their official website for more information.
New Zealand Itinerary Day 2 – Auckland to Christchurch
After another 2.5 hours of driving from Hobbiton Movie Set back to Auckland, we collected our luggage from the Airbnb and proceeded to return the car.
We returned our car at the GoRentals office near the Auckland International Airport. A free shuttle service is provided between the GoRentals office and the airport in both directions. Shortly after, we took a domestic flight from Auckland to Christchurch, South Island of New Zealand. We bought our domestic flight tickets from Jetstar several months in advance. The return flights to and from Christchurch only cost S$360 for both of us, including luggage.
New Zealand Itinerary Day 2 – PAK'nSAVE Christchurch
Our flight landed in Christchurch after 9 p.m. Upon reaching, we once again picked up our rental car from GoRentals. But this time, we picked up the car from a hotel nearby instead since it was after office hours. Similar to what we rented in Auckland, we got ourselves a Toyota Corolla as well this time. (Scroll down for more details on car rental)
As soon as we picked up the car, we went to the PAK'nSAVE supermarket before heading to our Airbnb in Christchurch. PAK'nSAVE is one of the biggest supermarket chains in New Zealand and this is where you can buy food and groceries at a cheaper rate.
Fortunately, PAK'nSAVE can be easily found in the bigger towns like Christchurch and they open until 11 p.m. We managed to visit one before they closed for the day. The supermarket is huge and they have almost everything you need for a road trip!
If you are planning a road trip around New Zealand, do make sure that you get enough food and supplies in the bigger towns.
New Zealand Itinerary Day 1 – Airbnb in Christchurch
Shortly after we bought the food at PAK'nSAVE, we headed to the homestay that we booked through Airbnb. The room was small but cozy and the host was very friendly.
The room has an attached toilet and it was clean and pleasant. The host has kindly placed water and beverages at one of the room's corners. This homestay has a pretty high rating on Airbnb website and we even made a return to this homestay near the end of our trip.
The homestay is located near the center of Christchurch town area, it's highly recommended to stay here when you visit Christchurch!
New Zealand Itinerary Day 3
On day 3, our plan was to go on a road trip from Christchurch to Franz Josef, stopping by Arthur's Pass for a hike while on our way to Franz Josef. Franz Josef is a small town that lies on the west coast of New Zealand South Island. It is famous for the magnificent Franz Josef glacier which appears to be one of the best sights to experience the real beauty of New Zealand. Top activities to do in Franz Josef include the Glacier Heli Hike, Ice Climbing, Glacier Valley Walk, Skydiving, scenic flight and more.
As we were pretty exhausted, we decided to start the day late. Instead of sticking to our initial plan to go for a hike at Arthur's Pass Village, we decided to give it a pass.
Before setting off on a road trip to Franz Josef Glacier, we had our brunch at a popular cafe in town – Hello Sunday Cafe.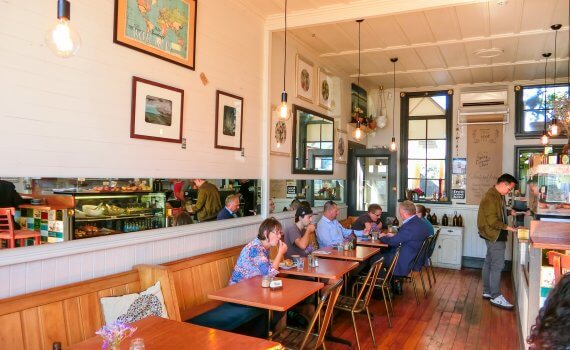 Hello Sunday Cafe in Christchurch is a very popular eatery in town selling mostly gluten-free dishes. They have really nice coffee and the food was great.
Here's what we had:
Beef Cheek Hash @ NZD$22 – Slow braised beef cheeks, potato, poached eggs, pickled cucumber and sriracha hollandaise
Shakshuka @ NZD$27 – Turkished style baked eggs with marinated feta, herbs and freshly baked turkished bread with spiced goat meatballs
Latte @ NZD$4.70
The food here in New Zealand is definitely not cheap but we think its fine to indulge occasionally. If you have a tight budget, skip this place. Otherwise, this would be a pretty cool place for a cup of coffee and brunch!
New Zealand Itinerary Day 3 – PAK'nSAVE and South City Shopping Mall
After the meal, we went to another PAK'nSAVE in Christchurch and the South City Shopping Mall nearby to purchase some essentials. There are several PAK'nSAVE in Christchurch so you can conveniently choose one near to you. Be sure to buy enough groceries and food to last throughout your adventure in the South Island to last you until you reach another big town like this. You won't be able to find malls that have everything like PAK'nSAVE in the rural areas and the prices are certainly more expensive there.
While Christchurch may not be the best place for autumn in New Zealand, here's a rare appearance of autumn colours we caught in Christchurch.
New Zealand Itinerary Day 3 – Rental Car
A glimpse on the car we used during our adventure in New Zealand's South Island. We got ourselves a Toyota Corolla
New Zealand Itinerary Day 3 – Road Trip from Christchurch to Franz Josef
The drive from Christchurch to Franz Josef takes about 5 hours. This is the longest drive within a day throughout our trip. But the scenic view along the road is totally worth it and hence the drive was not boring at all.
We made several stops as we totally couldn't resist the beautiful scenery along the way.
Just look at the lush greenery and snow-capped mountains from afar. The scenic drive from Christchurch to Franz Josef is absolutely stunning!
Check out the video at the beginning of this post or click here to experience a first person view of the scenery!
David and I took turns to drive so that we could get some rest during the long drive. But I was so mesmerized by the scenic views throughout the journey that I couldn't even bear to take a nap in the car.
After driving for around 2 hours, we arrived at the Arthur's Pass Cafe & Store. This is one of the only few cafes and petrol stations in this area. Most people who visit or pass by Arthur's Pass will stop for a coffee break here.
The cafe was pretty crowded when we visited in the afternoon. We ordered a cup of mocha and hot chocolate as well as a brownie and had a sit by the window. It's a pleasant place to have a sip of coffee before continuing the journey.
As there aren't many petrol stations in the area, we pumped petrol at the Arthur's Pass Store as well. The price of the petrol at Arthur's Pass Cafe & Store is definitely not cheap (NZD$2.13/litre) but there aren't really many options around. We would recommend finding the nearest CardFuel instead.
Initially, we planned to hike Bealey Valley Track at Arthur's Pass which takes around 1 hour 30 minutes for return trip. But as we decided to sleep in this morning, we had to forgo the hike due to time constraints.
From Arthur's Pass Cafe & Store, we continued our journey with another 3 hours of driving.
As we started off in the afternoon, we ended up reaching the hostel in Franz Josef pretty late after a journey of more than 5 hours. As a result, we had to drive in the dark for about 30 – 45 minutes as the sun goes down at around 6 p.m in April. In fact, driving at night at the rural area like this is pretty dark and can be a little bit dangerous due to the winding roads. If possible, try to avoid driving at night in New Zealand South Island since we are not familiar with the roads here.
At the end of the day, we spent the night at Franz Josef Montrose and cooked ourselves dinner with food we bought from PAK'nSAVE Christchurch. Franz Josef Montrose is a budget-friendly lodge located just 3 minutes walk away from Franz Josef Heli Hike. They have a big common kitchen for the guests to cook and various cooking utensils are provided as well.
That's all for the first part of our New Zealand itinerary (Day 1 – 3). In the next post, we will cover the second part of New Zealand itinerary (Day 4 – 6) that includes Franz Josef Glacier Valley Walk, Lake Matheson and Wanaka.
If you would like to see more posts like this, please like our Facebook page and follow our Instagram to keep yourself updated!