Introducing the DreamWorks KouKou Cafe at Bugis+, with all your favourite DreamWorks characters such as Kung Fu Panda, Madagascar, Shrek as well as How to Train Your Dragons and Trolls! This is a cafe where instagrammers and kids will have a field day taking photos and playing with all the cute cartoon characters.
The DreamWorks KouKou Cafe is launched by the same people behind the widely popular themed cafe, Gudetama Cafe Singapore! This pop-up cafe would be the first DreamWorks KouKou's theme cafe in the world. For the uninitiated, DreamWorks KouKou are the adorable dumpling-shaped bite-sized characters. We were extremely excited when we received an invitation to showcase all the adorable cartoon characters and food!
These are some of the cartoon characters that we found all around the DreamWorks KouKou Cafe.
Service and Ordering
DreamWorks KouKou Cafe officially launched at Bugis+ on 3 March 2018! We expect the usual super long queues so do plan accordingly and we suggest calling to check the queue before coming down. It is possible that the queues won't be too long in the first couple of days – however, we are sure that by the following weekend, you can expect a super long wait.
We were quite pleased with their meat dishes here, in particular we enjoyed their Never Leave A Man Behind dish with their fabulous grilled salmon, their Secret Ingredient Noodle Soup which is essentially kimchi ramen with a generous number of huge prawns, clams, mussels and squids, and also their Night Fury Steak Rice which is hamburg steak served with super healthy black rice.
DreamWorks KouKou Cafe – Signature K.B.P
Super cute KouKou characters can be found on the steamed buns! The kong bak pau is "flavourful and tender pork belly slices with fresh coriander, iceberg lettuce and chopped chilli stuffed in the steamed buns". Great for photos, great for kids. There is also a small serving of kong bak pau sauce for dipping  the steamed buns! This is priced at S$13.
Secret Ingredient Noodle Soup
We were astounded by the generous serving of ingredients in this dish. This is described as being "packed with rich kimchi and umami flavours, the kimchi ramen is a love at first slurp accompanied with clams, prawns, mussels and squids in spicy collagen broth. Served with Po and Mei Mei man-tous."
The kimchi soup is nice and spicy! The broth is not your normal kimchi clear broth, it is thicker collagen broth that is good for your skin. The two prawns are large and huge. The number of clams and mussels is extremely generous. This is probably the most loaded prawn kimchi noodle soup that we have ever seen. This is priced at S$23.
Never Leave A Man Behind
This is "a delicious combination of grilled salmon, fish cakes, mixed vegetables and Japanese rice with Bechamel salted egg sauce".
We absolutely loved the grilled salmon here. As salmon fans, we are pleased to say that the salmon doneness is absolutely perfect and the bite is flavourful and absolutely delicious. The salmon goes extremely well with the Japanese rice and cream-based sauce. While there's supposed to be Bechamel salted egg sauce, we didn't actually taste the salted egg at all – this is a bit closer to carbonara sauce. This is priced at S$22.50.
Night Fury Steak Rice
The menu invites you to "tuck into this delish hamburg steak served with mixed vegetables and uber nutritious forbidden rice. Hearty and flavourful, this delectable dish looks as good as it tastes!"
The rice used is super nutritious and healthy black rice. However, it goes well with the cream-based sauce and the hamburg steak. This is very suitable for kids, you can get them to eat some very healthy rice while enjoying the cutesy cartoon character designs on the dish. This is priced at S$18.50.
Here's some of the rest of the food and drinks that we were not able to taste. From left to right and top to bottom – Get Me Some Carrots, Ogre Takes A Dip, Fun Sliders, Hairlarious Princess, group picture of their beverages, True Colours, Pretty in Pink and Ogre Swamp Adventure. For the beverages, we would recommend Pretty in Pink.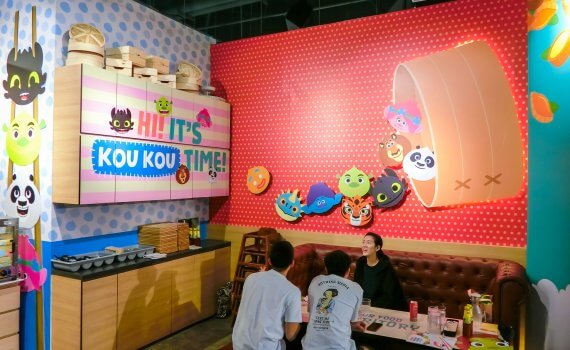 Final Thoughts
DreamWorks KouKou Cafe brings a very strong showing to the Singapore themed-cafe scene with some really popular and cute cartoon characters. With some very decent main dishes, this is a cafe that you should consider dropping by if you are somewhere near Bugis. We strongly recommend their "Never Leave A Man Behind" grilled salmon dish, and we hope that they are able to maintain the perfect doneness for the dish when the inevitable super long queues start to form.
If you want to see more delicious food reviews like this, please LIKE our Facebook page and FOLLOW our Instagram!

  DreamWorks KouKou Cafe
Address
:
201 Victoria Street, Bugis+ #05-04/05/06, Singapore 188067
Directions:
Take the MRT to Bugis and walk – Google Maps
Signature items:
Kung Fu Panda, Madagascar and Shrek!