Tsui Wah 翠華餐廳 is a famous cha chaan teng chain from Hong Kong that has opened its first outlet in Singapore. Back in 2015, we reviewed Tsui Wah's Jordan outlet in Hong Kong, trying out their breakfast menu at 6am in the morning. Being as objective as we could in Hong Kong, and super large chain like Tsui Wah was never going to be as special as Hong Kong's other more prolific single-shop eateries such as the Australia Dairy Company and Capital Cafe. Now for the million dollar question – how is Tsui Wah Singapore's branch like?
We were extremely impressed with Tsui Wah Singapore, both their food and service. We must say that the food that we ate at Tsui Wah Singapore is much better than the food that we tried at Tsui Wah's Jordan outlet in Hong Kong. This was pretty surprising for us as Tsui Wah in Hong Kong is comparable to Singapore's Ya Kun or Toast Box. We never expected exceptional food from a large chain.
Service and Ordering
As cha chaan tengs go in Hong Kong, we came to expect delicious milk tea, scrambled eggs, condensed milk buns, polo buns, macaroni soup and egg tarts. Tsui Wah Singapore skips a ton of Hong Kong favorites, while still bringing in a lot of their own special "top 10 list" from Hong Kong:
Sizzling King Prawns with Fried Noodles
Shredded Pork & Mushroom with Fried Noodles (with Abalone Taste)
Malaysian Beef Brisket Curry with Rice
Kagoshima Style Pork Cartilage with Tossed Instant Noodles
Jumbo Frankfurter Hot Dog
Milk Tea
Crispy Bun served with Sweet Condensed Milk
Swiss Sauce Chicken Wings
Fish Balls & Fish Cakes with Flat Rice Noodles in Fish Soup
Hainanese Chicken Rice
Do note that they have renamed a number of items for the Singapore market. For the express run-down on what to get at Tsui Wah Singapore, we recommend the Crispy Bun with Sweet Condensed Milk, Beef Brisket and Tendon Curry with Steamed Rice (yes, they removed the word Malaysian), and their Milk Tea. We noticed that their Braised Abalone Sauce Rice with Diced Chicken and Kale was pretty popular amongst the various critics and diners – however, as our stomach did not have space to try this, we can't comment on the taste.
Tsui Wah Singapore – Crispy Bun with Sweet Condensed Milk (Condensed Milk Bun)
Oh the famous Condensed Milk Bun from Hong Kong! This was one of our favourite food items from Hong Kong, and at the time, we weren't too impressed with Tsui Wah Hong Kong's rendition. However, we are pleased to say that Tsui Wah Singapore has done a fantastic job with making some super delicious Condensed Milk Buns.
Condensed Milk Buns are notoriously inconsistent and you may get buns that taste very different from the same placed in the same sitting. This is because there are too many factors that affect the deliciousness of the bun:
The buns are cut into two. It is impossible to have a perfect middle slice each time, and the half of the bun that is thicker will invariably be fluffier and nicer.
For optimum deliciousness, the condensed milk has to be allowed to soak and seep into the bun, to spread the sweet deliciousness throughout it. However, if the bun is served too soon, the taste of the condensed milk will be limited to the very top of the bun. If it is served too late, the bun is no longer piping hot.
As all toast connoisseurs will know, even if you set the oven to cook for the same amount of time at the same temperature, even the placement or position of the buns within the oven or even the thickness of the bun will affect the crispiness. A very minor variation is all the difference between perfect crispiness and mediocrity.
As such sometimes the Condensed MIlk Bun can be hit and miss. We consistently had inconsistent experiences throughout our Hong Kong dining trip, where condensed milk buns from the same cha chaan teng tasted heavenly one day and pretty awful on another day.
At Tsui Wah Singapore, we ordered two sets of Condensed Milk Buns. The first set had the top half of the bun thicker, with the bottom half thinner. The top half was much nicer. The second set was more evenly cut, but one side had condensed milk that seeped deeper into the bun, making it the most delicious one that we tried. So basically from two servings, there are four bun slices, and all tasted different.
That said the condensed milk bun at Tsui Wah Singapore is absolutely delicious. The crispiness is fantastic and the addictive sweetness from the condensed milk makes this one of our all time favourite breakfast items. We rate this a super delicious 4.5/5. Unfortunately they priced this item at S$4, which is about double the Hong Kong price. We can understand a price premium but double the price is a bit too much. Now we can only hope that all the kopitiams throughout Singapore start to pick up this breakfast item so that we can enjoy this more often at a more reasonable price.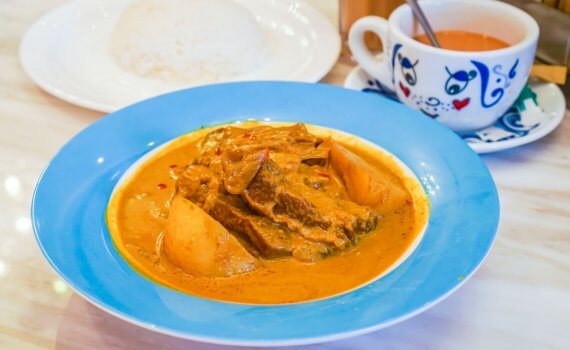 Tsui Wah Singapore – Beef Brisket and Tendon Curry with Steamed Rice
I absolutely did not want to order this when we were at the restaurant. My thought process was simple – this dish is called "Malaysian Beef Brisket Curry with Rice" in Hong Kong, so how can a Hong Kong cha chaan teng serve Malaysian curry better than what we could find in Singapore?
Unfortunately, or perhaps thankfully, we ended up ordering this when we were told that they had run out of their King Prawns in XO Sauce with Toasted Noodles.
There are many different types of curry that can be found in Singapore, many of them at a very high culinary level. Broadly speaking, there's the curry that you can find at the Indian Muslim mamak supper stalls, the type of curry found in curry chicken, and the curry that you see with curry fish head dishes and at the usual economical rice stalls. Each has its own unique taste.
Tsui Wah Singapore's curry rendition is mindblowingly delicious. It is somewhat of a cross between the curry from curry chicken and the curry from curry fish head dishes. Given how numbed our taste buds are to all kinds of curry, we were pleasantly surprised when we got a nice and delicious flavour explosion from Tsui Wah's curry. Tsui Wah says that their "signature curry is stewed for over six hours – combining the fragrance of more than 30 spices." Well played. The beef brisket is also super tender and flavourful, and in combination with the curry and rice, its really oh-so good.
There's also a nice soft tendon included, but we're not sure that its such a good idea to advertise the tendon in the name of their dish. Nonetheless, we give their curry a super delicious 4.5/5, and you can get it at S$13. Ouch at the price.
Hong Kong Scrambled Eggs!
Scrambled eggs are a mainstay in Hong Kong's cha chaan tengs. I am a big fan of their scrambled eggs on toast or 炒蛋多士 (chǎo dàn duō shì). Unfortunately I could barely find any mention of scrambled eggs in Tsui Wah Singapore's menu. It is tucked away near the back of their menu, various scrambled egg sandwich options with ham or luncheon meat if you prefer. And these are served as a western sandwich style, i.e. between two un-toasted pieces of bread.
Even though I insisted on the plain "Scrambed Egg Sandwiches" without any other impurities, the server thought fit to get the one with ham without telling me. I was sad.
But the saddest part of this is that their scrambled eggs are done in the same incredibly delicious style as the Hong Kong cha chaan tengs. I tasted that faint trace of scrambled egg deliciousness mixed in with the bread and ham. Hong Kong scrambled eggs are (IMO) a million times better than the boring scrambled eggs that you find at the usual brunch cafes in Singapore.
To be clear I wouldn't recommend this dish in its current state to anyone except the most die hard scrambled egg fans. See the picture below for how Hong Kong scrambled eggs on toast is supposed to look. It would be nice if Tsui Wah could have the same style and dish here in Singapore as well.
Tsui Wah Singapore's Hong Kong Milk Tea
The main difference between the Hong Kong milk tea and Singapore's teh (tea with milk) that is found at coffeeshops everywhere is the sharpness of the tea aroma. Perhaps a small variation in the type of tea and/or a higher concentration. Hong Kong milk tea is never diluted and always very concentrated. It is definitely different from what a Singaporean will be used to. As to whether this is your cup of tea (pun intended), YMMV. A hot cup of Hong Kong milk tea is S$3.50, while the iced milk tea is S$4.

Final Thoughts
Tsui Wah has a big opportunity to make a Hong Kong cha chaan teng splash in Singapore. The competition for that segment in Singapore is weak. Tsui Wah could have done this by bringing in cheap and authentic Hong Kong cha chaan teng dishes at perhaps a slight price premium. If the model works they could easily expand with many more branches, perhaps following in the footsteps of Singapore chains such as Ya Kun and Toastbox.
However, Tsui Wah Singapore decided to position themselves in the higher end segment, removing the somewhat "cheaper" mainstay dishes like polo buns and scrambled eggs on toast, and replacing them with things like high-end desserts, lamb chops and mixed grills. Everything is priced at least double of the Hong Kong prices, and we felt that the price premium is way too much. If Tsui Wah wants to compete with the higher end western dishes and dessert segment, we think that they will get eaten alive by the competition when the novelty eventually wears off.
That said, we feel that the culinary standard at Tsui Wah Singapore is top notch. They must have definitely brought over some of their Hong Kong staff and recipes, and we hope that Tsui Wah succeeds and expands countrywide. We dream of the day that there is a Tsui Wah cha chaan teng within walking distance of our home and office!
If you want to see more delicious food reviews like this, please LIKE our Facebook page and FOLLOW our Instagram!

  Tsui Wah Singapore
Address
:
3A River Valley Road, Clarke Quay, #01-03
Directions:
Take the MRT to Clarke Quay station. Take exit B and walk for 6 mins – Google Maps
Signature items:
Condensed Milk Bun, Beef Brisket Curry Rice, Hong Kong Milk Tea and more
Opening Hours
:
1100-2300 hrs
Contact:
+65-62509270