On HK day 4, we are going to experience the city beat at Causeway Bay as well as Mongkok/Yau Ma Tai shopping area! Besides having breakfast at famous cha chaan teng, we are going to have something different for lunch – waffle and Dim Sum for dinner! 🙂
HK Day 4
Capital Café
Causeway Bay Shopping
Noon Day Gun
Green Waffle Diner
Victoria Park
HK National Library
Mong Kok/Yau Ma Tai
Ladies Market
Sneaker Street
Harbour City
Star Ferry/Victoria Harbour
老點點心竹筒飯 (Lou Dim Dim Sum)
HK Day 4 –  Breakfast – Capital Café
On HK day 4 morning, we went to the Capitol Cafe for our breakfast. Capital Cafe 華星冰室 is one of the top rated cha chaan tengs in Hong Kong right after the Australia Dairy Company. They are known for their scrambled eggs on toast, condensed milk bun and milk tea. See more at Capital Cafe 華星冰室!
HK Day 4 – The Tram in Hong Kong
We left the breakfast place and headed to Causeway Bay for shopping. We have been hanging around in Hong Kong for three days but we didn't get a chance to try their trams. Trams can be seen everywhere along the city area in Hong Kong Island.
Similar to bus, the price for the ride is fixed no matter where you alight. But one of the differences between bus and tram is, you get on to the tram from the rear door instead of the front door! In addition, you pay the fare (you can use octopus card) only when you alight from the tram. This is a fun experience, don't forget to take a ride when you're in town 😉
HK Day 4- Causeway Bay
Times Square is the largest shopping mall in the district. It is nicely located just at Exit A of MTR Causeway Bay Station.
So happened to see the Star Wars exhibition at Times Square when we visited!
HK Day 4 – Noon Day Gun
The Noon Day Gun is located at the waterfront in Causeway Bay. The  gun is fired off at 12 noon every day.
HK Day 4 – Causeway Bay Shopping
From Noon Day Gun, we walked back to the shopping area in Causeway Bay. If you consider yourself a shopaholic, you can plan to spend the whole day here at Causeway Bay! This is one of the best spot to feel the Hong Kong city pulse and to all dear shoppers, this is paradise! From high-end shopping destinations to street markets, Causeway Bay has it all. Times Square, Lee Garden, Fashion Walk, Hysan Place and SOGO are those among the upmarket places at Causeway Bay. If you are hunting for cheap goods and enjoy bargains, Jardine's Crescent street market will be the right place for you. 🙂
We like shopping destinations like Log-On at Fashion Walk, in the heart of Causeway Bay. Creative and trendy fashion accessories, interior decorations, personal care and etc. can be found here.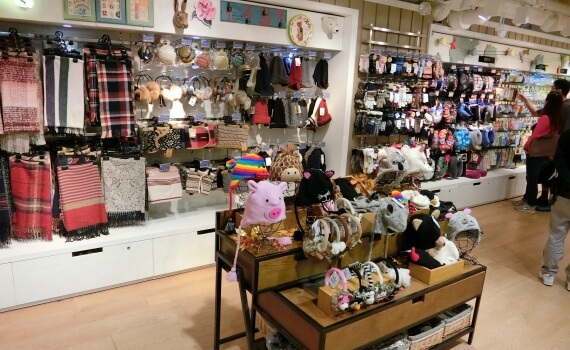 HK Day 4 – Green Waffle Diner
We had our light lunch at a hipster cafes, Green Waffle Diner, at Pearl City (next to Fashion Walk). If you're looking for a place to rest after a long day at Causeway Bay this is a good spot for some desserts and drinks. See more at Green Waffle Diner!
HK Day 4 – HK Central Library
Why visit a library? That's because he loves libraries! Hong Kong Central Library is a place that it will be such a pity if he missed it. Hong Kong Central Library which faces Victoria Harbour is the largest and main library in Hong Kong.

The 12-storey high building is known to have one fifth of the Hong Kong Public Libraries system's collection.

HK Day 4 – Victoria Park
Victoria Park is a public park named after Queen Victoria of the United Kingdom. It is located in between Causeway Bay and Tin Hau MTR stations, and opposite of the Hong Kong Central Library. There is a Statue of Queen Victoria sitting at the entrance of the park.
On Sundays, the park is known to be a gathering place for domestic workers. We just so happened to drop by the park on Sunday and saw a lot of Indonesians who work as domestic helpers in Hong Kong gathering at the park for picnic and games.
HK Day 4 – Ladies Market/Sneaker street
Ladies Market at Tung Choi Street – A typical street market with huge amount of clothes, bags, accessories, souvenirs and etc. Most of the items do not have the price listed and they are all up for you to bargain. So don't be shy to ask for cheaper price, you may be able to get a greater discount than you expect! 🙂
The Sneakers Street (at Fa Yuen Street) is nicely placed in the major shopping district, Mongkok. Shoppers can embark on a shopping spree as the Ladies Market is just meters away. We got too carried away with shopping and forgot to take a photo at the Sneakers Street! Given the name "Sneakers Street", of course the whole stretch of road is filled up with shoes, shoes and more shoes! Various brands of sneakers, trainers and basketball shoes can be found here. But going down the road, you will notice each store has similar brands and models offered with comparable prices so it is pointless to spend too much time entering different stores.
If you do notice the fashion trends of Hongkongers, sneakers play an important role in their daily casual outfits. After we spent a few days in Hong Kong, we noticed that the youngsters in Hong Kong do wear A LOT of sneakers! The stores at the Sneakers Street are always crowded with tourists as well as the locals.
HK Day 4 – Star Ferry/Victoria Harbour
We were back to Star Ferry Pier near Hong Kong Clock Tower to experience the Star Ferry trip across Victoria Harbour. We took Star Ferry from Tsim Sha Tsui to Central and all the way back. The journey took about 10 minutes each way. The fare is HK$2.50 or HK$3.40(weekend) each trip.
Remember to go to the upper level of the pier if you wish to go for the upper deck of the Star Ferry. The upper deck is more windy and you can sit or walk around with care. Whereas in the lower deck, it is less windy and you can sit by the window to enjoy the scenery. 🙂
HK Day 4 – Harbour City
We were back to Harbour City again today since we went for the Star Ferry ride which is just next to it. Hence we took the chance to take some photos of the Christmas Decoration with the theme of Disney characters.
HK Day 4 – Dinner – 老點點心竹筒飯
Finally, our first Dim Sum in Hong kong at Lou Dim Dim Sum – 老點點心竹筒飯! By international standard this restaurant might not be too well known but they sport one of the highest ratings on OpenRice Hong Kong. See more on Lou Dim Dim Sum – 老點點心竹筒飯!
See our Hong Kong Trip Day 5 adventures!