On HK day 5, we went on a one-day trip to Asia's well-known gambling mecca and paradise for gourmands – Macau! Macau is a city with a combination of Portuguese historical heritage and traditional Chinese culture.
HK Day 5
Tsui Wah Restaurant
Hong Kong -> Macau
The Venetian
Lord Stow's Portuguese Egg Tarts
City of Dreams
Macau Tower
Taipa Village
Tai Lei Loi Kei
San Hou Lei Egg Tart
Ruins of St Paul
Leitaria I Son (Yi Shun Milk Pudding)
Senado Square
Grand Lisboa
Macau -> Hong Kong
HK Day 5 – Breakfast – Tsui Wah Restaurant
Initially Tsui Wah wasn't on our food list but as we had an earlier than expected ferry to catch, we weren't left with too many breakfast choices which were available as early as 6 a.m. Tsui Wah is the largest and most famous cha chaan teng chain in Hong Kong and some of the outlets open 24 hours. Fortunately the Parkes St outlet at Jordan near our hotel is open 24 hours a day so we decided to give it a try 🙂 See the food review at Tsui Wah Restaurant 翠華餐廳.
HK Day 5 – Ferry to Macau
There are two ferry terminals in Hong Kong which provide ferry services between Hong Kong and Macau. We have chosen to go for the ferry terminal which is nearer to our hotel, Hong Kong China Ferry Terminal (Address: 33 Canton Road, Tsim Sha Tsui, Kowloon – Google Maps). The other ferry terminal (Hong Kong Macau Ferry Terminal) is located in Central (Address: 202 Connaught Road Central, Central, Hong Kong Island – Google Maps). For more information on Hong Kong <-> Macau ferry services, see here. The ferry tickets cost us HK$165 one-way for each of us.
We have pre-purchased the ferry tickets from Cotai Water Jet at Hong Kong China Ferry Terminal the night day before. As the 9 a.m tickets were already sold out so we settled for the 8 a.m ones, which is why we need to find a breakfast place as early as 6 a.m. So if you are planning to go Macau, it's better to book ferry tickets 1 or 2 days before departure. Besides the ticket office at ferry terminals, ferry tickets can also be booked online at the service providers' website. Here's the website for Cotai Water Jet.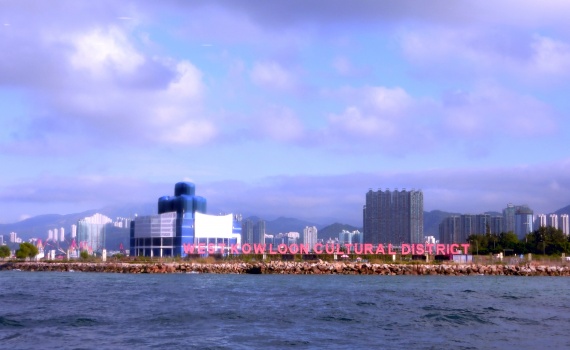 The journey from Hong Kong to Macau Taipa took around 1 hour.
HK Day 5 – Arrived at Macau Taipa
Basically Macau can be divided into two parts, the Macau Peninsular and the islands of Taipa and Coloane. The islands and the Peninsular are connected by two main bridges in Macau. Most people choose to take the ferry to Macau Outer Harbour Ferry Terminal in peninsular, where Macau Tower and historical sites like Senado Square, The Ruins of St Paul and Macau tower are. But we chose to go to the outlying island – Taipa (Macau Taipa Ferry Terminal) first. The attractions at Taipa include several extravagant casinos such as The Venetian and Studio City as well as the Old Taipa Village where most of the famous eateries reside. Shuttle bus services are available to connect tourists between the attractions in Macau.
Once we cleared the immigration, we went to search for the shuttle bus services to go to The Venetian Macao, Asia's leading casino resort. There is no clear indication of the shuttle bus waiting/pick up area, so we had to ask around and found out that the line form near the immigration building exit (see the picture above) was the queue for The Venetian shuttle bus.
The Venetian is very near to the ferry terminal, it took us about 10-15 minutes to reach there.
HK Day 5 – Macau – The Venetian
The Venetian Macao is a luxury hotel, casino resort and shopping mall in Macau, owned by Las Vegas Sands. The building is HUGE! It is known as the seventh largest building in the world. In addition, the Venetian Macao has the largest casino in the world! Do not miss the Venetian Macao if you are visiting Macau, put this in your bucket list 🙂
The tourists are greeted by the magnificent interior design at The Venetian Macao hotel lobby. The hotel's interior is a sight to behold.
Even the toilets are so magnificent!
In the Venetian Macao, the Grand Canal Shoppes has indoor canals that resembles the ones in Venice, with the gondola rides available to take people along the three canals. The Grand Canal Shoppes here is known to be occupying twice the size of Las Vegas Canal Shoppes including a wide variety of restaurants, stores and performances.
HK Day 5 – Macau – City of Dreams
The City of Dreams is located just right opposite the Venetian. It is made of four towers – Hard Rock Hotel, Crown Towers Hotel and Grand Hyatt Macau (2 towers).
From the City of Dreams, we took a shuttle bus to Studio City – the new leisure resort which just held its grand opening in October 2015.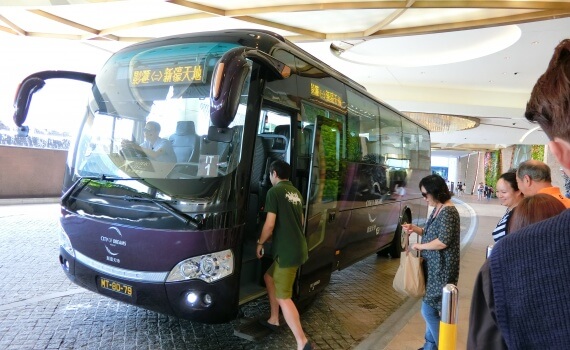 HK Day 5 – Macau – Studio City
The first in Asia, Studio City Macau integrates all television and film production facilities, hotels and gaming in one.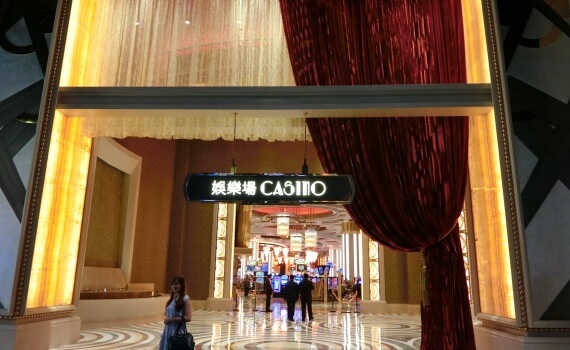 HK Day 5 – Galaxy
We once again went back to the City Of Dreams to take the shuttle bus to Galaxy at Cotai Strip, Macau.
The Galaxy is a mega casino which opened on May 2011. It is made up of a combination of a casino and three world-class hotels (Banyan Tree, Hotel Okura and the Galaxy Hotel). The Galaxy is known to have the largest rooftop wave pool in the world and personal relaxation pool at the Banyan Tree Macau.
HK Day 5 – Taipa Village
The Galaxy is located just a short walking distance away from Taipa Village. After a short tour at the Galaxy, we walked across the road and reached old Taipa village, where you'll be lost amongst the sea of delicious food.
I love how Taipa village gives people a vintage and relaxing feel. This is the place where we spent most of our time during the day in Macau.
Instead of buying pastries or snacks from the pastry giant Koi Kei which can be spotted every where at Macau, we decided to opt for the less mainstream option – Fong Kei. Despite the tiny size of the shop, a queue can be seen forming in front of the shop for their pastries.
HK Day 5 – Tai Lei Loi Kei
Here's another highlight of our Macau 1 day trip – Tai Lei Loi Kei! Tai Lei Loi Kei is incredibly famous of their pork chop bun in Macau. See our full review at Tai Lei Loi Kei Cafe in Macau. In addition to their four outlets in Macau, they opened their very first international franchise at NEX Shopping Mall in Singapore on 20 December 2014. See how does the Singapore branch scores at Tai Lei Loi Kei Singapore!
HK Day 5 – O Santos – Suckling Pig
O Santos Portuguese restaurant stands out amongst all the traditional food establishments at Taipa Village. See the review here!
HK Day 5 – San Hou Lei
San Hou Lei is located near Taipa Village in Macau, so it is a good place for egg tarts lovers to drop by for a mid-morning snack or for tea after your food trip to Taipa Village. We have tried their famous fresh milk egg tart. See how does their egg tarts score at San Hou Lei 新好利.
Only after spending more than 2 hours here at Taipa Village, did we realize that we forgot about the famous Lord Stow's Portuguese egg tarts at the Venetian! This is included in our MUST EAT list in Macau. So without much hesitation, we took the shuttle bus back to City of Dreams then walked back to the Venetian.
HK Day 5 – Lord Stow's Portuguese Egg Tarts
Here's another highlight of the Venetian Macao, our favorite Lord Stow's Portuguese egg tarts! As the main outlet of Lord Stow's Bakery is quite a distance away from everything else, we decided to try out the famous Portuguese egg tarts at the Venetian Macao – Lord Stow's Bakery & Cafe. See the full list of their outlets here.
See the full review on Lord Stow's Portuguese tarts at Lord Stow's Bakery 安德魯餅店.
HK Day 5 – Macau Tower
From the City of Dreams (opposite the Venetian), we once again took a shuttle bus to Macau tower located at Macau Peninsular.
Macau Tower Convention & Entertainment Centre is the tallest building in Macau with a height of 338 meters from the ground. Not only can you enjoy the bird's-eye view from the observation deck, there are restaurants, theaters and shopping malls inside the building. In addition, for adventure lovers, there are thrilling tours like Skywalk X, Tower Climb and Bungy Jump from 233 meters high.
There's an outdoor observation deck at level 61 as well as an indoor observation deck at level 58. The views from these observation decks are awesome! We paid MOP$135 each pax for the admission tickets to Macau Tower.
HK Day 5 – Ruins of St Paul 大三巴牌坊
From Macau tower, we took a taxi to the Ruins of St Paul due to time constraints. The Chinese name of the Ruins of St Paul is 大三巴牌坊 (dà sān bā pái fāng), which has a completely different meaning from the English name. We were confused for a second when the staff at Macau Tower handed us the address and the name of the Ruins of St Paul in Chinese, so that we could tell the taxi driver our destination in Chinese.
The taxi driver dropped us at a drop off point which is quite a distance from our destination, telling us that vehicles are not allowed to go all the way up.
As we made our way up to the Ruins of St Paul, we got a chance to explore the city's historical and cultural heritage.
After a 15 mins walk, we have finally reached the Ruins of St Paul! There were really A LOT of tourists taking photos on the long staircase. It wasn't easy to take photos without including some random people in the frame. The Ruins of St Paul always looks beautiful in tourists' photos but in fact, it was left with nothing but a facade of the church as a result of the merciless fire that broke out in 1835.
The main square is surrounded by elegant Baroque and Portuguese style buildings.
HK Day 5 – Leitaria I Son
We planned to have our dinner at Keong Kei's Mutton Hotpot (強記秘製羊腩煲). After asking for directions no less than ten times, only to be somewhat appalled by the hygiene conditions in the area as a result of the nearby construction work. As we were pretty stuffed from our food adventures throughout the day, we were happy with half a meal for once. So we decided to go for the famous milk pudding at Leitaria I Son 義順牛奶公司
HK Day 5 – Macau to Hong Kong
We walked from Leitaria I Son 義順牛奶公司 to Grand Lisboa for the shuttle bus services to Outer Harbour Ferry Terminal. The free shuttle bus tickets can be collected at the information counter inside Casino Lisboa. The waiting time is between 6 to 30 minutes.
We booked the 8 p.m ferry tickets when we were at the Venetian Hotel, with the help of their staff. Alternatively, ferry tickets can be pre-booked online at the service providers' website. Here's the website for Cotai Water Jet.
See the next day itinerary at HK Day 6!