We go back to Sheryn's hometown in Kulai for a taste of the famous Soon Futt Bak Kut Teh. Kulai is home to the Johor Premium Outlets shopping paradise and a mere 30 minutes drive from the Johor-Singapore Causeway. Looking at the Malaysian Ringgit currency conversion of S$1, it is really a good time to head over and take advantage of the lower prices there.
Malaysian bak kut teh is distinctly different from Singapore's bak kut teh. In Singapore you get the bak kut teh broth with loads of peppery goodness, whereas the broth in Malaysia is infused with a strong herbal taste sans the pepper. Most would have heard of the famous Malaysian bak kut teh at Port Klang next to Kuala Lumpur. According to our research, 顺发肉骨茶 (shùn fā ròu gǔ chá) is pretty famous in Malaysia with more than 20 franchises nationwide, and interestingly each franchise adopts a slight variation in their English name. How does Kulai's Soon Futt Bak Kut Teh fare?
Service and Ordering
This is your typical Malaysian Chinese restaurant. The photo above shows their non-air-conditioned seating area with the kitchen. They also have a pretty nice air-conditioned seating area next door. There's no fuss and you make your order with the server. As this is Kulai ordering in Chinese would be preferred, but I'm sure the staff can understand some English as well. One thing to note is that you will have to fend off the flies at your table. This is completely common and expected in Malaysia, so don't feel too annoyed by that.
Their standard bak kut teh serving includes generous amounts of enoki mushrooms, button mushrooms, pig's organs, liver and tauki (tofu skin) served in a large piping hot claypot. So if you're not inclined to eat those, remember to specify when ordering.
Soon Futt Bak Kut Teh – Signature Claypot Bak Kut Teh
The main difference between the bak kut teh at Soon Futt and elsewhere is the copious amounts of side ingredients that they include in the claypot. While the included bak kut is generous, the side ingredients can be engulfing. You can exclude the pig's organs and liver for more bak kut teh if you so prefer.
This claypot of bak kut teh is really super delicious. Unlike most Malaysian bak kut teh, the broth does not have too overwhelming of a herbal taste, with a gamut of flavours from the other ingredients giving a very delicious kick. The bak kut is also soft and tender with a great flavour. Sheryn prefers this bak kut teh over Singapore's Founder Bak Kut Teh, while I go the other way. As a compromise, we rate this delicious bak kut teh 4.3/5. This large bowl is intended for three people and goes for RM48.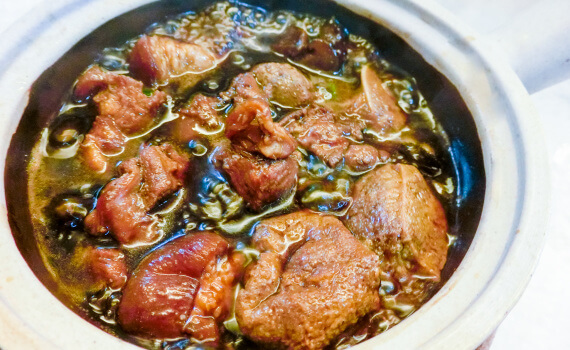 Pig's Trotters
No bak kut teh trip is complete without ordering a side serving of pig's trotters. This delicious dish comes with taupok (fried tofu) and the meat is really tender and juicy. While within expectations, do note that their default serving includes a lot of fatty meat. If you prefer more lean meat, you will have to specify when ordering. We rate this 4/5 and it goes for RM10.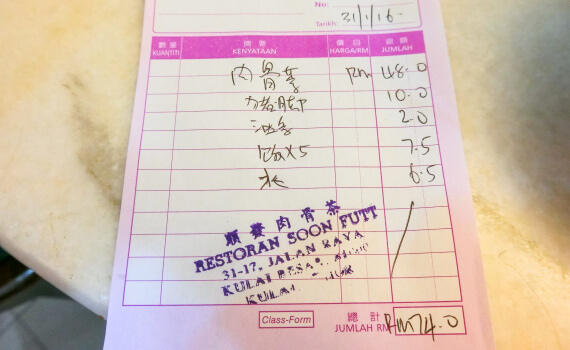 Final Thoughts
By Malaysian standards, Soon Futt Bak Kut Teh serves a really delicious bak kut teh. As someone who has tried bak kut teh from Port Klang on multiple occasions, I can easily say that I prefer the bak kut teh found over here in Kulai. However, the pricing is very high by Malaysian standards. Even if you convert the currency, it costs RM74 to feed four people, and you're not really saving much even by Singapore standards.
That said, if you're in the area for shopping at the Johor Premium Outlets, this is a very good option if you are craving for that delicious Malaysian herbal bak kut teh.

  Soon Futt Bak Kut Teh
Address
:
17-7 Jalan Susur Kulai 1, Tama Sri Kulai Baru, 81000 Kulai, Johor, Malaysia
Directions:
It is virtually impossible to take public transport in Kulai – try hailing a taxi or driving – Google Maps
Signature items:
Bak kut teh, pig's trotters, ginger wine chicken, sesame oil chicken
Opening Hours
:
Daily from 0730-1530hrs and 1800-2200hrs
Contact:
NA