We come to the end of our Hong Kong Trip on HK day 7. Before checking out from the hotel to the airport, we went all the way to Sham Shui Po for the most famous dim sum breakfast and bought delicious pastries that we wanted to bring back to Singapore.
HK Day 7
Tim Ho Wan 
Capital Cafe
Kam Fung
Hang Heung Bakery
Hong Kong International Airport
Singapore
HK Day 7 –  Breakfast – Tim Ho Wan
We planned the most famous dim sum in Hong Kong for breakfast on our last day here. This is a MUST EAT if you ever come to Hong Kong! Tim Ho Wan at Sham Shui Po, Hong Kong, is one of two Tim Ho Wan restaurants with Michelin stars in Hong Kong, with the other being their North Point outlet. However, the available information online about the opening hours was ambiguous and we went down to the place at 8am only to find it closed. We had no choice but to come back again later when it opened. See Tim Ho Wan at Sham Shui Po for the food review and opening hours 🙂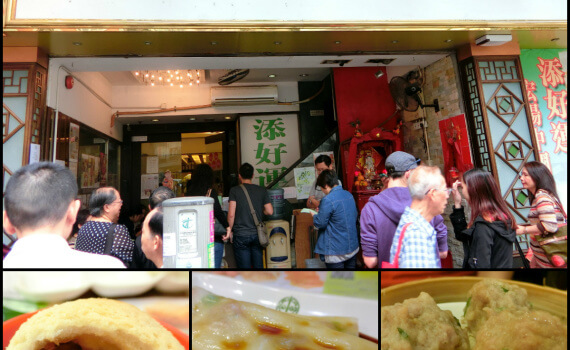 HK Day 7 –  Capital Cafe
While waiting for Tim Ho Wan to open at 10 a.m, we went back to Capital Cafe in Wan Chai to eat their condensed milk buns (奶油豬仔包) for the second time! We had the buns on our day 4 in Hong Kong and we totally loved it. Since it was our last day in Hong Kong, we were grabbing every single chance we had to eat all that we could before flying back to Singapore . 😛
HK Day 7 – Kam Fung
Besides the buns from Capital cafe, there was another reason that led us back to Mongkok once again. It's the famous chicken pies from Kam Fung 金鳳茶餐廳! This is one of the best food that I had during the trip so I decided to bring the delicious pies back to Singapore. Yes I know I'm greedy 😀
HK Day 7 – Hang Heung Cake Shop
If you love wife cake or 老婆饼 (lăo pó bĭng), Hang Heung Cake shop is undoubtedly the best choice! They have several branches across Hong Kong selling various types of traditional pastries.

  Hang Heung Cake Shop (Mong Kok)
Addresses
:
45 Dundas St, Hong Kong (see website for other locations)
Directions:
Take MTR to Yau Ma Tei Station, turn right upon coming out from exit A2. Make a left turn at the first junction and turn right at Dundas St.  – Google Maps
Signature items:
Wife cake
Opening Hours
:
Daily from 1000-2200hrs
Contact:
852-2394 7668
Website:
www.hangheung.com.hk

HK Day 7 –  How to get to the airport?
After checking out from the hotel that we stayed (for more details on Hotel Rainbow, see day 1), we walked to the bus stop in front of Kowloon Union Church along Jordan road. From here, we took City Flyer bus no.A22 to the Hong Kong International Airport.
The journey from hotel to airport took us about 45 mins.
HK Day 7 –  Hong Kong to Singapore
Unfortunately, our flight was delayed due to a technical fault, from 3:15 p.m to 5:15 p.m!
After a few hours wait in the airport, finally we got to board our flight at 5:15 p.m!
We had our on-board meal for dinner – Sweet and sour fish rice, fruits, bun, fruit juice and Haagen Dazs ice cream. That was pretty satisfying!
Finally, our Hong Kong Trip has come to the end. We will definitely miss the amazing good food in Hong Kong and one day we will be back for sure for their local delights. But thanks to the 'services' we have received in Hong Kong for the past week, we have started to appreciate the service standard in Singapore that we have been taking for granted.