[ Update September 2016: Meet & Melt have opened in *SCAPE with new Curry Lava and Mentaiko Toasts! Click here for our latest review ]
As big exploring foodies, once in awhile we will encounter an absolute gem that is hidden somewhere in one corner of Singapore. Meet & Melt is not your usual regular hipster ice cream cafe joint opened by a couple of bored rich investors. This is a family run mom-and-pop store located in the Tampines HDB heartlands, beside some provision shops and hair saloons. Yet they have produced the most incredible dessert that we have ever tasted in Singapore.
Yes, one of their marvelous creations has landed a place right at the top of our food ratings list, and it wasn't a difficult decision.
Service and Ordering
They have a really wide variety of ice cream choices, and if you are a repeat customer, those will be great to try. However, if you are there for the most delicious desserts, stick to their recommended ice cream combinations with their shibuya toasts and waffles!
This is a really really small shop. The interior air-conditioned area has only two small tables while the majority of the seats are located outside. The exterior al fresco dining area is really a makeshift area at a HDB void deck with some nice huge fans.
No GST or service charge here.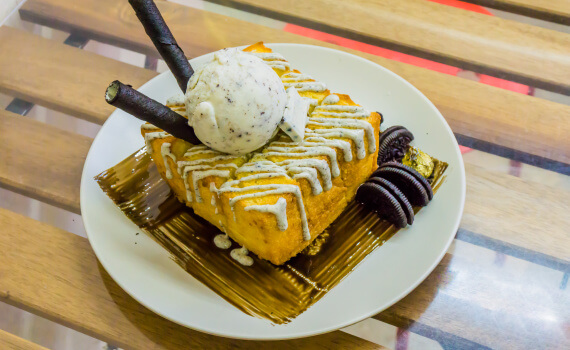 Meet & Melt – Cookies & Cream Shibuya Toast
This. Is. It. The best dessert in Singapore right now. 100% homemade shibuya toast without any honey. They just use sugar and butter. They have a special warm cookies and cream sauce drizzled over the toast, as well as those over-the-top decorative garnishings.
The shibuya toast is what I would call soft-crispy, and it goes perfectly well together with the warm sauce and the cold cookies and cream ice cream. The flavour explosion that you will experience is really super shiok. Really, really fantastic. We do not know how they did it but they have blasted away the competition to another planet.
You must come here to try this, even if you live in Boon Lay. We rate this a monstrously high 4.6/5, and this is the first dessert to enter our Ultimate Taste list. This goes for S$12.90, and you can optionally add another scoop of ice cream for a small top up.
Come here with a date and you can both skip dinner and eat one of this, with the extra scoop of ice cream of course.
Cookies & Cream Over The Top Milkshake
This is another ridiculously delicious creation. It is truly over the top and it tastes as ridiculous as it looks! There is a waffle on top coupled with some expensive Hershey's chocolate bars and Oreo cookies. You dip their charcoal waffle into the milkshake and it is really shiok!
This is the first waffle-into-milkshake dip that we have seen! It really gave an amazing taste and we were thoroughly impressed. We give this a super delicious 4.2/5. You can get it for S$13.90.
Black Charcoal Waffle with Salted Egg Yolk Ice Cream & Salted Egg Sauce
Sheryn was very impressed with their salted egg charcoal waffle. The charcoal waffle is soft-crispy, personally I would have preferred it a little crispier, but Sheryn found it perfect. The salted egg yolk ice cream was super flavourful as well, and much better than a couple of other salted egg yolk ice cream joints that we have tried. The salted egg sauce added the extra kick that really put this over the top for us. We rate this 4.3/5, and you get get it at S$11.90, with an extra S$1 for the salted egg sauce.
Final Thoughts
Well there's not much more to say really. Skip a meal with your partner. Come to Meet & Melt and be happy. It took us 3 visits to eat everything that you see in this review. The desserts here are so ridiculously good that we kept on coming.
Oh, they also have an amazing instagram following. They print out all the amazing instagram photos of their creations and paste it up on their wall. We are embarrassed to say that while we usually pride ourselves on our epic food photographs, there are much nicer ones on Meet & Melt's instagram page.
We hope that Meet & Melt moves to larger premises soon, with swanky fittings and a larger air-conditioned seating area. If they were to plop down in the middle of Orchard Rd, we're quite sure that they would have endless queues.
If you want to see more delicious food reviews like this, please LIKE our Facebook page and FOLLOW our Instagram!
Lava Toast Update – June 2016
We returned to Meet & Melt to find some incredible new Molten Lava Toasts on the menu! Yep, you must have a look at the video, watch as the lava oozes out from the toast – it just looks so obscenely delicious. They have three new molten lava toasts – their Thai Milk Tea Lava Toast, Thai Green Tea Lava Toast and Ferrero Rocher Lava Toast with a choice of either classic or charcoal toasts.
Thai Milk Tea Lava Toast
Look at that golden toast served with a scoop of vanilla ice cream, it's not just the normal shibuya toast. Meet & Melt has grown and added more varieties to their current menu. This is the new IN-thing – lava thick toast! The exploding trend of salted egg yolk has got everyone crazily adding the sauce into basically EVERYTHING edible. But nope, this isn't salted egg yolk lava.
Meet & Melt's new creation has this refreshing element – Thai milk tea! We really love Thai milk tea and this is something we would definitely order when we eat Thai cuisine. Thai milk tea might not be the too new in desserts but for lava toasts, this is our first encounter! We find the fragrance of Thai Milk Tea is very strong and it really goes perfectly well with the toast.
The new creation with lava toast is hollow inside so compared to their original shibuya toasts, so this is just enough for one person to finish. We think the molten lava could have been somewhat thicker, but nonetheless this still gets a solid 4.2/5 and you can get it at S$14.90.
Thai Green Tea Lava  Toast
Green tea lovers, you won't want to miss this. The passionate owners Mr and Mrs Chan have recommended this molten Thai Green Tea creation with their charcoal toast. So we get to try both flavours with different kinds of toasts. We really enjoyed the moment when the lava sauce oozed out of the toast. The Meet & Melt version of lava is close to the volcano eruption – abrupt and exploding. A very shiok experience indeed!
If you are into super runny molten lava and a very strong green tea fragrance, this Thai Green Tea Lava Toast will be perfect for you. Personally we would have liked their sauce a bit thicker with a bit more nuanced green tea fragrance. We give this item a respectable 4/5. This is also priced at S$14.90.
As for the choice of toasts, we would still recommend the original classic toast over the charcoal toast. If this is too much tea for you – fret not. Among the new creations, Meet & Melt also has a Ferrero Rocher Lava Toast. We will definitely try that on our next visit back.
Our Updated Final Thoughts
Well there's nothing much to update really. Meet & Melt still has the most delicious dessert in Singapore, by our standards. Come and try their all-new molten lava toasts and be happy. Not your cup of tea? Their Cookies & Cream Shibuya Toast is still the best dessert that we have ever eaten.
We hear that they will be moving to *SCAPE at Orchard soon, so catch them at their cosy little place at Tampines while you still can.
If you want to see more delicious food reviews like this, please LIKE our Facebook page and FOLLOW our Instagram!

  Meet & Melt
Address
:
Blk 915 Tampines St 91 #01-49, Singapore 520915
Directions:
Take the MRT to Tampines station and switch to bus 22 – Google Maps
Signature items:
Shibuya Toasts, Over-The-Top Milkshakes, Waffles