Why are restaurants like Ash & Elm that are situated within hotels rarely ever crowded? A few thoughts come to mind – the hotel's guests serve as a captive audience and the restaurant doesn't really have a 'landlord' to pay rent to, since usually the hotel owns the restaurant as well. As such, hotel restaurants may have less incentives to innovate and produce creatively delicious food – they may also charge more than their local competition given their captive audience. Or maybe they just have bad locations.
How does Ash & Elm fare as a hotel restaurant? We are pleased to say that this is a great hotel restaurant. The interior ambience is grand and breathtaking, with three 'culinary theatres' inside – a charcuterie and cheese room, a wood-fired oven and an open-grill kitchen. These are basically three sections of an open-concept kitchen. Their food is pretty darn good as well, especially their steaks – if you are a steak lover, Ash & Elm is a must-try!
Service and Ordering
If you hate crowds, love delicious food and have a fat wallet, Ash & Elm would be a great choice. We visited the restaurant on a weekday night and there were plenty of tables available – not too surprising given the 'hotel restaurant' effect. We were happy to dine in the newly revamped restaurant without much disturbance! The service standard at Ash & Elm is absolutely up to the professional level. The friendly waiter who served our table patiently introduced their recommended dishes, repeatedly dropping by to check if the food was satisfactory.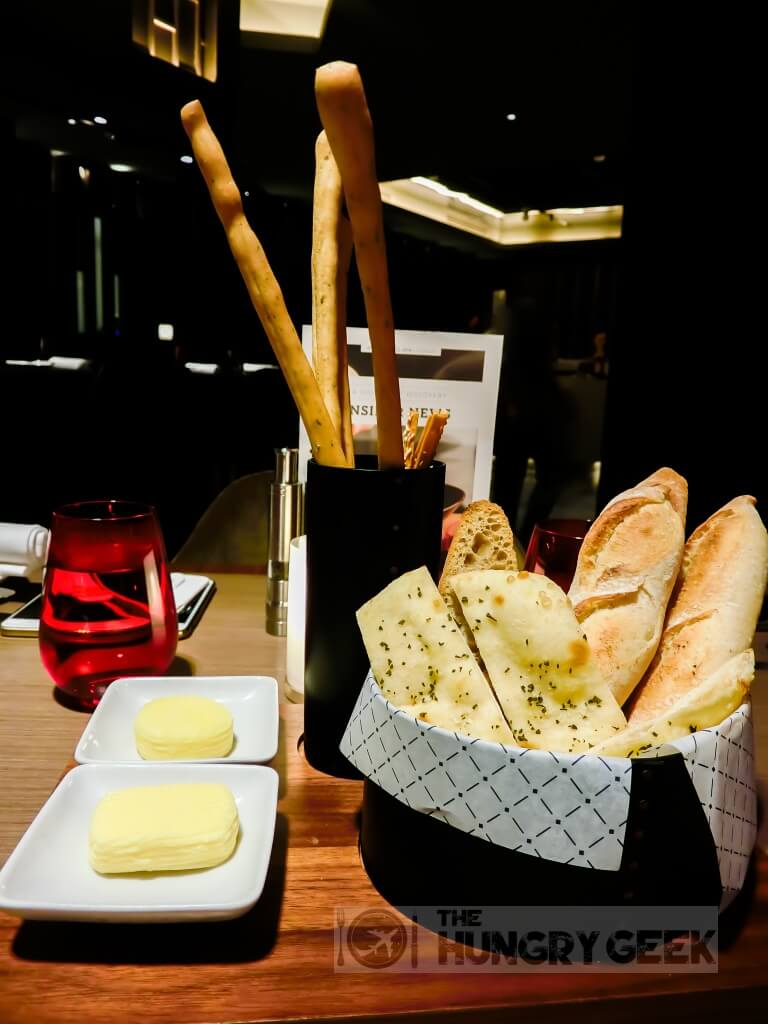 Ash & Elm – Complimentary Bread
The in-house wood-fired oven baked bread was served immediately after we made our order. The presentation of the piping hot complimentary bread was delightful and we were pleasantly surprised by its taste. The bread was accompanied by a piece of unflavored butter and a piece salted butter to match with the different types of bread served. Out of the five types of bread, we particularly loved the flat bread and sour dough . We rate this a solid 4.2/5.
Boston Lobster Bisque Scented With Cognac
The Boston lobster bisque was served warm accompanied with lobster medallions and coral cream. The lobster soup has a strong fragrance of lobster and a slight taste of Cognac. This will set you back S$21. The heavy seasoning will fancy those with heavy taste but it was a tad too salty for our taste buds. We rate this 3.9/5.
Seafood Linguini
The seafood linguini (more commonly spelled 'linguine') comes with a generous amount of scallops, shrimps, squids, clams, olives, basil and topped with Crustacean sauce. It tastes as good as it looks. That means, you can actually taste the freshness from the sea! This is highly recommended for seafood and pasta lovers. We rate this main dish a delicious 4.1/5 and you can get it at S$31.
Sharing Plates – Beef Tasting
Steaks lovers, here's the highlight of the restaurant, the mouth-watering beef tasting! This is an assorted plate of three different types of steaks. Instead of ordering each type of steak individually, diners are given the option to sample three of their signature steaks, enjoying all three flavors at the same time! There are their USA New York Striploin, Tenderloin and Australian Rib-Eye steaks. It was a very difficult decision to choose the best out of the three steaks as the three of us have our own bias! As usual, only medium-rare steaks for us. The juiciness and tenderness of the steaks are near perfect. We rate this platter a solid 4.3/5. To be honest I do find the steaks here are tastier than those at some of the famous steak restaurants. This will set you back S$108.
Final Thoughts
The main reason why hotel restaurants are not super crowded despite the delicious food is really because of value. They don't have to price competitively because of their captive audience (hotel guests), and in some aspects lowering the price of food at one of their star restaurants may lower the prestige of the hotel.
That said, if you have the budget, Ash & Elm is a great place to dine for special occasions and events, especially if you love steak. The ambience is simply magnificent and the service is top notch. This is also a fantastic place if you hate crowds.
If you want to see more delicious food reviews like this, please LIKE our Facebook page and FOLLOW our Instagram!

  Ash & Elm at Intercontinental Singapore
Address
:
Level 1, InterContinental Singapore, 80 Middle Road, Singapore 188966
Directions:
Take the MRT to Bugis station and take the exit C – Google Maps
Signature items:
Beef tasting, meat tasting, seafood linguini